President Donald Trump and Sen. Ted Cruz (R-Texas) were all smiles during a rally in Houston on Monday, joining forces ahead of next month's midterm elections and appearing to move past their history of name-calling and condemnation.
"You know, we had our little difficulties," Trump told a crowd of supporters at the Toyota Center. "But actually, if you remember, at the beginning, it was a love fest."
He added: "I'll tell you what, nobody has helped me more with your tax cuts, with your regulation, with all the things that we're doing, including military and our vets, than Sen. Ted Cruz."
Cruz touted his fondness for Trump on Monday, despite the antagonism they displayed while they were both running for the Republican presidential nomination in 2016. Trump has regularly called the Texas senator "Lyin' Ted" and criticized his job performance. He also falsely claimed that the lawmaker's father was involved in the assassination of President John F. Kennedy and insulted Cruz's wife, Heidi.
"I am honored that president Donald Trump is here supporting my campaign," Cruz told supporters in Houston, adding that despite their past rivalry, he looked "forward to campaigning alongside him in 2020 for re-election as president of the United States."
Trump softened his tone earlier on Monday in remarks to reporters outside the White House, expressing his support for Cruz while noting that he didn't "regret anything" about his past behavior.
"He's not 'Lyin' Ted anymore. He's beautiful Ted," the president said.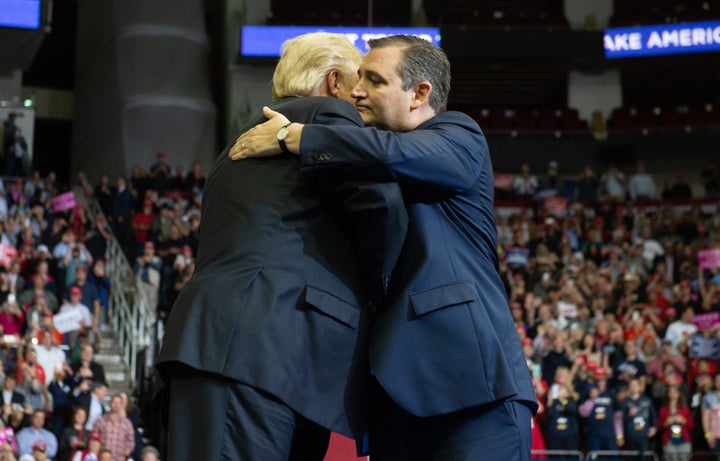 Both Trump and Cruz attacked O'Rourke on Monday and painted him as a threat to Republican values, linking his election to Trump's potential removal from office.
"Beto O'Rourke is the only Senate nominee in the country to come out explicitly for impeaching President Donald Trump," Cruz said, leaning in to Republican efforts to raise impeachment fears ahead of the midterms.
"He said he would vote right now, today, to impeach President Donald Trump. Beto O'Rourke, in this state, is running to the left of Elizabeth Warren, to the left of Bernie Sanders, and Texas is not going to stand for it," Cruz added.
Trump whipped up supporters throughout his lengthy speech, oftentimes leaning on falsehoods and fear. He also firmly painted himself as a "nationalist." 
"You know what a globalist is, right?" Trump said Monday. "A globalist is a person that wants the globe to do well, frankly not caring about our country so much. And you know what? We can't have that."
He continued: "You know what I am? I'm a nationalist, OK ― I'm a nationalist. Use that word."
Calling all HuffPost superfans!
Sign up for membership to become a founding member and help shape HuffPost's next chapter