Former President Donald Trump defended his "grab 'em by the pussy" comments in a recorded deposition shown to jurors during a rape trial on Thursday.
Though Trump hasn't appeared in person in the civil case filed by writer E. Jean Carroll, lawyers played a video from a deposition last October in which the former president derided the lawyer asking him questions and stood by the infamous comments he made in a 2005 "Access Hollywood" tape, in which he can be heard saying: "When you're a star, they let you do it. You can do anything... Grab 'em by the pussy."
"Historically, that's true with stars," Trump said in the deposition about the taped remarks, adding, "If you look over the last million years, I guess that's been largely true. Not always, but largely true. Unfortunately or fortunately."
"And you consider yourself to be a star," Carroll's attorney, Roberta Kaplan, asked.
"I think so, yeah," Trump replied.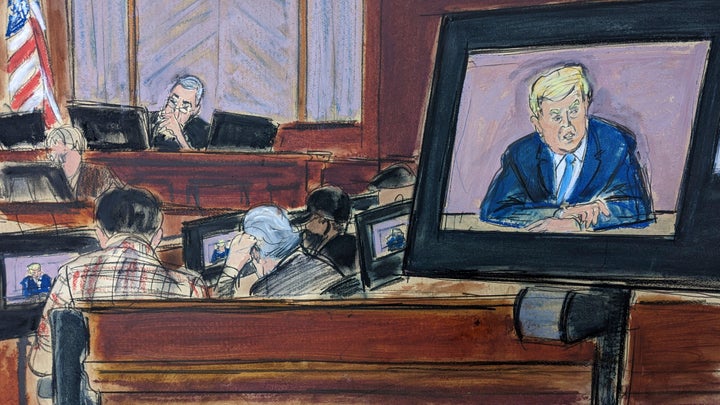 Carroll has accused Trump of raping her in a dressing room at the Bergdorf Goodman department store in New York City in the mid-1990s. She has sued for battery and defamation and is seeking unspecified damages. Trump has vehemently denied the attack, calling Carroll a "wack job" in the recorded deposition and saying the rape "didn't happen."
"It's the most ridiculous, disgusting story. It was just made up," he added.
The former president went on to tell Kaplan that he couldn't have raped Carroll because she wasn't his "type," then insulted the lawyer.
"You wouldn't be a choice of mine either, to be honest," Trump said at the time. "I wouldn't under any circumstances have any interest in you."
Earlier in the deposition, Trump was shown a photo of Carroll and himself at a party, but he confused the writer for his ex-wife, Marla Maples, saying, "That's Marla …. That's my wife." Carroll's attorney asked if all three women he's been married to were his "type."
The trial concluded its second week on Thursday with the defense resting its case. Trump has maintained that he would not appear in person and has been spending time in Ireland golfing. But he alluded on Thursday that he may soon be back in New York to "go back for a woman that made a false accusation about me, and I have a judge who is extremely hostile."
"If he has second thoughts, I'll at least consider it," U.S. District Judge Lewis Kaplan said.
Closing arguments are scheduled for Monday.
Popular in the Community