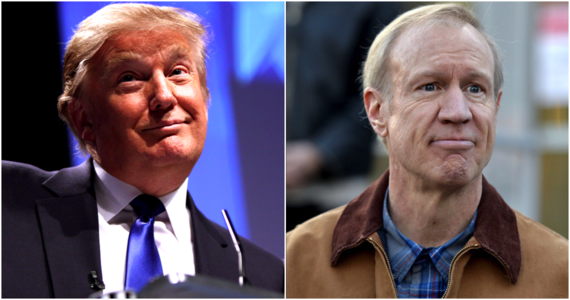 Gov. Bruce Rauner famously spent the 2016 election season refusing to endorse, disavow or even say the name Donald Trump.
Yet unlike some Republicans who rebuked or refused to fully embrace the Republican candidate, Rauner never drew Trump's ire or the insults ("loser," "boring," "dumb guy with no clue") Trump hurled frequently at those he believed slighted him during the campaign.
Three days after Trump's victory, Rauner said he and the president-elect had a "good, good, positive conversation" and that he anticipated "good relations" with the new administration.
Now, as Trump's nascent administration takes shape and the policies of a Trump presidency begin to emerge, there are signs that Trump and Rauner may have similar views on the workers their respective governments employ.
In a Nov. 21 story headlined "Trump has a plan for government workers. They're not going to like it," the Washington Post reports that the Trump administration -- aided by a Republican Congress -- plans to enact at the federal level many of the changes that Rauner and his allies have advocated for Illinois:
President-elect Donald Trump and the Republican-controlled Congress are drawing up plans to take on the government bureaucracy they have long railed against, by eroding job protections and grinding down benefits that federal workers have received for a generation.

Hiring freezes, an end to automatic raises, a green light to fire poor performers, a ban on union business on the government's dime and less generous pensions -- these are the contours of the blueprint emerging under Republican control of Washington in January.

These changes were once unthinkable to federal employees, their unions and their supporters in Congress. But Trump's election as an outsider promising to shake up a system he told voters is awash in "waste, fraud and abuse" has conservatives optimistic that they could do now what Republicans have been unable to do in the 133 years since the modern civil service was created.
This news comes less than a week after Rauner won an Illinois Labor Relations Board decision that, ultimately, likely will allow him to impose his terms on the largest union of state employees for its pending four-year contract. Rauner plans to lengthen to work-week to 40 hours from 37.5, change pay policy for holidays, require higher employee contributions for health care, end "fair share" fee paycheck deductions, among many other changes.
One big difference, of course, is that Rauner is forbidden by the Illinois Constitution from reducing pension benefits.
The greatest parallel with Illinois is a plan described by Rep. Jason Chaffetz (R-Utah), chairman of the House Committee on Oversight and Government Reform, in which defined-benefit pensions for new federal employees would be eliminated and replaced with a savings system similar to  401(k) plans offered in the private sector. The Post reports:
He said the model would be his home state, which six years ago replaced the defined benefit pensions that have disappeared at most private companies with a defined contribution plan for new state and municipal workers.
Rauner and conservative advocacy groups like the Illinois Policy Institute consistently have argued that defined-benefit pension plans are unsustainable and should be scrapped. Decades of underfunding of the state's five pension systems has created an unfunded liability just shy of $130 billion that must be made up over the next 39 years.
Early in his governorship, Rauner tried unsuccessfully to weaken Illinois unions by eliminating "fair share" fees that non-union members who work under union-bargained contracts pay to cover the union's administrative costs. He first signed an executive order to end the fees but Attorney General Lisa Madigan said it violated the state constitution. He then filed an amicus brief in a lawsuit that almost certainly would have ended fair share fees nationwide had Justice Antonin Scalia -- a likely favorable vote for the plaintiffs -- not died before an opinion was issued.
Trump should expect no such obstacles in taking on unions, according to the Post:
The promises go hand in hand with Trump's promise to shrink the size and reach of government, from eliminating some agencies outright to lifting regulations and running the bureaucracy with fewer people.

(Trump adviser Newt) Gingrich said the Trump administration probably would look for guidance from Wisconsin Gov. Scott Walker (R), who stripped public employee unions of most of their collective-bargaining rights and forced workers to pay more into their pensions and for health care in what became a bitter political fight.
Calling all HuffPost superfans!
Sign up for membership to become a founding member and help shape HuffPost's next chapter