President Donald Trump breezed through a visit to Israel's national Holocaust memorial center in Jerusalem on Tuesday, summing up the half-hour experience in the museum's guest book as "SO AMAZING."
Although initial reports in Israeli and Jewish media suggested the president planned to spend just 15 minutes at the center, Trump's team ended up setting aside 30 minutes for the visit, the AP reports.
Before he left, Trump briefly signed the memorial's guest book. True to form, Trump's note was blunt and appeared a bit rushed.
Times of Israel correspondent Raoul Wootliff tweeted out an image of the note.
"It is a great honor to be here with all of my friends - So amazing and will NEVER FORGET!" the president wrote.
In response to the strangely curt note, an image of the message former President Barack Obama left in the guestbook started circulating on social media on Tuesday. Obama's note, written while he was still a senator in 2008, demonstrated the striking differences in personality between Trump and his predecessor.
"Let our children come here, and know this history, so that they can add their voices to proclaim 'never again,'" Obama wrote. "And may we remember those who perished, not only as victims, but also as individuals who hoped and loved and dreamed like us, and who have become symbols of the human spirit."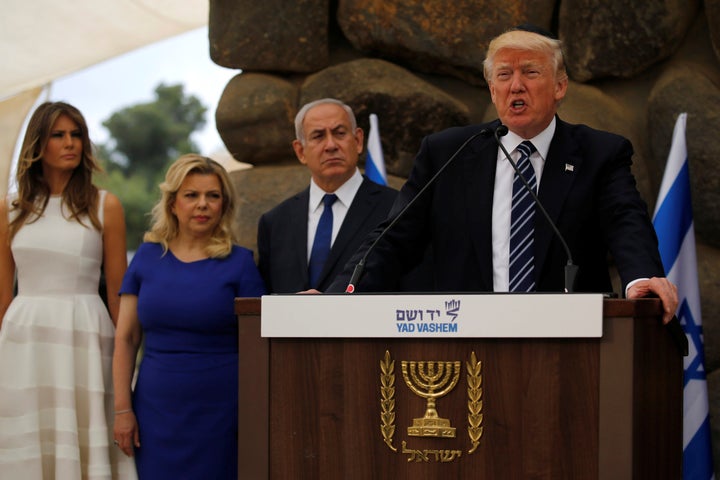 Avner Shalev, the chairman of Yad Vashem, told ABC that he didn't think Trump's guestbook message was insensitive, especially because of the strong statements the president made during a speech at the center that remembered the victims as human beings and reminded people of the importance of speaking up in the face of evil.
Shalev told ABC that the remarks were "very meaningful" and that the president "touched all the essential elements that should be touched."
Most foreign dignitaries who visit Israel make it a point to stop at Yad Vashem. Visits to the center, which preserves the memories of the six million Jewish people who were systematically murdered by Nazis during World War II, usually take about and hour and a half.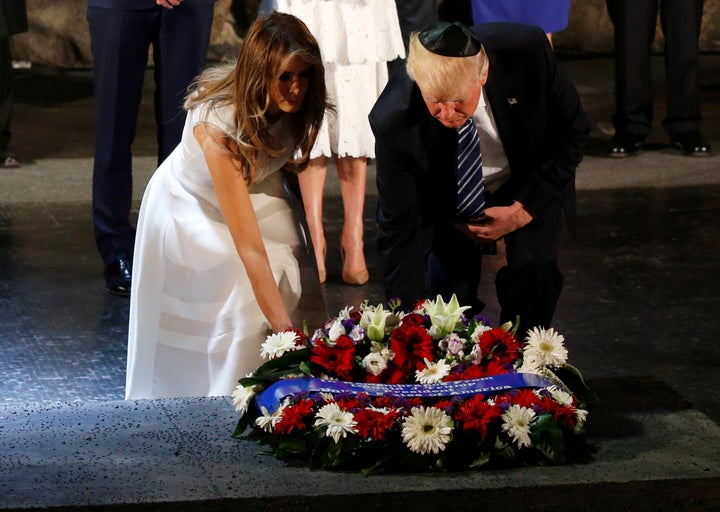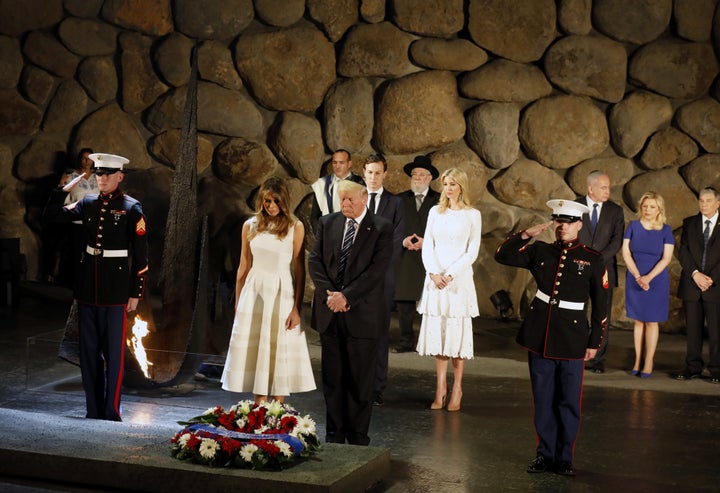 "Millions of innocent and wonderful and beautiful lives, women and children, were extinguished as part of a systematic attempt to eliminate the Jewish people," he said during a speech at Yad Vashem.
He also expressed firm support for Israel.
"The State of Israel is a strong and soaring monument to the solemn pledge we repeat and affirm: Never again," he said.
Before he left Yad Vashem, Trump was given a replica of a diary that belonged to Ester Goldstein, a German-Jewish teen who was murdered during the Holocaust.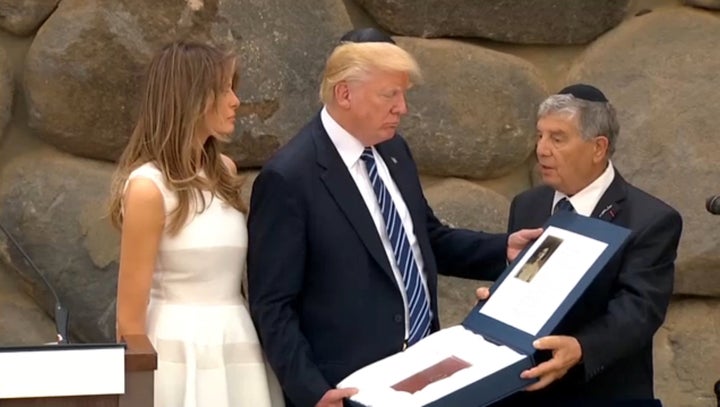 Steven Goldstein, Executive Director, Anne Frank Center for Mutual Respect, told HuffPost in an email that the president's 30 minutes at the center was "better" than the originally reported 15 minutes.
"But it was nowhere close to the 90 minutes or more recommended length of a visit to Yad Vashem that would have allowed for a significant learning and reflection experience - the kind of deeper experience that would have countered the President's odd signing of the guest book as 'SO AMAZING.' (Caps his.)"