WASHINGTON ― President Donald Trump, like many people around the world, has seen reports about what's happening at airports in the aftermath of his executive order that left refugees, immigrants and other travelers unable to enter the United States.
He thinks it's going great.
"It's working out very nicely," Trump said of his executive order on Saturday. "You see it at the airports, you see it all over."
The president signed the order on Friday to bar all refugees from entering the U.S. for 120 days, keep out Syrian refugees indefinitely, and restrict travel for individuals from seven countries: Iran, Iraq, Libya, Somalia, Sudan, Syria and Yemen. The ban applies even to green card holders from those countries who reside in the United States: They may now be admitted only on a case-by-case basis. It also applies to dual-nationals of one of the seven countries and another nation.
Trump is right that airports have become the principal place to observe the effect his order is having on people's lives.
Many people who fit the banned categories arrived at U.S. airports with their previously approved visas, only to be detained and barred from entry. There are numerous individual stories: an Iraqi who worked for the U.S. military as an interpreter during the war, only to be detained at the airport; a Syrian woman trying to visit her sick mother; a Syrian family who was set to move to the United States and now won't be allowed to.
There are infants who are U.S. citizens being detained at Los Angeles International Airport because their parents are legal permanent residents and elderly people whose families are unable to reach them to ensure they have their medication, according to attorneys.
Hundreds of protesters have also gathered at airports, with especially large crowds at New York's John F. Kennedy International Airport.
Some of the chaos has resulted from the language of the order and the fact that it's not clear what it all means. Trump's own administration doesn't seem to have worked out all the details. A White House official told reporters on Saturday that the administration is trying to determine how to define "in transit" in a segment of the order that says there can be an exception for certain refugees "when the person is already in transit and denying admission would cause undue hardship."
"We were totally prepared," Trump said about the order later on Saturday.
He also said the executive order was "not a Muslim ban" ― something some Republicans, such as House Speaker Paul Ryan (R-Wis.), have used as a justification for accepting it even though they'd condemned Trump's call back in 2015 for a blanket ban on people who practice Islam.
The new executive order does not mention any religion specifically, but all of the countries on the list have Muslim-majority populations.
The president also said on Friday that he would prioritize resettling Syrian Christian refugees, in spite of his directive to bar refugees in general. The executive order would give him an avenue to do so: It says an exception can be made for refugees who are members of a persecuted religious minority in their home country, which would leave Syrian Muslims out.
Update: The American Civil Liberties Union and refugee relief organizations filed an action in federal court Saturday morning on behalf of two Iraqi nationals who were detained at JFK Airport. On Saturday night, a federal judge temporarily halted parts of Trump's executive order.
Before You Go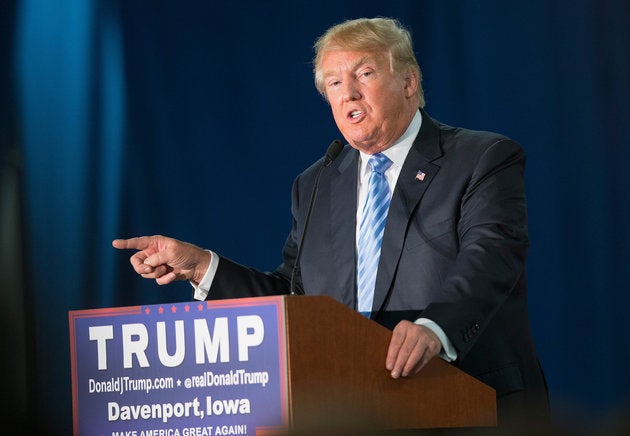 Evolution Of Trump's Muslim Ban
Popular in the Community