ATLANTA ― In what might be the newest swing state this election, voters in the least traditionally partisan age group said the final televised presidential debate may have changed exactly zero minds.
At Wednesday's joint debate watch party for the Atlanta Young Republicans and the Young Democrats of Atlanta, GOP millennials cheered Donald Trump's jabs at Hillary Clinton, and the Democratic 20-somethings applauded her takedowns of Trump.
"Honestly, I don't know. Who's undecided at this point?" said Angelyn Dionysatos, president of the Republican group.
One issue, though, did make both sides uncomfortable: Trump's refusal to say he would accept the result of next month's election should he lose. Democrats reacted with outrage. Republicans grimaced and stayed silent.  
Jake Evans, a 29-year-old lawyer still in his suit and tie from work, said Trump probably would have been better off saying, yes, of course, he would concede if he lost. On the other hand, Evans said, the answer probably would not turn off his supporters. "Trump is a fighter," he said. "At this point, Americans know who Donald Trump is."
Earlier, Evans had expressed his frustration when Trump interrupted Clinton with: "Such a nasty woman."
"Come on," Evans said. "See? This is how he falls apart."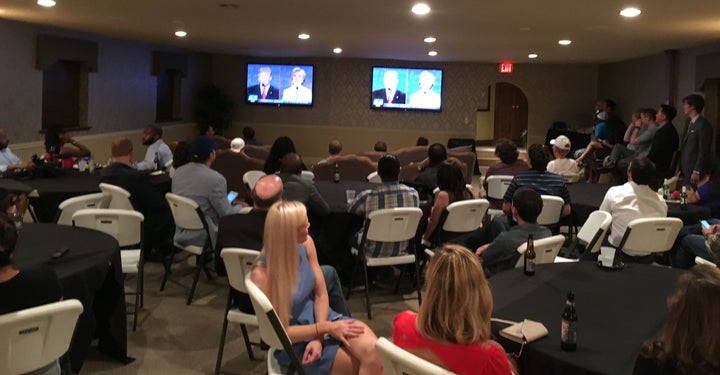 Recent polls show that in Georgia ― which 2012 GOP nominee Mitt Romney comfortably won by 8 points ― both candidates could be statistically tied.
One reason for this is Trump's failure to appeal to younger, college-educated Republican women. One woman in the GOP group pantomimed shooting herself when describing her efforts to persuade her friends to vote for Trump.
She said she couldn't justify the Republican nominee's attitude toward women, exemplified by a recently unearthed "Access Hollywood" video that recorded him bragging that his celebrity allowed him to sexually assault women. "I'm the worst possible advocate for him," she said on condition of anonymity, so as not to hurt her standing with the party.
Baylie Fry, a 26-year-old lawyer who reluctantly supports Trump despite his comments about women, said the final debate performance was probably his best. "I think he did a good job because he stayed composed, which is hard for him," Fry said. "He wasn't as bad as [in] his first two debates."
REAL LIFE. REAL NEWS. REAL VOICES.
Help us tell more of the stories that matter from voices that too often remain unheard.