As journalists left the White House following dinner Monday night with President Donald Trump, press secretary Sean Spicer told attendees that the administration invited them to honor the power of local television.
Such praise may seem at odds with the Trump White House's ongoing media war, which two days earlier included the president claiming journalists fabricate sources and the press secretary barring news outlets from a press briefing. But when Trump described NBC, ABC and CBS as "the enemy of the American people," he presumably meant the big national networks, based in New York City and with large Washington operations, as opposed to the local NBC, ABC and CBS affiliate stations scattered throughout the country. 
The 18 regional reporters who enjoyed braised short ribs Monday night in the state dining room hailed from six television companies ― Hearst, Scripps, Gray, Sinclair, Cox, Nexstar ― that combined own hundreds of such stations, beaming into millions of Americans' living rooms. 
Trump still had lunch Tuesday with national news anchors, a long-running tradition whereby the president previews that evening's State of the Union address, or in this case, a speech to a joint session of Congress. But the White House's decision to expand the rollout with a regional press, featuring the president and top officials, along with appearances by Vice President Mike Pence and first lady Melania Trump, signaled that officials see value in also engaging, even courting, local reporters.
The private dinner follows Trump recently calling on a reporter from a Sinclair-owned station at a bilateral press conference and Spicer opening up daily briefings to local affiliates via Skype, a move that's been both praised for democratizing the press corps and looked upon warily as a way to potentially deflect away from national issues and controversies.
Jacqueline Policastro, the Washington bureau chief for Gray Television, said she appreciated Spicer's post-dinner comment, which to her demonstrated an acknowledgement of the role local TV stations play in informing millions of busy Americans each day. 
"Our responsibility in the minute-and-a-half on a local newscast is to provide them political content that has value," Policastro told The Huffington Post.
Policastro oversees a bureau of seven Washington-based journalists who produce segments distributed to Gray's stations in 54 media markets.
While Gray's more general political news segments may run on stations nationwide, interviews with members of Congress are produced for specific stations directly reaching their constituents. Lawmakers have long recognized the importance of appearing on their local TV newscasts, evident in Policastro and her team nabbing 80 interviews with members of Congress around Trump's address.
Policastro said that many of the markets Gray covers are underserved when it comes to national political news, and so her team's reports are distributed widely to stations across the country. Her post-dinner report, with details not only on the dinner but also Trump's preview of the speech, potentially aired in dozens of local affiliates, including cities such as Roanoke, Virginia; Green Bay, Wisconsin; Flint, Michigan; and Anchorage, Alaska.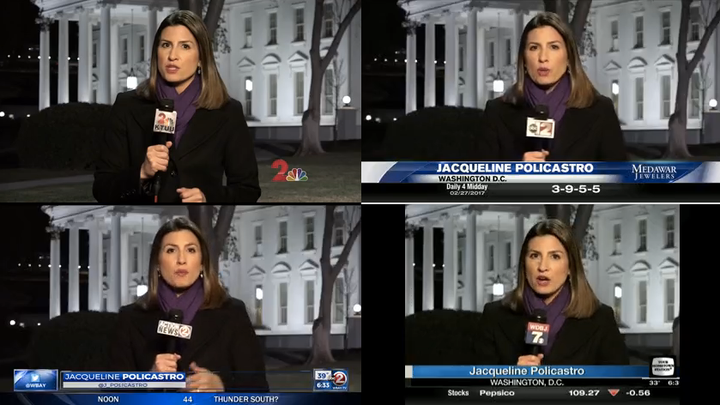 Policastro said she tells her reporters daily that they always "need to think about who we're talking to, directly to the people in the community where we broadcast" because "that's who matters to us." 
It's this direct engagement, perhaps, that has led Americans to view local news as more trustworthy than national media (which is only being demonized on a near-daily basis by the most powerful person in the world).  
Trump already uses Twitter to circumvent the national media filter, and one of his top advisers recently suggested that turning to local TV anchors, in some cases, is more effective than sitting down with Wolf Blitzer and Jake Tapper. 
In December, Politico reported that top White House adviser and Trump son-in-law Jared Kushner said at a private gathering that their presidential campaign had struck a deal with Sinclair to run interviews with Trump without commentary. Sinclair, which owns 173 stations and has been viewed as favoring Republican candidates in the past, denied giving preferential treatment to Trump.
But regardless of whether a "deal" was struck, Kushner indicated at the same forum why engaging Sinclair was more beneficial than CNN in a state like Ohio. Kushner, who has privately complained to CNN executives about its Trump coverage, pointed out that the national TV network only reaches around 30,000 people the crucial swing state, while Sinclair reaches 250,000.
"It's math," Kushner said.
Here's some more math to support a strategy of targeting Trump supporters through local media. 
Trump won Gray's markets 57.7 percent to Clinton's 36.5 percent, with a total of 2.8 million more votes going to the Republican nominee, according to Policastro. 
The Trump White House did not provide anyone to discuss hosting a regional press dinner and how it fits with a broader media strategy. 
But another attendee, Mark Greenblatt of Scripps, offered a theory. 
"They've done some polling and they feel like that folks that they really want to connect to ... learn a lot about the world through local TV stations," Greenblatt said on a radio show Tuesday morning. "So they chose us to bring in to say, hey we really want to value you, we really want to create relationships with you, and we want these direct distribution channels without having to go through the previous gatekeepers."
Calling all HuffPost superfans!
Sign up for membership to become a founding member and help shape HuffPost's next chapter