Donald Trump met Thursday afternoon with Republican National Committee Chairman Reince Priebus and other party leaders in Washington. The meeting came as a surprise to many -- it was not announced ahead of time, and the agenda wasn't made public.
But it's a pretty safe bet that Priebus and his party's presidential front-runner talked about Republican convention delegates, and the process for awarding them to candidates. 
Trump holds a commanding lead in the delegate count, but delegate math can be tricky. In the recent Louisiana GOP primary, Trump won a plurality of votes, but not the majority of delegates. On Sunday, he threatened to sue the RNC over the delegate allotment. 
In addition to the lawsuit threat, Trump and members of his campaign have also been fanning conspiracy theories about how the GOP will try to choose a presidential nominee in "secret" and override the will of the Republican voters who cast ballots for Trump. 
On Tuesday, Trump reneged on his pledge to support the party's nominee, if it turns out to be someone other than him. Speaking at a CNN town hall, and citing Louisiana as an example, Trump said the RNC had been "very unfair" to his campaign.
Which is not to say that Trump has given up on the party entirely. Trump announced this week that he will be opening an office in Washington "to coordinate his campaign's work with the Republican National Committee, Congress, and his convention and delegate operations," according to a campaign statement.
He's also creating a congressional outreach committee to help him woo members of Congress, many of whom have been loath to endorse his lightning-rod presidential campaign. Trump's "U.S. House Leadership Committee" will be led by Reps. Duncan Hunter (R-Calif.) and Chris Collins (R-N.Y.).
But even if Trump decides to play nice with the RNC for a while, party leaders won't soon forget his broken pledge to back the GOP nominee. And in spite of Trump's promises to his 7 million Twitter followers that he will "bring the party together," it's no secret that Trump's campaign presents an unprecedented challenge to the party of Lincoln.
Poll after poll shows that Trump is hugely unpopular among large swaths of voters, but he is beloved by his fans. On the campaign trail, Trump regularly insults GOP leaders by name, and he rejects long-held Republican Party tenets. If Trump were to be the party's nominee, Republican leaders also fear he would hurt GOP candidates' chances in down-ballot races.
If Trump doesn't become the nominee, however, Trump himself has predicted that his supporters will riot at the Republican National Convention in Cleveland in July. Given the violence that already permeates Trump's rallies, this is hardly an implausible idea. Cleveland police officers have ordered additional riot gear just in case. 
The party's other presidential hopefuls, Ohio Gov. John Kasich and Sen. Ted Cruz (R-Texas), lag well behind Trump in the delegate count. But either man would represent a safer choice for the GOP than Trump.
The real estate mogul tweeted Thursday that his meeting with Priebus had gone well. At press time, Priebus had yet to comment on the meeting.
Trump's visit to the RNC occurred just hours after the committee launched a website aimed at explaining the party's convention and delegate rules to GOP voters. The site is one way that the GOP hopes to get out ahead of what is increasingly expected to be a contentious party convention in Cleveland. 
"ConventionFacts.gop is a tool for voters to learn about convention delegates, rules, and how the overall process works in a simple, easy to understand format," Priebus said in a statement. "Conventions are democracy in action and our Party's gathering in Cleveland will be an exciting, transparent, and fair process."
But the reality is that delegate voting is complicated (see the rules below), and despite the RNC's assurances of fairness, on the surface the whole process appears to put a lot of power in the hands of individual delegates.
And if Trump supporters feel their candidate is being denied the nomination by party patricians, it's going to take a lot more than a friendly website to cool them down.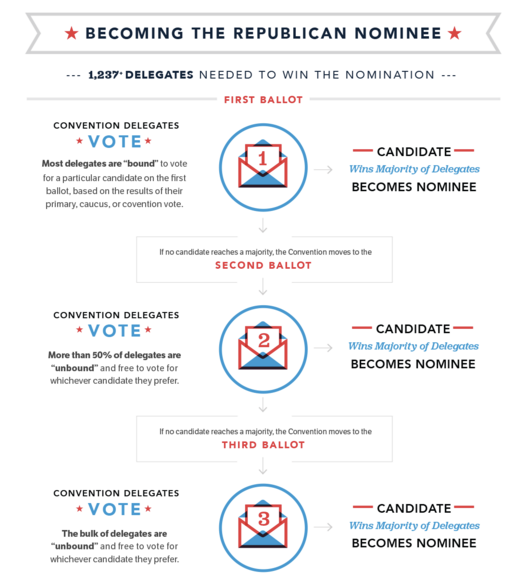 REAL LIFE. REAL NEWS. REAL VOICES.
Help us tell more of the stories that matter from voices that too often remain unheard.