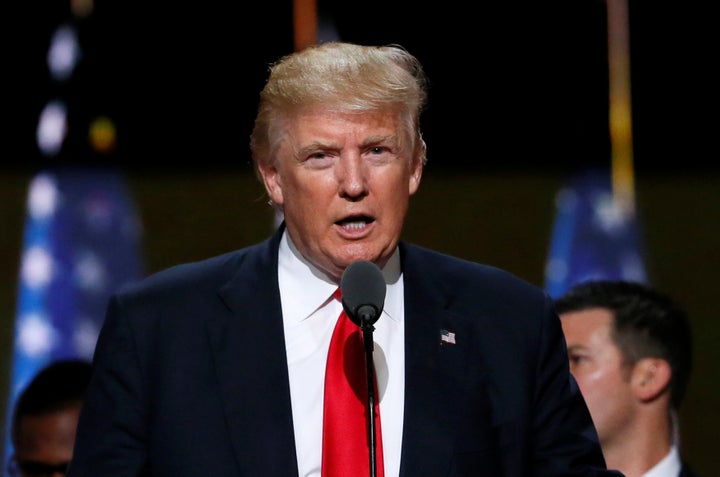 CLEVELAND – Exactly 401 days after his much-disparaged ride down an escalator in his Manhattan skyscraper to announce his candidacy, developer-turned-entertainer Donald Trump formally took his spot atop the 2016 Republican ticket.
"Friends, delegates and fellow Americans: I humbly and gratefully accept your nomination for the presidency of the United States," Trump told thousands of Republican activists packed into Quicken Loans Arena Thursday night.
Trump, who throughout his campaign has ridiculed politicians for reading prepared remarks, nevertheless read his 4,000-word speech off a teleprompter, focusing on crime, illegal immigration, terrorism and international trade.
"Our convention occurs at a moment of crisis for our nation," Trump said. "The attacks on our police, and the terrorism in our cities, threaten our very way of life. Any politician who does not grasp this danger is not fit to lead our country."
The cause of these problems, Trump made clear frequently, was the leadership of President Barack Obama and his first-term secretary of state, now Trump's Democratic opponent.
"This is the legacy of Hillary Clinton: death, destruction terrorism and weakness," he said, adding, in echoes of Richard Nixon's 1968 campaign: "In this race for the White House, I am the law and order candidate."
At an hour and 16 minutes, Trump's acceptance speech was the longest of any of his prepared addresses ― of which there have been but a handful in the last year. He largely stuck to the script, as well, and avoided the personal insults that are common in his typical free-form stump appearances. Clinton, for example, was never "Crooked Hillary," his favored nickname for her.
Trump again promised the top policy proposal of his campaign since he entered the race in June 2015, a border wall with Mexico, but otherwise offered few concrete ideas. Some even contradicted each other. He promised the largest tax cut of any candidate this election, for example, but then also pledged massive investments in "roads, highways, bridges, tunnels, airports, and the railways of tomorrow."
Neither on Thursday nor in his year of campaigning has he explained where the money for such projects would come from, except for the suggestion that his tax plan would expand the economy so dramatically that it would generate tremendous amounts of new revenue.
Typically, though, the promises were far more general and based on his own purported abilities. Crime and violence would "very soon, and I mean very soon, come to an end." The trade deficit? "We're going to fix that." The Islamic State? "We are going to defeat them."
Trump tied most of these woes to a "rigged system" ― but then suggested his experience in manipulating that system through the years would now work to the country's advantage. "Nobody knows the system better than me, which is why I alone can fix it," he said.
Trump repeated a number of dubious or flat-out false claims: that the United States was admitting Syrian refugees without knowing anything about them. That the U.S. trade negotiators signed agreements thousands of pages long without bothering to read them. That the United States is among the highest-tax countries in the world.
He even suggested that FBI Director James Comey had corruptly failed to prosecute Clinton over her use of a private email server while she ran the State Department.
Nevertheless, in contrast to a typical Trump campaign rally speech, Thursday night's delivery was restrained and comparatively structured ― for which at least some of his supporters in the convention hall were grateful. "He can't ad lib, that gets him in trouble. That's what we were all worried about," said Darilyn Dolimpio, a Florida delegate who lives in The Villages retirement community north of Orlando.
Clinton's campaign and supportive super PACs, meanwhile, sent out dozens of emails challenging Trump's facts as the speech was delivered. Clinton campaign chairman John Podesta also scolded Trump's generally fearmongering tone.
"Tonight, Donald Trump painted a dark picture of an America in decline," Podesta wrote. "And his answer ― more fear, more division, more anger, more hate ― was yet another reminder that he is temperamentally unfit and totally unqualified to be president of the United States."
Trump has talked about running for president several times in the past, most notably in 2011, when he became the "birther" movement's highest-profile champion and rose to the top of some early polls.
He claimed to have sent a team of investigators to Hawaii to research President Barack Obama's birth. Obama eventually released his original birth certificate proving he was born where he said he'd been born, and then mocked Trump at the White House Correspondents' Association dinner over the matter. Trump decided not to run.
That history led other GOP candidates and outside observers to assume Trump was yet again merely seeking publicity for his brand when he announced his run a year ago ― an assumption that was supported by Trump's lack of an actual campaign structure.
Despite this, the reality TV star's entertainment value attracted heavy and sustained cable television coverage, helping him stay atop most state polls heading into the holidays. Only then did other candidates and outside conservative groups start taking him seriously. It was, though, too late. Trump followed his second-place finish in Iowa with solid wins in New Hampshire, South Carolina, Nevada, and then a slew of Super Tuesday states on March 1.
Yet even as he won a majority of the delegates in the primary season, Trump failed to win the majority of the popular vote, and the party activist base has still not coalesced around him. Just Monday, Trump and his new allies at the Republican National Committee had to fight back an attempt to strip him of the nomination on the convention floor.
Even on Tuesday, as the heavily pro-Trump delegates from New York, Pennsylvania and California danced to "New York, New York" when he received the votes necessary to clinch the nomination in the roll call, entire delegations at the periphery of the convention hall, including Texas, Colorado, Utah and Virginia, remained largely seated.
Texas Sen. Ted Cruz, who finished a distant second to Trump in the primaries, put an exclamation point on the continued disunity in the party with a speech Wednesday that pointedly did not endorse Trump in the general election.
Texas delegate Steve Toth, originally a Cruz supporter, said he would vote for Trump in November, primarily to prevent Democratic presumptive nominee Hillary Clinton from becoming president, but also because he has been impressed by Trump's adult children. "Great kids don't come from bad parents," he said.
Nevertheless, many top Republicans acknowledge privately that Trump is likely to lose in November, quite possibly by a wide margin. In any event, the party will need to reassess how it can build a voting base that better matches an ever-more ethnically diverse country. Trump so far has disproportionately attracted white men without college educations – the one demographic slice that is actually shrinking in the country.
In that regard, many anti-Trump Republicans believe a big loss would be the best thing for the party.
"In a lot of ways, that'll be the easiest thing because then it will just be an aberration and I think things will float back," said one longtime GOP fundraiser on condition of anonymity. "I think the people who flowed into the party are not Republicans first and they'll be disillusioned and be upset and go back to their spitey old ― go on with their lives."
Paul Blumenthal and Ryan Grim contributed to this report.
Calling all HuffPost superfans!
Sign up for membership to become a founding member and help shape HuffPost's next chapter
BEFORE YOU GO
PHOTO GALLERY
9 Other Absurd Things Donald Trump Has Said About Latinos