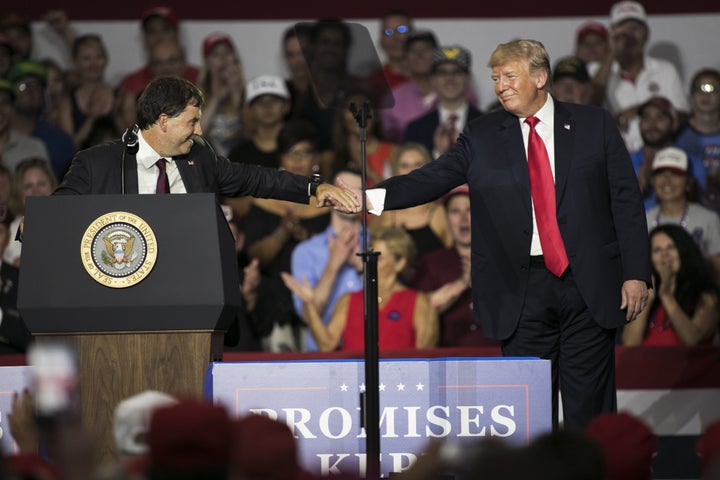 The quickest way for a Republican to win a primary election in 2018 is to get the endorsement of President Donald Trump, and he has been more willing to offer them. He has endorsed Senate candidates who were certain to win, gubernatorial candidates who needed a boost and even a candidate in a House district after thousands of votes had been cast. All of them won. He has been mentioned positively in more than 27,000 television ads and held 21 rallies.
Republicans are now confronted with a decision about whether to continue their embrace of Trump as the political calendar moves closer to Labor Day, the traditional start of the general election season. In many swing districts, the party is likely to find its reliance on him, his rallies, his ads and his tweets more of a hindrance than a help. But he is unlikely to stop his heavy political involvement. While his approval rating on the national level is poor, he is almost certain to be far more of a campaign trail presence than President Barack Obama was during his first midterms eight years ago.
On Wednesday morning, Trump tweeted that he would campaign more for Senate and House candidates "if I find the time" and predicted a "giant Red Wave!" (He previously told his friend and informal adviser Sean Hannity he would campaign for Republicans "six or seven days a week." No political operative in either party thinks a Republican wave election is likely or even possible.)
Republican candidates, however, might start asking Trump to stay away. If you believe Ohio Gov. John Kasich, Republican state Sen. Troy Balderson — the apparent winner of the still too close to call special election in Ohio's 12th Congressional District on Tuesday — never invited Trump to campaign for him over the weekend. Trump's approval rating remains mired in the low to mid-40s and is even lower in many states and districts key to Democrats' winning back a House majority.
The Ohio district was competitive because Trump has driven away formerly Republican-leaning voters in Columbus' highly educated suburbs, the latest sign of his party's deteriorating political position. A series of worrying results in Washington State's all-party primaries – Rep. Cathy McMorris, the number four Republican in the House, led her Democratic opponent by just a single percentage points – only reinforced the message.
At the same time, Republicans are facing an energized Democratic Party and may conclude a Trump visit is their best hope to save themselves. Tuesday's special election was a shining example.
"In Ohio 12, there's a legitimate case to make that the only reason Republicans saved the seat is because [Trump] went there and bumped up the intensity," said Rob Stutzman, a GOP strategist based in California, where the party is defending a slew of seats in suburban districts. "On the more macro level, the only reason the seat is competitive is because of Trump."
Andrew Surabian, a former Trump White House official, said the president's ability to dominate news coverage made him an unparalleled figure — one Republicans would be foolish not to utilize.
"There's no political figure on the left or right who, in the snap of his fingers, can turn a zero into a hero or put a race on the map the way Trump can," Surabian said. "Our politics are now so bifurcated. The days of persuasion are over. It's about mobilization."
Political operatives in both parties are skeptical that Republicans could keep Trump off the trail even if they wanted to. "I think he'll listen to [House Majority Leader Kevin] McCarthy at the end of the day" on where to campaign, Stutzman said. "On the other hand, he appears to increasingly be a person who will discard the advice of anyone around him."
There's also a question of whether Republicans who relied on Trump to help win their primaries can distance themselves from him even if they choose to. Michigan Attorney General Bill Schuette, a onetime Jeb Bush supporter who romped to victory over Lt. Gov. Brian Calley on Tuesday night on the back of an early endorsement from Trump, now has a political brand entwined with the president's. Democrats think former state Senate leader Gretchen Whitmer will be able to capitalize.
Similar dynamics are at play in Kansas and Florida, where state Secretary of State Kris Kobach and Rep. Ron DeSantis, respectively, are expected to triumph with Trump's help. DeSantis released an ad entirely focused on his devotion to Trump.
Former Rep. Gwen Graham, the front-runner in Florida's Democratic gubernatorial primary, said DeSantis' embrace of Trump — and frequent appearances on Fox News praising the president — is turning off swing voters in the state.
"He's like his lapdog, anything that Trump wants, anything that Trump supports," she said, citing immigration and environmental policy. "Ron DeSantis has shown himself as someone who won't put Florida's interests ahead of Trump's interests."
DeSantis', Kobach's and Schuette's reliance on Trump was more norm than outlier. From June 5 to July 29, Trump was mentioned positively in more than 27,000 political ads, according to the Wesleyan Media Project — good for about 15 percent of all political ads. In comparison, Democrats mentioned Obama positively in about 1 percent of political ads in 2010 and 2014.
And Trump has been more aggressive about rewarding his political allies with rallies than Obama was. Trump has held 21 political rallies so far, according to CBS's Mark Knoller, who has been tracking presidential schedules for decades. Obama held just two rallies by this point in the 2010 cycle, or as many as Trump held just this weekend.
However, Obama held 57 fundraisers at this stage, compared with 31 for Trump, according to Knoller's data. A separate analysis by McClatchy found that nearly half the Trump-hosted fundraisers benefited his re-election bid. Presidents traditionally focused fundraising efforts during their first two years on midterm candidates and party committees.
And Trump's fundraising prowess could benefit Senate and House Republicans: More than 50 GOP members of Congress were outraised by their Democratic challengers in the second quarter of 2018. O'Connor outraised Balderson, with more than $2.7 million in spending from the Congressional Leadership Fund, a major GOP super PAC controlled by allies of House Speaker Paul Ryan, making up the difference. But GOP outside groups can't spend that much in every district.
"While we won tonight, this remains a very tough political environment, and moving forward, we cannot expect to win tough races when our candidate is being outraised," Corry Bliss, the head of CLF, said on Tuesday night after Balderson's apparent victory. "Any Republican running for Congress getting vastly outraised by an opponent needs to start raising more money."
"In no state, red or blue, are voters looking for go along, get along."
Senate Republicans have been open about their desire for Trump to campaign with their candidates. Democrats are defending 10 seats in states he won in 2016. But Democrats feel confident Trump loyalty alone won't be enough to win over voters in places like Missouri, Indiana and Montana.
"In no state, red or blue, are voters looking for go along, get along," said J.B. Poersch, the head of Senate Majority PAC, a key super PAC backing Democratic Senate candidates. "They want candidates and incumbents who reflect their values, their agenda, who are willing to pick up and fight for the states."
He noted that many Democratic incumbents won over Republican voters in the 2006 and 2012 election cycles. "Our challenge going forward isn't getting Trump supporters. It's keeping them," he said.
Senate Republicans, meanwhile, are confident about avoiding Trump primary headaches. While he upset GOP establishment figures and the Republican Governors Association with his endorsements of Kobach and DeSantis, Trump has mostly stayed away from disruptive Senate endorsements. One Republican with knowledge of the discussions said Trump was under pressure to endorse Rep. Martha McSally in Arizona's GOP Senate primary but was likely to stay neutral in the contest. (Establishment Republicans will consider it a win if Trump opts not to endorse former Maricopa County Sheriff Joe Arpaio or former state Sen. Kelli Ward.)
On the House level, Republicans are looking at strategically using Trump even in suburban districts where he's less popular. They might target Facebook ads or mailers at GOP base voters to encourage turnout.
"There are ways to use him in almost every district," said a GOP member of Congress, speaking on condition of anonymity to discuss party strategy.
Popular in the Community