Most recently, Trump likened the trade deal between China and the United States to rape. "We can't continue to allow China to rape our country," he said at a rally in Indiana this week, "and that's what they're doing."
Women strongly dislike Trump. Seven in 10 American women -- and 46 percent of Republican women -- have an unfavorable view of him, according to a recent Gallup poll. But now the latter group has to come to terms with the fact that they will probably not have another option within their party.
Anti-abortion groups and conservative women's groups, who have actively campaigned against Trump throughout the Republican primary, are in an especially awkward position. Penny Nance, the president of the conservative Christian group Concerned Women for America, told The Huffington Post that the choice between Trump and Clinton would be a nightmare for Republican women.
"I don't know that we would endorse anyone," Nance said. "That would be a horrible choice for our members."
Republican women candidates are also in a bind. Sen. Kelly Ayotte (R-N.H.) reluctantly acknowledged Wednesday morning, without even mentioning Trump's name, that she still "plans to support the nominee." Her challenger, New Hampshire Gov. Maggie Hassan (D) has used that statement against Ayotte in campaign materials.
"While Kelly Ayotte just today made her support for Donald Trump official, they've long been in agreement when it comes to critical issues such as their desire to defund Planned Parenthood, undermine Roe v. Wade, and obstruct the Supreme Court confirmation process," Hassan's campaign said in a statement. "The people of New Hampshire will soundly reject the Trump-Ayotte ticket in November."
Trump said he thinks women voters will still vote for him because he can protect them from terrorism -- but with only half of women in his own party supporting him, the numbers don't add up to a win for him. Clinton will clobber Trump among single and minority women, who usually lean left anyway. But even white women, who voted for former Massachusetts Gov. Mitt Romney over President Obama by a margin of 56 to 42 percent in 2012, overwhelmingly disapprove of Trump, according to a recent Washington Post poll.
Meanwhile, Clinton is laughing all the way to the bank. Trump's "woman card" comment drove $2.4 million in fundraising for the likely Democratic nominee's campaign, and she wasted no time using Trump's women problems to her advantage.
"If fighting for women's health care and paid family leave and equal pay is playing the woman card," she said, smiling, to a crowd in Pennsylvania last week, "then deal me in!"
Before You Go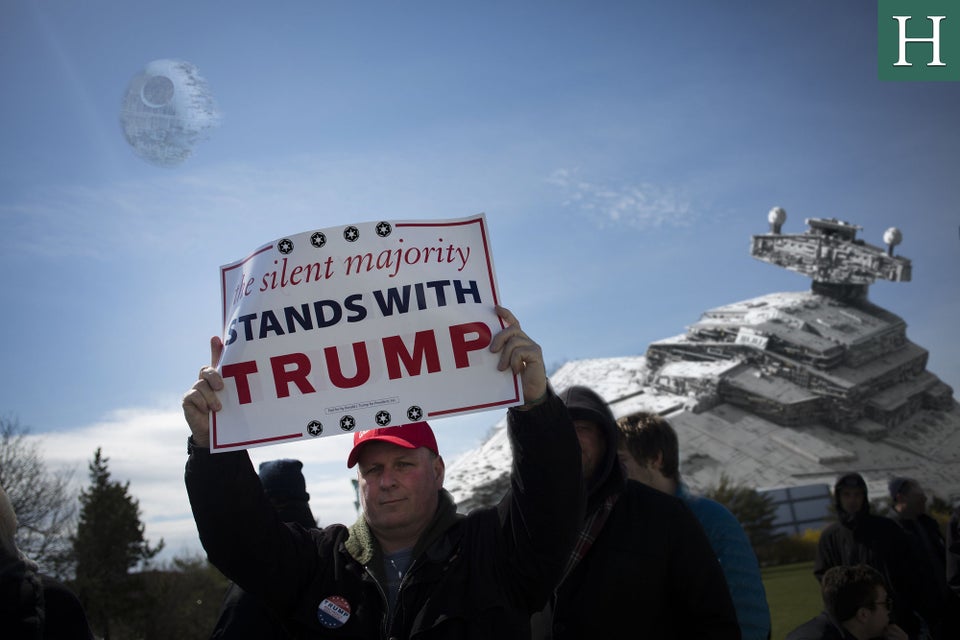 Darth Vader Has Nothing On Donald Trump
Popular in the Community