WASHINGTON ― One month into his presidency, Donald Trump's popularity has begun tanking with every constituency, save one.
GOP voters remain loyal to the president. And not by small margins. While just 39 percent of all respondents in a recent Pew poll said they approved of the job Trump was doing, 84 percent of Republican and Republican-leaning voters said they felt that way. GOP support for Trump surpasses that for George W. Bush, his father, and Ronald Reagan at similar points in their presidencies.
These numbers have fed the perception that Trump is a sui generis type of political figure ― one whose avid base will stick by him regardless of foible or misstep. It's a perception that Trump himself has pushed, famously declaring that he "could stand in the Middle of Fifth Avenue and shoot somebody" and not lose any votes.
The reality, of course, is far more complicated. And it was readily apparent at this week's Conservative Political Action Conference. The gathering of students, activists and operatives featured a number of die-hard Trump supporters, including those able to rationalize a principled support of the president, even after such a hypothetical shooting.
"I'd stand behind him until he is impeached," said Eric Finch of West Virginia. "Because he is my president and I respect the office and the process. I'd probably go out and call for his impeachment if he shot someone. But there has to be a process. And I imagine there would be a story. Maybe the guy attacked him, or Secret Service wasn't there."
But Trump's hold on the crowd had as much to do with party as personality. People at CPAC approved of Trumpism as much as, if not more than, Trump himself. And their loyalty to the party was, perhaps, supreme. 
"After eight years of Barack Obama and tax-and-spend economics, a Republican who doesn't do a very good job would have to do a really bad job to anger the movement," said Cody Leach, of Maryland. "We have to be a faithful party because we are faithful servants. We have to lead him [Trump] to the light."
CPAC has never been ideal turf for Trump. Though the gathering helped legitimize him among conservatives when he first appeared in 2011, he skipped the conference in 2016, out of fear that the crowd would walk out of his speech in protest. His address on Friday sparked no such act of defiance. It was, instead, a fairly well received, if not meandering, attack on the press, and a review of campaign promises.
Overall, however, the mood was notably more subdued than past gatherings. After eight years out of power in the White House, attendees seemed thrilled to have finally reached the mountaintop. But, as even the organizers conceded, they still didn't know what to make of the sherpa.
"There is a good healthy skepticism with most people," said CPAC's organizer, Matt Schlapp. "Conservatives have felt like they've taken the bait before. ... Voters get told, 'Oh yeah. We will do this.' And then they get into power and sometimes don't do so much because those issues are controversial. The one thing about Donald Trump is what he's showing conservatives, is that he doesn't seem to care that much if something is controversial. If it is something he said he was going to do, he is a bulldog about getting it done."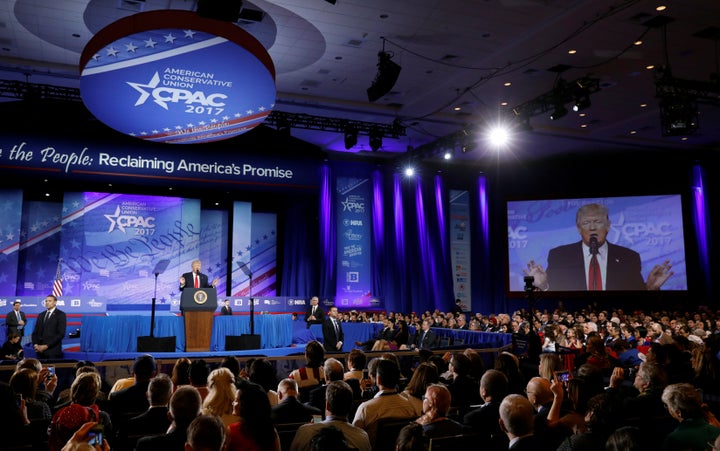 For Trump's true believers, it is precisely that bulldog nature that makes him such a draw. Standing outside the hotel where the conference was held, Nigel Farage ― the former leader of the U.K. Independence Party, Brexit champion and closest approximation to Trump that England can offer ― scoffed at a query about what Trump might do to possibly disappoint.
"It's a ridiculous question," Farage said, in between drags from his cigarette. "It's a ludicrous question. I don't know. ... What you've seen in the first few days is his full intention to carry out his campaign promises. How refreshing."
Several attendees standing nearby were delighted, one gleefully declaring that Farage had gone full "beast mode"
Inside the sliding-glass doors of the hotel, others were similarly passionate. Kira Innis, 30, of Los Angeles, who claimed to have wanted Trump to run for president since she was 13, said the only thing that would force her to question her support would be if Trump sanded down his infamously rough edges.
"The only thing he could do to piss me off is to stop being Trump," said Innis, arguing that, with an "immense sense of brilliance and strategy" Trump picked Mike Pence as his vice president precisely for those who wanted political vanilla. "If [Trump] isn't that non-nonsense pit bull that he is, then I would be upset. Then I'd be like, 'Ummm. We don't want THAT.'"
But at CPAC, these types of comments, even from those proudly toting Trump paraphernalia, were the minority. Most attendees said that while they were uncomfortable with Trump's warts, they were able to overlook look them because he was a vessel for their policies.
Dakota Workman, 22, from West Virginia, said the White House was not operating, as Trump insisted, like "a fine-tuned machine," though he noted that no administration is this early on. But he appreciated the new coal regulations, the ban on lobbying and Trump's Supreme Court pick even more. If the president backpedaled on Obamacare repeal, he said, he'd be upset with Congress and start thinking about ditching Trump. "I sucked up my pride and voted for him more because it was about beating Hillary Clinton," Workman explained.  
Matthew Edward, 23, came to CPAC from Illinois. Trump was his third choice for president, after Ben Carson and Ted Cruz. But on Thursday, he roamed the halls in a MAGA hat, perfectly content with how the administration was operating.  
"If campaign season starts up in 2020 and there is no bricks in the [Mexico] wall, I would have to say, at that point, 'O.K., what's going on?" Edward eventually conceded.
As Trump navigates his first year in office, his challenge will be keeping these types of voters in the fold as he confronts the tough realities of actual governance. A border wall won't be built quickly, and the repeal of Obamacare may never occur. The question is whether Workman, Edward and many others can forgive a lack of progress as quickly as they forgive Trump's idiosyncratic politics.
So far, he has been given a fair amount of leeway.
"If he told the same lies that Hillary Clinton was caught in" ― using a private email server for public business ― "I couldn't vote for him then," said Andrew Pace, 19, of Florida, who wore a "Make America Great Again" hat signed by conservative media provocateur James O'Keefe as he walked the hotel halls. "But even then, I'd vote for another Republican candidate. Either that or [Rep.] Tulsi Gabbard (D-Hawaii). I love Tulsi."
Want more updates from Sam Stein? Sign up for his newsletter, Spam Stein, here.
Calling all HuffPost superfans!
Sign up for membership to become a founding member and help shape HuffPost's next chapter
BEFORE YOU GO