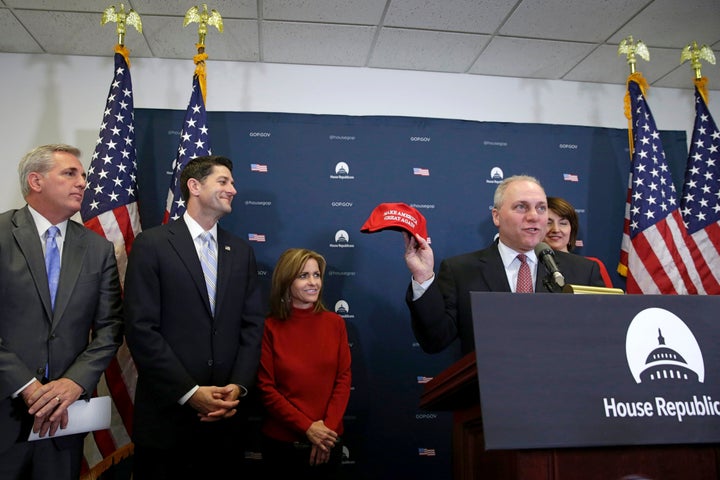 WASHINGTON ― As a show of unity, GOP leaders bought "Make America Great Again" hats for each of the 247 Republicans in the U.S. House of Representatives.
Rep. Reid Ribble (R-Wis.) didn't grab one.
"I kind of chuckled at the whole thing, that they're gonna send out baseball caps? I found the whole experience near-bizarre," Ribble told The Huffington Post.
Listen to Ribble's interview on "So That Happened," the HuffPost Politics podcast:
Very few were seen actually wearing the hats after leaving the conference meeting this week where the hats had been placed on chairs, though some members carried caps in their hands.
This could be because members of the Washington establishment tend to have impeccable hairstyling. Or it could be because "Make America Great Again" hats are so toxic in some quarters that "you might as well be wearing a swastika," as the white nationalist Richard Spencer has said.
Yet another reason could be that Trump's agenda doesn't align particularly well with the general GOP agenda.
"I have seen colleagues during my six years here just move with the whim of public opinion and there's some of that right now," Ribble said. "The data supports trade agreements for the United States."
Like Ribble, Republicans who serve on committees that oversee trade policy seem skeptical of Trump's trade agenda. Rep. Kevin Brady (R-Texas), chairman of the House Ways and Means Committee, said this week that he's interested in reviving the Trans-Pacific Partnership, a trade deal that has seemed to be on political life support. (House Speaker Paul Ryan (R-Wis.) has said he has some problems with TPP and that it doesn't have enough support in the chamber.)
"Republicans are going to continue to support the freedom to trade," Brady said Tuesday.
Sen. John Cornyn (R-Texas), chairman of the Senate's trade subcommittee, told HuffPost in a brief hallway interview this week that he's still a fan of NAFTA.
"I understand the president's got strong views on this and hopefully we can talk to our trading partners and if it needs to be improved, then we can do that," Cornyn said. "But I think it would be a mistake to just walk away from those trade agreements."
HuffPost asked Cornyn about the prospect of hiking tariffs on imported goods, something Trump has repeatedly said he supports.
"I don't know why we'd want to go down that road but again, like I said, let's wait and get some specifics from the administration," he said. "We're a little short on specifics."
Liberal economists have long argued that free trade deals have hurt U.S. workers by lowering tariffs on imported goods, thereby making it easier to profit from cheap foreign labor. Ribble espoused a more mainstream view that increases in productivity are more to blame for the decline of manufacturing jobs.
"The loss of manufacturing jobs are not the result of trade and never have been," he said. "They're the result of innovation, technology, automation, robotics."
Matt Fuller contributed reporting.