The people who speak for Donald Trump's presidential campaign on Sunday tried to walk back his incendiary comments about a "rigged" election, with vice presidential candidate Mike Pence saying that Trump was only referring to media bias and vowing that "we will absolutely accept the result of the election."
But even as they tried to downplay Trump's controversial statements, Pence and one key campaign surrogate stood by Trump's racially tinged call for supporters to monitor polling places for voter fraud.
And literally hours after those media appearances, Trump was back on Twitter ― making clear that, yes, he thought voter fraud was a real threat to the election's legitimacy.
In the last week, Trump's talk of possible election impropriety ― which has become more urgent and frequent as his position in the polls has declined ― has prompted widespread condemnation. Even prominent Republicans are warning that Trump is undermining basic faith in the electoral process.
"Our democracy relies on confidence in election results," a spokesperson for House Speaker Paul Ryan (R-Wis.) said this week, "and the speaker is fully confident the states will carry out this election with integrity."
Appearing on NBC's "Meet the Press," Pence promised that he and Trump would embrace the election results as legitimate. "As Donald Trump said in that first debate, I'll say to you again today, we're going to accept the will of the American people," Pence said.
And in a series of Sunday morning television appearances, two Trump supporters ― former House Speaker Newt Gingrich and former New York City Mayor Rudy Giuliani ― suggested that Ryan and others were overreacting, saying Trump was really just talking about media bias and not widespread cheating at the polls.
"So who are 'they' and how are they doing this?" Raddatz asked.
Gingrich replied that "they" are the media.
"This is not about election officials at the precinct level," he said. "This is about last Friday when the networks spent 23 minutes on the Trump tape and less than one minute ― all three networks combined ― less than one minute on the Hillary Clinton's secret speeches that were being revealed on WikiLeaks."
The problem with this explanation and defense, as Raddatz quickly pointed out to Gingrich, is that Trump has explicitly and repeatedly warned of voter fraud ― and told his supporters to serve as poll monitors in precincts where illegal voting is most likely.
He's mentioned the issue on at least three occasions in rural or western parts of Pennsylvania, warning about the possibilities of cheating in Philadelphia. The argument has obvious racial overtones, since his audiences are almost entirely white, and Philadelphia, like most large cities, has a significant African-American population.
This was Trump in Manheim, a borough outside of Harrisburg: "Go and vote and then go check out areas because a lot of bad things happen, and we don't want to lose for that reason."
This was Trump in Altoona, a small city about halfway between Harrisburg and Pittsburgh: "Go down to certain areas and watch and study and make sure other people don't come in and vote five times. ... The only way we can lose, in my opinion ― and I really mean this, Pennsylvania ― is if cheating goes on."
And this was Trump in Ambridge, a borough on the state's western border, just this past Monday: "So important that you get out and vote. So important that you watch other communities, because we don't want this election stolen from us."
Confronted with Trump's comments, Gingrich walked back his own walk-back, suggesting that ― yes ― voter fraud might be a real problem in big cities.
"To suggest that we have ― that you don't have theft in Philadelphia is to deny reality," Gingrich said.
Gingrich went on to endorse the call for poll monitors, although he later emphasized that, "Trump's major complaint about the election is … not at the poll level. It's at the news media level."
Pence, appearing on CBS "Face the Nation," also endorsed the call for poll monitoring, brushing off concerns that doing so might intimidate minority voters who would be more likely to vote for Hillary Clinton.
"People that are concerned about this election and about us preserving the one person, one vote that's at the very center of our American democracy, should become involved, should volunteer at their neighborhood polling place," Pence said. "That's how we ensure the accountability. Frankly, that's how we protect the integrity of the vote for Republicans, Democrats, Independents."
And then, on early Sunday afternoon, Trump went even further ― with that tweet speculating that both media bias and voter fraud would taint the election.
This post and its headline have been updated to reflect a tweet Trump sent out Sunday afternoon.
Support HuffPost
The Stakes Have Never Been Higher
Before You Go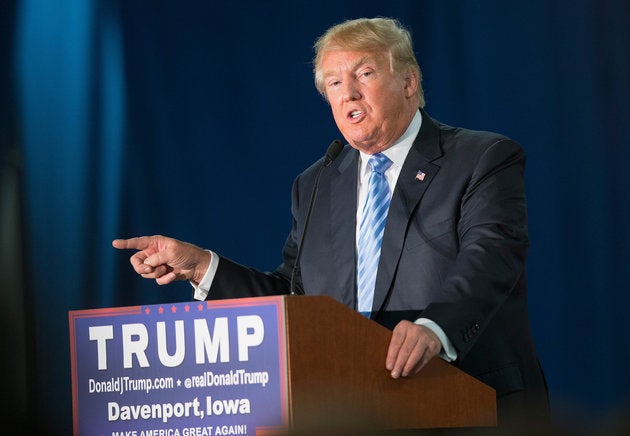 Evolution Of Trump's Muslim Ban
Popular in the Community