And in a bad twist for American democracy, his supporters are listening. A recent SurveyMonkey poll shows that 28 percent of all voters will reject the election's legitimacy if their desired candidate doesn't win. That jumps to 37 percent among Trump supporters and is 23 percent among Hillary Clinton supporters.
The same poll found that an astounding 72 percent of Trump supporters think "a lot" or "some" voter fraud happens in their state. Fewer than half ― 35 percent ― of Clinton supporters say the same. A 52 percent majority of all voters say a lot or some fraud happens in their state.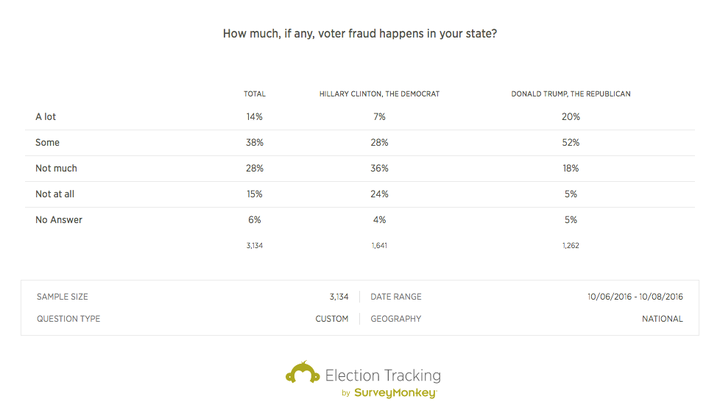 Trump supporters are also less inclined than most voters to think their votes will be counted accurately. A new poll from Politico/Morning Consult shows that about half of Trump's supporters lack confidence that their votes will be counted accurately. Those numbers stand in stark contrast to Hillary Clinton's supporters, 85 percent of whom are confident their votes will be counted correctly. Among all voters, 66 percent are confident in the vote count. A recent AP-NORC poll from late September showed similar results.
Surveys show that levels of confidence in the vote and indications of accepting the vote's legitimacy are down in 2016 compared to previous elections.
According to Pew Research, 62 percent of registered voters were "very confident" that their vote will be accurately counted in 2004. That number dropped to 57 percent in 2008, and hit a new low of 49 percent this August. The proportion of voters who are "not too" or "not at all" confident in the vote counts has doubled from 11 percent in 2004 to 22 percent in 2016.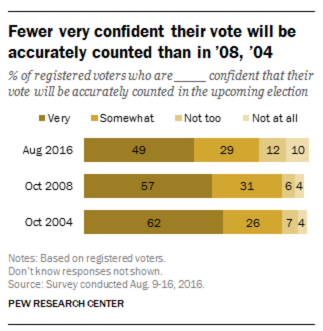 Gallup has also tracked confidence in the vote count since 2004 and shows similar results to Pew's. Only 15 percent of adults said they were "not at all confident." This number is up from 11 percent in 2008 and only 6 percent in 2004. More people are confident in their specific voting facility than in the general U.S. vote, but this is still the lowest confidence level that's been recorded.
While we can't be certain that Trump's rhetoric is causing the decreases over time, these trends confirm that voter confidence in elections is down in 2016. And that's not good for America.


HUFFPOST READERS: What's happening in your state or district? The Huffington Post wants to know about all the campaign ads, mailers, robocalls, candidate appearances and other interesting campaign news happening by you. Email any tips, videos, audio files or photos to scoops@huffingtonpost.com.
Popular in the Community