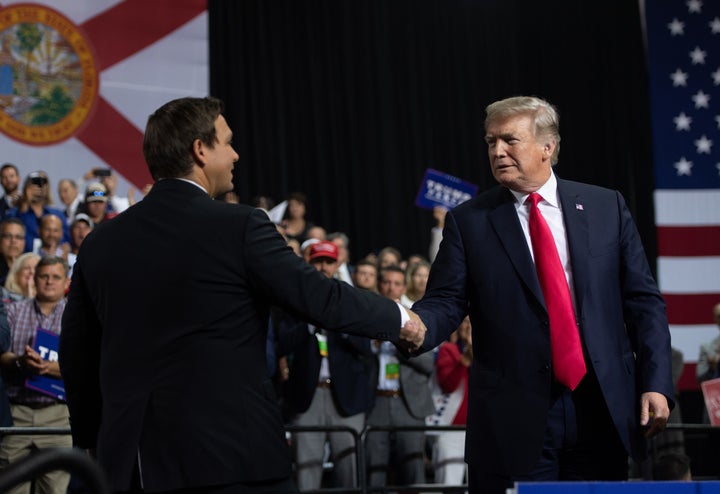 Newly minted Republican nominee for Florida governor Ron DeSantis is scrambling to come up with detailed positions on the environment, education and transportation — but his most fraught position may be on the man who won him the primary, President Donald Trump.
DeSantis rode his mutual admiration with the president to an easy, 20-point primary election win over the state agriculture commissioner, who just months earlier had been the prohibitive favorite. Now that bond is threatening DeSantis' chances in the general election, where Trump's overall unpopularity could make his endorsement of dubious value to DeSantis.
"He's obviously between a rock and a hard place," said veteran Florida GOP consultant Mac Stipanovich. "This election is going to turn on moderate Democrats and independents. And with independents, Trump is a liability."
The issue came to a head recently, when Trump claimed — falsely — that a new analysis by George Washington University showing that some 2,975 people died in Puerto Rico because of 2017's Hurricane Maria was wrong and was ginned up by Democrats to make him look bad.
Mindful of more than 1 million residents with Puerto Rican roots living in Central Florida and possibly tens of thousands of Maria refugees who still have time to register to vote, DeSantis within hours offered a statement that — without mentioning Trump — affirmed the accuracy of the death toll.
"Ron DeSantis is committed to standing with the Puerto Rican community, especially after such a tragic loss of life. He doesn't believe any loss of life has been inflated," the statement read.
Even that mild rebuke, though, was enough to anger Trump.
"He was miffed," said a Republican close to the White House who spoke on condition of anonymity. "I think he expected DeSantis to stay quiet or defend him."
The Republican, an informal adviser to Trump, added that the president does not really grasp Florida politics, the importance of the Puerto Rican vote specifically or swing voters generally. "He thinks that if the Trump voters come out, DeSantis will win and if the Trump voters don't come out, he will lose. He's right about the second part, but DeSantis needs more than just the Trump voter," the Republican said. "Trump doesn't understand that as fully as one might hope."
Without Trump's backing, DeSantis had virtually zero chance of winning the Republican nomination.
"Ron DeSantis knows first-hand that President Trump honored all requests for Hurricane Maria relief," the statement read. "It is sad, though predictable, that Democrats are wrongly politicizing this issue and that the media is constantly trying to drive a wedge between the president and members of his own party."
Campaign spokesman Stephen Lawson said that the new statement was not designed to assuage Trump and that DeSantis was not worried about Trump's continued support. "We are supportive of the president, and we always have been, and we're moving forward," Lawson told HuffPost.
Stipanovich, who ran the gubernatorial races of Bob Martinez in 1986 and 1990 and Jeb Bush in 1994, said the episode illustrates perfectly DeSantis' dilemma. He needs to show some distance from Trump to win but cannot do so without angering him.
"Trump is very emotional and very vindictive," Stipanovich said. "If DeSantis does anything more to distance himself from Trump, he might get more of a counterpunch than he got on the Puerto Rico comment, which would be damaging."
One basis for Trump's anger with DeSantis, of course, is almost certainly true: Without Trump's backing, DeSantis had virtually zero chance of winning the Republican nomination. He was a three-term congressman from the Jacksonville suburbs almost unknown in the rest of the state.
But while Agriculture Commissioner Adam Putnam had the blessing of the state party establishment and its stable of donors, he was incapable of winning over the national party's new leader, Trump. In the aftermath of the October 2016 release of the "Access Hollywood" tape on which Trump boasts about his ability to grab women by the genitals because of his celebrity, Putnam criticized Trump — while DeSantis did not.
A year later, even before DeSantis officially entered the race against Putnam, Trump endorsed DeSantis, later formalizing the endorsement in a series of statements and sealing it with a Tampa rally for DeSantis in the primary campaign's closing weeks.
For his part, DeSantis made Trump the centerpiece of his primary campaign. He, not Putnam, loved Trump and everything Trump stands for. He, not Putnam, won Trump's endorsement.
This election is going to turn on moderate Democrats and independents. And with independents, Trump is a liability.

Mac Stipanovich, veteran Florida GOP consultant
While Putnam was traveling the state hitting every local fish fry and every county executive committee's chicken dinner, DeSantis largely campaigned from a Fox News studio near the Capitol in Washington. His topics almost never had anything to do with Florida and instead revolved around the many Trump scandals, with DeSantis reliably defending the president.
In the closing days of the campaign, DeSantis even aired a TV ad of him encouraging his toddler daughter to build a wall and dressing his infant son in a red "Make America great again" onesie.
As it turned out, standing with Trump was more important to Florida Republican primary voters than a deep knowledge of and experience with state issues, which Putnam was selling.
The irony for DeSantis is he is a far more knowledgeable and thoughtful person than his Fox News persona suggests — clearly more so than the president he has tried to mimic.
A Yale undergraduate with a Harvard Law degree, DeSantis served in the Navy as a judge advocate general, even deploying to Iraq with a SEAL team in the 2007 troop surge to provide guidance on rules of engagement.
While political consultants agree that DeSantis can seem aloof in retail campaign situations, he is nevertheless impressive in most settings, able to articulate views without notes or preparation.
GOP consultant Frank Luntz, who moderated a forum featuring Putnam and DeSantis this spring at a Florida Family Policy Council conference in Orlando, said DeSantis handled his questions surprisingly well.
"I didn't make it easy on him. I wanted to ask him some tough questions to see how he could handle it," he said. "He did even better than I expected, because he listens carefully before responding."
At that Christian conservative event, DeSantis conceded that Floridians really did not know much about him. "They see me on Fox, but they don't know who I am," he said.
Whether moderate Democrats, independents and even anti-Trump Republicans will get the opportunity to learn more about him before the Nov. 6 election is unclear.
DeSantis' spokesman said the candidate is now putting out detailed policies and intends to speak to voters nonstop until Election Day. "I think he's been on Fox once, maybe twice, since the primary ended," Lawson said. "We're traveling the state, and that's what we're focused on."
Stipanovich, the GOP consultant, said it may be a little late, with less than seven weeks to go before the election, for DeSantis to be introducing himself to the non–Fox News–viewing majority of the state's electorate.
"If they know anything about him, they know he is a Trump acolyte. If they know anything," Stipanovich said. "He wants to talk about the wall and globalism. He wants to talk about the FBI investigation and illegal immigrants voting. He doesn't want to talk about the required local effort for education funding."
Calling all HuffPost superfans!
Sign up for membership to become a founding member and help shape HuffPost's next chapter