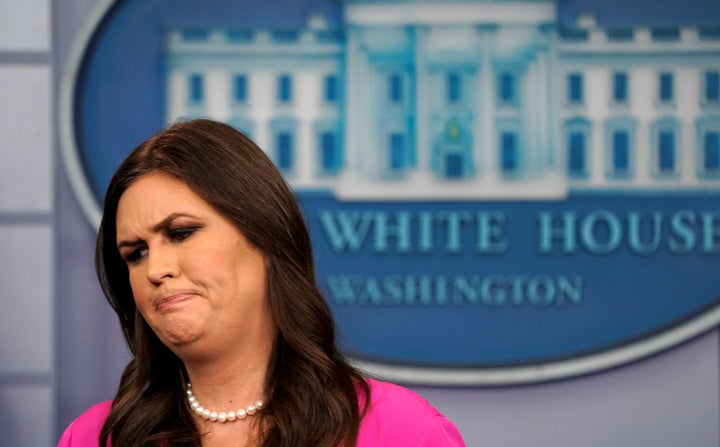 WASHINGTON ― Mired by compromised credibility and reeling from newly revealed indictments, President Donald Trump and his White House reverted to form Monday, falsely claiming that the alleged criminal actions were completely unrelated to him.
"Today's announcement has nothing to do with the president, has nothing to do with the president's campaign or campaign activity," White House press secretary Sarah Huckabee Sanders said.
Republican media relations professionals were baffled by the approach.
"The White House's strategy is shameless, bald-faced, indefensible lies," said Tim Miller, who ran communications for Jeb Bush's Republican presidential campaign last year. "Lie about everything, admit nothing."
Rick Tyler, who worked for Sen. Ted Cruz of Texas in that GOP primary race, said he suspected Sanders was simply "reciting the answers" as she had been instructed. "It's really amazing the degree to which they think everybody else is an idiot."
Sanders' remarks came during the daily White House press briefing just hours after former Trump campaign chairman Paul Manafort and deputy campaign chairman Richard Gates were indicted on charges including money laundering.
Trump quickly responded to that revelation with a statement issued via Twitter: "Sorry, but this is years ago, before Paul Manafort was part of the Trump campaign. But why aren't Crooked Hillary & the Dems the focus????? Also, there is NO COLLUSION!"
Yet both of his arguments were refuted within minutes when a guilty plea from a former campaign foreign policy adviser was revealed. In a 14-page document, George Papadopoulos admitted that he was in touch with Russians offering thousands of emails hacked from Democratic presidential nominee Hillary Clinton's campaign.
In fact, those emails were stolen by Russian intelligence and distributed through the allied WikiLeaks group, according to a declassified report released in January by the U.S. intelligence community.
Nevertheless, Sanders continued a pattern she and other White House allies stepped up a few weeks ago of claiming Trump was not working with Russians at all, rather that it was Clinton and the Democratic Party doing the colluding.
Sanders' proof: a "dossier" compiled by a former British spy on contract to an opposition research firm. Fusion GPS had initially been hired by a conservative website, but the work was continued after the GOP primaries ended, thanks to payments from Democrats.
"There's clear evidence of the Clinton campaign colluding with Russian intelligence to spread disinformation and smear the president to influence the election," Sanders said.
That Democrats paid for that research, though, does not prove that they were "colluding" with Russians. Further, while some of the more salacious material in the dossier, accusing Trump of unusual sexual behavior on a visit to Moscow, has not been verified, other parts of it have proved correct.
Sanders' falsehoods are the latest in a pattern of untruths from Trump and his White House that started on the day after his inauguration, when then-press secretary Sean Spicer berated the press corps for reporting accurately that the crowd gathered for Trump's inauguration was significantly smaller than the one that witnessed President Barack Obama's ceremony eight years earlier.
Trump has also falsely claimed that Obama had been "wiretapping" him, that he had passed more legislation than just about any previous president and that the United States is the highest taxed nation in the world. Over the weekend, Trump claimed that the release of files on the assassination of President John F. Kennedy in 1963 had taken place "long ahead of schedule." In fact, the deadline had been set by a law passed by Congress in 1992, and Trump actually wound up missing it by two days.
Trump was never considered particularly honest by the electorate, but the string of repeated and easily disproved falsehoods appears to have taken its toll. A new Fox News survey found only 33 percent of Americans believe Trump to be honest and trustworthy, while 63 percent said he is not. And Monday's Gallup daily tracking poll, released just as the news of the formal charges broke, showed Trump at 33 percent approval ― his lowest rating since taking office.
Tyler said he cannot see how Trump and his team can now build trust, given how special counsel Robert Mueller's investigation is likely to get only more damaging to Trump. "I don't know how they get themselves out of this. These are real indictments."
Former Trump campaign aide Michael Caputo, though, defended Sanders and said that the Clinton campaign's role in pursuing the dossier was being suppressed by the media. "Sarah Sanders is doing a great job keeping the wolves at bay. I see the press as wolves," Caputo said.
Popular in the Community