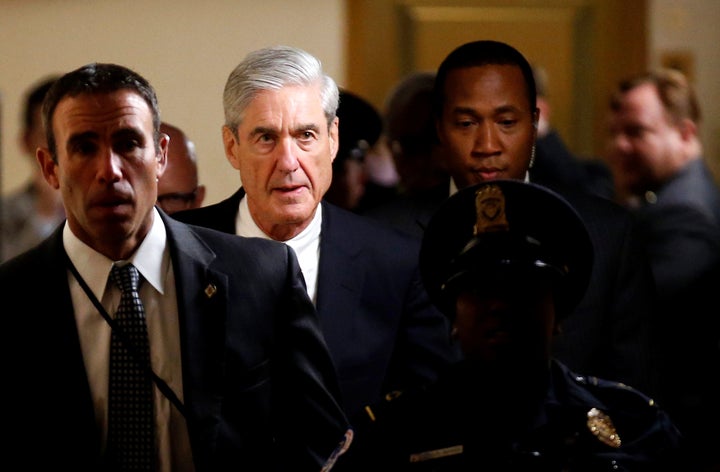 TOP STORIES
Kate Sheppard here, standing in for Lauren Weber, who is out this week. 
PARDON ME? Some of President Donald Trump's lawyers are reportedly discussing using the president's authority to grant pardons as a way to undermine special counsel Robert Mueller's Russia investigation. A source told The Washington Post that includes aides, family members and even himself. [WaPo]
RUSSIA PROBE WIDENS Speaking of the special counsel's investigation, it is now reportedly "examining a broad range of transactions involving Trump's businesses as well as those of his associates." [Bloomberg]
CHUCK ROAST Sen. Chuck Grassley (R-Iowa) has been pushing a theory that the research firm that paid a former British intelligence officer to investigate then-presidential candidate Trump's potential Russia ties was secretly working for Moscow. There's no public evidence that supports that theory, however. [HuffPost]
RUH ROH REX The U.S. Treasury Department fined Exxon Mobil Corp $2 million for "reckless disregard" of sanctions on dealings with Russia in 2014 ― when current Secretary of State Rex Tillerson was still the oil giant's chief executive. Exxon is now suing the federal government over the fine. [Reuters]
THE JUICE IS LOOSE A parole board granted O.J. Simpson release on Thursday, after nearly 9 years in prison on an armed robbery charge. [HuffPost]
NO-GO ZONE The United States is reportedly barring citizens from traveling to North Korea, according to several international companies that take tourists there. The news comes shortly after the death of an American student who had been imprisoned in the isolated nation for two years. [HuffPost]
NEW WHITE HOUSE COMMS DIRECTOR Trump is reportedly tapping Wall Street financier Anthony Scaramucci to serve as the new White House communications director, two months after Mike Dubke resigned from the job. [Axios]
WHAT'S BREWING
DREAM ON Trump's sympathy for young undocumented immigrants who came to the U.S. as children apparently does not extend to supporting bipartisan legislation that would help them. [HuffPost]
HAPPY 'MADE SOMEWHERE ELSE' WEEK A complete list of Trump merchandise made in the United States. It is very short. [HuffPost]
CITY IN MOURNING In Minneapolis, community members have united to mourn the deaths of Justine Damond, Philando Castile and others victims of police violence. [HuffPost]
SEAL OF APPROVAL The Navy has its first woman candidates for the SEAL team and several other elite units, a little over a year after a Pentagon policy change opened those jobs to women.  [Military.com]
THE FAST TRAIN Tech entrepreneur Elon Musk says he has "verbal" approval from the federal government to build an ultrafast "hyperloop" tube train on the East Coast. [NPR]
BEFORE YOU GO
REAL LIFE. REAL NEWS. REAL VOICES.
Help us tell more of the stories that matter from voices that too often remain unheard.