WASHINGTON ― It can be difficult to follow the labyrinthine, constantly changing developments in the investigation of whether Donald Trump's presidential campaign colluded with Russia. The matter is the subject of multiple congressional inquiries, as well as an independent panel led by special counsel Robert Mueller.
On Wednesday, the investigation reportedly added yet another subject, Michael G. Flynn Jr., whose father, Trump's former national security adviser, was fired from the White House after misleading Vice President Mike Pence about the extent of his interactions with Russian officials. The younger Flynn worked closely with his father, who has a history of suspicious foreign dealings.
Here are some of the other major headlines from the past few weeks.
Donald Trump Jr. told Senate investigators that he met with a Russian lawyer to assess Hillary Clinton's "fitness" for office.
Trump's eldest son spoke to the Senate Judiciary Committee about his June 2016 meeting at Trump Tower, which he attended after being offered information that would supposedly "incriminate" his father's Democratic opponent, Hillary Clinton. Trump Jr. was told the information was "part of Russia and its government's support for Mr. Trump."
During the closed-door interview on Sept. 7, Trump Jr. denied that collusion had taken place, and claimed the object of the meeting was to obtain information on Clinton's "fitness."
"To the extent they had information concerning the fitness, character or qualifications of a presidential candidate, I believed that I should at least hear them out," he said in a statement to the Judiciary Committee obtained by The New York Times. "Depending on what, if any, information they had, I could then consult with counsel to make an informed decision as to whether to give it further consideration."
Trump Jr.'s story about why he agreed to the meeting has changed over time. He initially claimed that the meeting concerned a policy about Russian adoptions but then defended it as a routine campaign meeting to obtain opposition research on Clinton.
Asked about Trump Jr.'s claim on NBC's "Today" show Wednesday, Clinton called it "ridiculous."
"It's another absurd lie to cover up what was really going on," she said.
Mueller's probe is also looking into Trump Jr.'s meeting, his evolving explanation and the extent of the president's involvement in crafting the White House's defense of the meeting, which was also attended by then-campaign chairman Paul Manafort and senior adviser Jared Kushner.
Trump's lawyers, worried about Kushner's increasing legal liability, recommended that he resign as a White House adviser.
They were reportedly concerned about growing legal implications surrounding Kushner, a prominent figure in the investigations given his multiple meetings with Russian officials, which were among many undisclosed foreign contacts.
The discussions reportedly occurred last June, in anticipation that information about Trump Jr.'s 2016 meeting would become public.
The head of Trump's legal team, John Dowd, and his predecessor, Marc Kasowitz, both denied that the subject of Kushner resigning ever came up. White House press secretary Sarah Huckabee Sanders on Tuesday also denied that the recommendation was made, saying there was "no conversation that I'm aware of."
Flynn again refused a Senate request to testify.
Earlier this year, Flynn invoked his Fifth Amendment rights in response to the committee's subpoena. He also refused to comply with a similar request from the House Intelligence Committee, which is conducting its own investigation into possible collusion between Trump's campaign and Russia.
Mueller's team is zeroing in on Paul Manafort's financial dealings.
The development could compel Manafort to cooperate with Mueller's probe. Mueller has also reportedly subpoenaed some of Manafort's associates.
The White House reiterates its defense of Trump firing FBI Director James Comey amid the Russia investigations.
In response to former White House chief strategist Steve Bannon telling CBS' "60 Minutes" that he thought Trump abruptly firing Comey in May was the biggest mistake "in modern political history," the White House unleashed a renewed effort this week to defend Trump and smear Comey.
At White House press briefings Monday and Tuesday, Sanders read from a list of White House talking points, including the allegation that Comey committed perjury during his Senate testimony in June.
On Tuesday, Sanders also suggested that the Department of Justice "should certainly look at" prosecuting Comey for leaking information.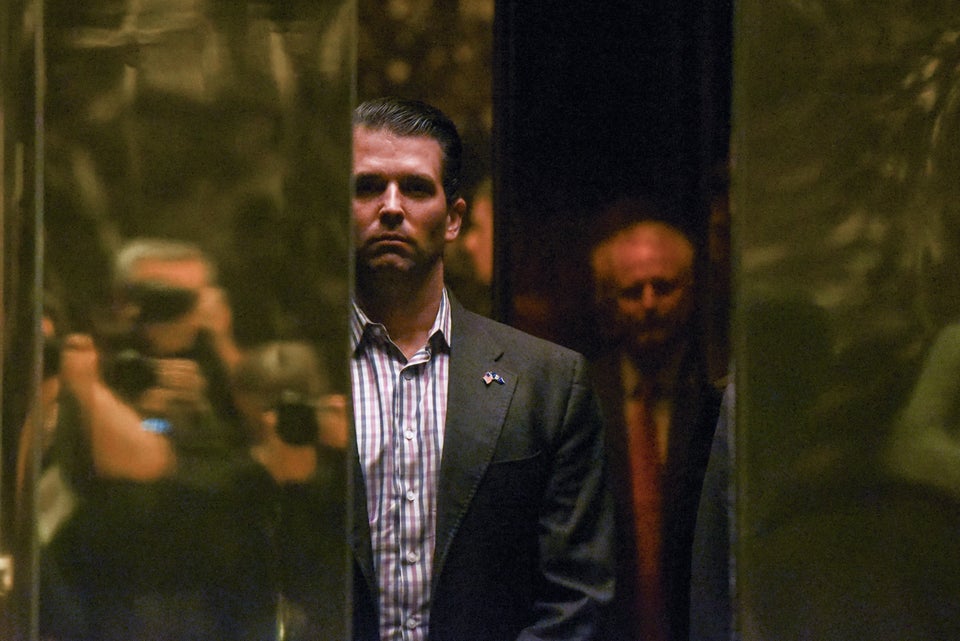 Who Attended Donald Trump Jr.'s Meeting With Russians?
Popular in the Community