President Donald Trump has signed a bill that allows new sanctions against Russia, but not without expressing his concerns over what he considers "significantly flawed" legislation.
Congress "included a number of clearly unconstitutional provisions" in the bill, Trump argued Wednesday in a statement. He claimed in a separate statement that the bill "encroaches on the executive branch's authority to negotiate," and worked in a jab at Senate Republicans over their failure to pass legislation on health care.
"Congress could not even negotiate a healthcare bill after seven years of talking," Trump said.
The president touted his business background while criticizing the bill, which imposes new sanctions on Russia and puts limits on Trump's ability to lift them.
"I built a truly great company worth many billions of dollars," Trump's statement said. "That is a big part of the reason I was elected. As President, I can make far better deals with foreign countries than Congress."
The White House signaled Friday that Trump would sign the legislation after Russian President Vladimir Putin ordered massive cuts to the U.S. diplomatic staff in his country. The bill, which also imposes sanctions on North Korea and Iran, is partly a response to Russian meddling in the 2016 U.S. presidential election.
As Reuters reports, the bill will affect a range of Russian industries and might further hurt the country's economy, which was already weakened by 2014 sanctions imposed after the Ukraine crisis.
Secretary of State Rex Tillerson said Tuesday that neither he nor Trump were "very happy" about "the action by the Congress to put these sanctions in place and the way they did."
"We were clear that we didn't think it was going to be helpful to our efforts, but that's the decision they made," Tillerson told reporters. "They made it in a very overwhelming way. I think the president accepts that."
Clarification: An earlier version of this story mistakenly said the bill limits the president's ability to lift sanctions on Russia and Ukraine. While sanctions have not been imposed on Ukraine, some do restrict transactions with respect to Ukraine's Crimea region, which has been annexed by Russia (hence the sanctions).
Before You Go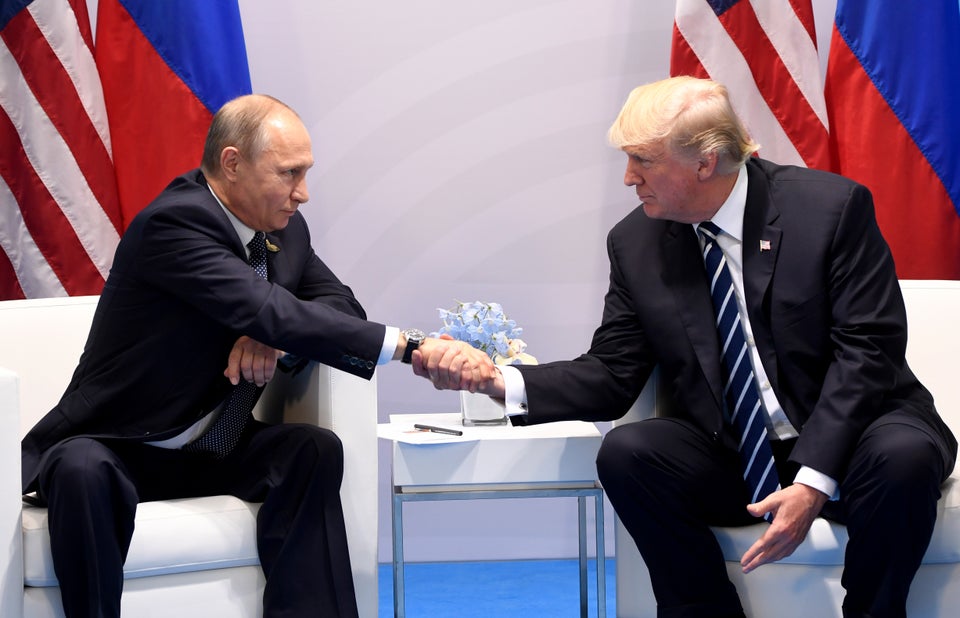 Trump Meets Putin During G-20 Summit
Popular in the Community