Haley made headlines during an interview on Sunday when she announced that the Trump administration would be rolling out new sanctions against Russia as punishment for its continued support of Syrian dictator Bashar Assad.
"[Treasury] Secretary Mnuchin will be announcing those on Monday, if he hasn't already," Haley said on CBS's "Face the Nation" when asked whether Assad's patrons will see any consequences in the wake of a horrific chemical weapons attack in Syria. "And they will go directly to any sort of companies that were dealing with equipment related to Assad and chemical weapons used."
"And so I think everyone is going to feel it at this point. I think everyone knows that we sent a strong message, and our hope is that they listen to it," she added.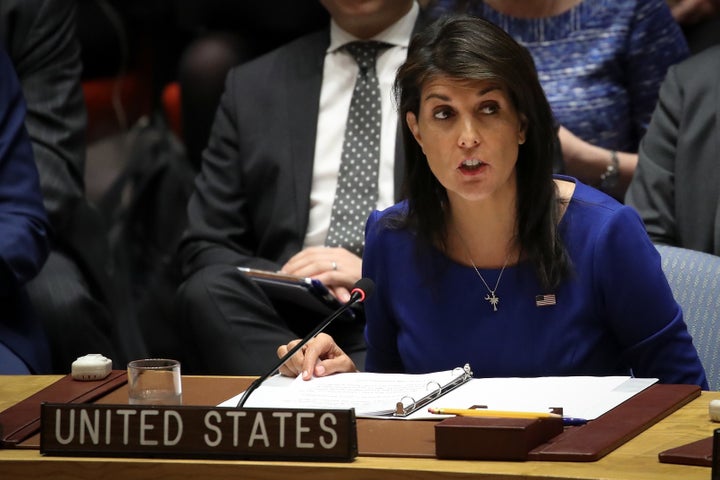 Less than 24 hours later, however, after the Kremlin denounced the sanctions as "international economic raiding," Trump decided to put them on hold "because he was not yet comfortable" with executing them, according to The Washington Post. Haley's comments, the paper further reported, had "caused consternation" in the White House on Sunday.
The cleanup continued the following day after White House press secretary Sarah Huckabee Sanders told reporters the administration is considering slapping additional sanctions on Russia and that it will make a decision in "the near future." Larry Kudlow, the president's chief economic adviser, meanwhile, pinned the blame on Haley by stating that she "got ahead of the curve."
"There might have been some momentary confusion about that," he told reporters in West Palm Beach, Florida, on Tuesday.
The Trump administration's sharp reversal on sanctions ― as well as the unusual public contradiction between top aides ― left lawmakers of both parties scratching their heads on Tuesday.
"It's really disheartening to, one, have passed sanctions that haven't been implemented, and two, to have the White House say, 'All right, we're going to do it' and then move away from it," Sen. Jeff Flake (R-Arizona) told HuffPost. "That's just not a good signal to Moscow or any of our adversaries or allies."
Senate Foreign Relations Committee Chairman Bob Corker (R-Tenn.) said he was not surprised by how the administration handled the matter. Corker was an author of a sanctions bill that Trump signed in August ― but also called "seriously flawed."
"You know, two weeks ago we were moving out of Syria, and then the next day we weren't, so it's just sort of standard confusion," he told reporters.
The Trump administration's public rebuke of Haley, in particular, could undermine her standing around the world, said Keith Michael Harper, who served as the U.S. ambassador to the U.N. Human Rights Council under President Barack Obama.
Trump has been reluctant to criticize or take punitive measures against Russia, despite its meddling in the 2016 presidential election, support for Assad, the annexation of Crimea and likely poisoning of an ex-Russian spy and his daughter in Britain.
Trump was reportedly furious with his top aides last month after he learned the U.S. had expelled more diplomats and suspected spies ― 60 ― than European allies like France and Germany to punish Russia for its suspected role in the poison attack. "There were curse words," one official told The Washington Post. "A lot of curse words."
The U.S. president has offered effusive praise for Russian President Vladimir Putin and has expressed a desire to work with him to solve many of the world's problems. He has also declined numerous opportunities to denounce Russia for election interference, leaving open the possibility that other foreign actors were responsible.
Yet Trump has also taken some recent steps to call out Russia. "To Iran, and to Russia, I ask: What kind of a nation wants to be associated with the mass murder of innocent men, women, and children?" he asked in a speech announcing U.S. missile strikes against Syria last Friday. Earlier this month, his administration also announced it was hitting 24 Russian oligarchs with sanctions over "malign activity," including election meddling.
Republicans had few good answers on Tuesday as to why Trump has been hesitant to criticize or take action against Russia.
"I don't know," Sen. Shelley Moore Capito (R-W.Va.) told HuffPost. "I think he has criticized Russia and called them out, but, you know, I don't know. He has long-standing relationships there."
"I would support sanctions, definitely," she added.
Asked why he seemed unwilling to criticize Russia, Senate Judiciary Committee Chair Chuck Grassley (R-Iowa) told HuffPost, "I think he's criticized them every day when he bombs their chief ally in Syria."
Democrats, meanwhile, questioned Trump's commitment to punitive actions against Russia given his reversal on new sanctions.
"The White House shouldn't have to drag the president kicking and screaming to do the right thing when it comes to punishing Vladimir Putin and Russia," Senate Minority Leader Chuck Schumer (D-N.Y.) said Tuesday.
"Nikki Haley must be so embarrassed today," he added. "That she forthrightly says, we're going to be tough on Russia and do additional sanctions one day and the president contradicts her the next. Do they talk to each other? Do they have a set plan? Or is it just up to the president's whim, day to day, moment to moment?"
CORRECTION: An earlier version of this story said Russia had annexed Ukraine. Russia annexed Crimea, which is a part of Ukraine.
Popular in the Community