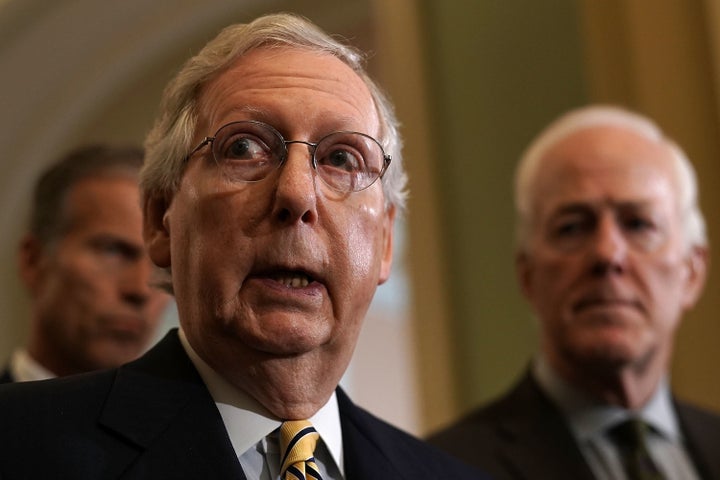 WASHINGTON ― Republicans on Thursday objected to doing the bare minimum in response to President Donald Trump's confusing stance toward Russian interference in U.S. politics, objecting to two nonbinding resolutions that affirmed the Senate's support for the U.S. intelligence community.
At a joint news conference with Russian President Vladimir Putin on Monday in Helsinki, Trump refused to condemn Russia's efforts to manipulate the 2016 presidential election, as detailed by his own intelligence agencies several times. Instead, he cast doubt on those assessments and in his comments gave credence to Putin's denial of the interference.
After his performance sparked bipartisan criticism, Trump struggled to clarify his position several times this week. In comments on Tuesday, he expressed support for the intelligence community and their findings on Russia. But he again sounded an equivocal note, saying that it "could be other people, also" who sought to tamper with the 2016 campaign.
In an interview with CBS News that aired Wednesday, Trump reiterated his backing of the intelligence findings on Russian interference, but again passed on taking Putin to task for denying such actions. "I don't want to get into whether or not he's lying," Trump said.
The Senate on Thursday was asked to give unanimous consent to pass resolutions ― which are basically messaging documents and have no force of law ― as a way to challenge Trump.
The first, introduced by Sen. Bernie Sanders (I-V.t.), expressed support for the intelligence community as well as special counsel Robert Mueller's investigation into Russia's efforts to roil the election. Mueller's probe includes looking into whether Trump's campaign colluded with Russia, which has prompted the president to repeatedly disparage it as a "witchhunt" and a "disaster."
The Sanders resolution failed when Sen. Rand Paul (R-Ky.), a rare voice of support for Trump's actions during the summit with Putin, rose to object ― as any individual member of the Senate has the power to do.
"The hatred for the president is so intense that partisans would rather risk war than give diplomacy a chance," Paul said, arguing that a nonbinding resolution in support of the U.S. intelligence community could threaten diplomatic ties and put the U.S. on the path to armed conflict with Russia.
"We should stand firm and say, 'Stay the hell out of our elections,' but we should not stick our head in the ground and say we're not going to talk to them," Paul said.
Sanders' resolution did not include language instructing the U.S. to cut off diplomatic ties with Russia.
The second resolution, introduced by Sens. Jeff Flake (R-Ariz.) and Chris Coons (D-Del.), also affirmed support for the intelligence community and called for hearings on Trump's summit with Putin.
But it failed after Senate Majority Whip John Cornyn (R-Texas) rose to object over what he called the "symbolic" nature of the resolution. Cornyn said it lacked "sting," and argued that senators ought to consider additional sanctions on Russia in their appropriate committees.
"When we rush to judgment on resolutions like this we can inadvertently make mistakes," Cornyn said on the floor, a week after introducing a similar nonbinding resolution that expressed support for the U.S. Immigration and Customs Enforcement agency.
Flake agreed that substantive action was needed to confront Russia, but he insisted that the Senate also should express support for the intelligence community, given Putin's denials of interference in the 2016 election.
"We here in the Senate should say we don't believe it. We know the intelligence is right. We need to say that in the Senate. Yes, it's symbolic... [but] our agencies need to know we stand behind them," he said.
Senate Minority Leader Chuck Schumer (D-N.Y.) called Cornyn's objection to the measure "a low moment in this body." He added that Republicans are too afraid of the president to stand up for the U.S. intelligence community.
Republican leaders did agree to a vote on a resolution offered by Schumer opposing Putin's proposal to allow Russian prosecutors to interview certain U.S. citizens, including a former ambassador to Russia, about possible criminal matters.
Although U.S. officials have said allegations broached by Putin have no merit, the White House on Wednesday did not rule out considering the proposal. On Thursday, White House press secretary Sarah Sanders issued a statement saying Trump "disagrees" with the Putin request.
Schumer's resolution passed, 98-0.
This story has been updated with details on the Schumer resolution.