WASHINGTON ― If Donald Trump had trafficked in stolen television sets, he could have gone to jail. But he trafficked in emails stolen by a foreign adversary and went to the Oval Office instead.
Now, with the White House trying to downplay links between the president's campaign and Russian officials, there still remains the biggest unanswered question about the election: Why did Trump enthusiastically praise WikiLeaks on the stump at a time he had access to classified analyses stating that the group was essentially an arm of Russian intelligence?
"There was general intelligence community consensus by August 2016 ― indeed long before ― that WikiLeaks was functioning as a cut-out for Russian intelligence," said John Schindler, a former analyst with the National Security Agency and onetime counterintelligence officer.
"Among Russia experts, that was a pretty obvious conclusion," said Tom Nichols, a Russia scholar at the U.S. Naval War College, who called WikiLeaks a "wholly owned subsidiary" of the Russian spy agencies. "You didn't need the intelligence community to tell you this. This was common sense."
Even before Trump took office in January, questions arose about the numerous links between his campaign and Russian officials. Prosecutors working for special counsel Robert Mueller and congressional committees are reportedly investigating whether campaign officials sought out cooperation with Russia or accepted offers of cooperation. Among the areas under scrutiny: whether the campaign secretly helped Russian "trolls" target specific voters with propaganda attacking the Democratic nominee, Hillary Clinton, in misleading Facebook ads and fake news stories.
Yet out in the open and indisputable the entire time was Trump's daily praise of WikiLeaks in the final weeks of the campaign, starting right after the Oct. 7 release of the "Access Hollywood" tape that seemed capable of sinking his candidacy. That tape contained his boast that he could grab women by the genitals because of his celebrity. WikiLeaks began releasing a new batch of damaging-to-Democrats emails within an hour after the tape story broke, and Trump began talking up those emails in his campaign speeches days later.
"WikiLeaks! I love WikiLeaks," Trump proclaimed at a Wilkes-Barre, Pennsylvania, rally on Oct. 10, 2016.
"You see so much from these WikiLeaks," he told a Panama City, Florida, audience the next day.
"This WikiLeaks stuff is unbelievable," he said the following day at an Ocala, Florida, rally. "You've got to read it!"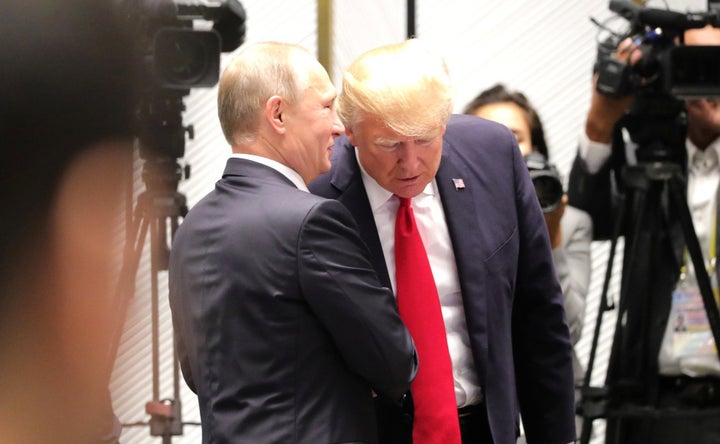 In total, Trump referred to WikiLeaks by name 137 times in public appearances and media interviews between Oct. 10 and Election Day, according to PolitiFact. There were another two dozen times when he referred to the emails but did not name the entity.
During that whole time, Trump had access to U.S. intelligence stating that WikiLeaks was acting as an agent of Russian spy agencies, which had stolen the material from Clinton campaign chairman John Podesta and the Democratic National Committee.
Trump and his top aides began receiving periodic briefings from U.S. intelligence officials on Aug. 17, 2016. Intelligence officials do not publicly disclose the contents of such briefings, but NBC News reported a year ago that the Russian hack was part of the planned briefing material. In any event, Trump and his aides had the opportunity to ask the briefers about the material and how it came into WikiLeaks' hands.
"Any counterintelligence briefer by August 2016 should have more than suspected that WikiLeaks and the Russians were cooperating ― and should not have shied away from saying so, if asked about it," Schindler said.
HuffPost posed questions to the White House about whether candidate Trump sought to learn about WikiLeaks in any of his intelligence briefings or whether the campaign notified the FBI about the approaches it was receiving from Russian officials ― including some to Trump's oldest son, Donald Trump Jr., from WikiLeaks itself.
Press secretary Sarah Huckabee Sanders, who had also been a press aide with the Trump campaign, referred those questions to one of the outside lawyers representing the president in the Russia investigation, John Dowd. And Dowd did not want to discuss the matter. "I can't help you. And even if I could, I wouldn't," he said. "It's all nonsense. So I'm not going to waste any of my time or your time."
His "nonsense" description mirrors Trump's oft-stated claim that the entire Russia investigation is a "hoax" invented by Democrats to explain away Clinton's loss.
That view, though, is undercut by the nation's intelligence agencies, which on Jan. 6, 2017, released a declassified version of a longer analysis stating that Russian intelligence agencies hacked the emails from the DNC and Podesta and that Russian President Vladimir Putin was actively trying to help Trump win. It further details the numerous links between Russia and WikiLeaks, including the latter's relationship with the RT television network, which is basically a Russian propaganda agency.
The ties between the self-described "transparency" group and Russia did not begin with the 2016 campaign, said Nichols, the Naval War College expert on that country. From its very start, WikiLeaks has disseminated reams of documents damaging to the United States and its Western European allies, but not any that hurt Russia or its allies. "Amazingly, all of the WikiLeaks are targeted at the NATO countries," Nichols said.
Near definitive proof, he added, came with the Edward Snowden episode in 2013. After releasing thousands, perhaps millions, of classified documents to journalists, the NSA contractor fled to Hong Kong. From there, he made his way to Moscow ― accompanied by a top official from WikiLeaks. The group had negotiated his transit. "None of that can happen without a Russian hand behind it," Nichols said.
"Its pivotal role in the defection of Edward Snowden to Moscow in June 2013 demonstrated to anyone familiar with counterintelligence that WikiLeaks had some sort of clandestine relationship with the Kremlin," Schindler said.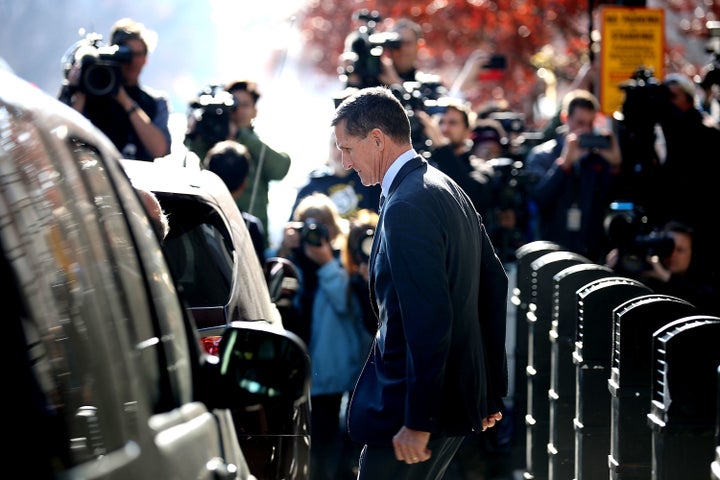 WikiLeaks, of course, is not the only Russia-related link to the Trump campaign, nor even the first. Details that have emerged in the past year show contacts going back before the Indiana primary in May 2016, when Trump effectively secured the Republican nomination.
Campaign adviser George Papadopoulos met with a suspected Russian intelligence liaison in Italy and London in March 2016, receiving offers of "dirt" on Clinton and the possibility of arranging a meeting between Putin and Trump. Papadopoulos has since pleaded guilty in Mueller's investigation and is cooperating with investigators. (Trump's defenders have dismissed Papadopoulos as an unimportant campaign volunteer, even though he attended the only meeting of Trump's national security team in April 2016.)
Top Trump campaign aide Michael Flynn ― who also served briefly as the president's first national security adviser and recently pleaded guilty to lying to the FBI about his conversations with Russian officials ― had deep ties to Russia. He'd even attended a dinner with Putin in Moscow to honor RT's 10th anniversary on the air.
Following revelations of the DNC hacking and suspicions about Russian involvement, Trump said at a July 27, 2016, press conference that the news did not bother him at all. In fact, he encouraged Russian hackers to break into Clinton's computers directly to find the emails that she had deleted from a private server she had used as secretary of state. "Russia, if you're listening, I hope you're able to find the 30,000 emails that are missing," Trump said.
He later said he was kidding about that request, but nevertheless, through the remainder of his campaign and much of the transition, he continued to deny that it was possible for anyone to know who had hacked the DNC emails. Only in January, shortly after the release of the U.S. intelligence analysis and days before taking office, did Trump concede that the culprit had been Russia. Shortly thereafter, he returned to his original position of calling the investigation a hoax.
Michael Caputo, a former Trump campaign staffer, said Trump believes that if he acknowledges that Russia interfered in the election on his behalf, that would delegitimize his victory. The president also thinks that the intelligence community has it out for him, Caputo said. "I think that Donald Trump and those around him thought at the time, and still believe, that the law enforcement and the intelligence community was politicized, and I think for good reason," Caputo said.
Ironically, just two days before Trump's invitation for Russia to hack Clinton's computers to find those deleted emails, Caputo publicly stated his own concern about hacking. "Sure, we're having fun with the @wikileaks #DNCleak but this is a provocation by @KremlinRussia_E and must be dealt with. Stat," he wrote on Twitter.
It was apparently not a concern shared by Trump himself.
Popular in the Community