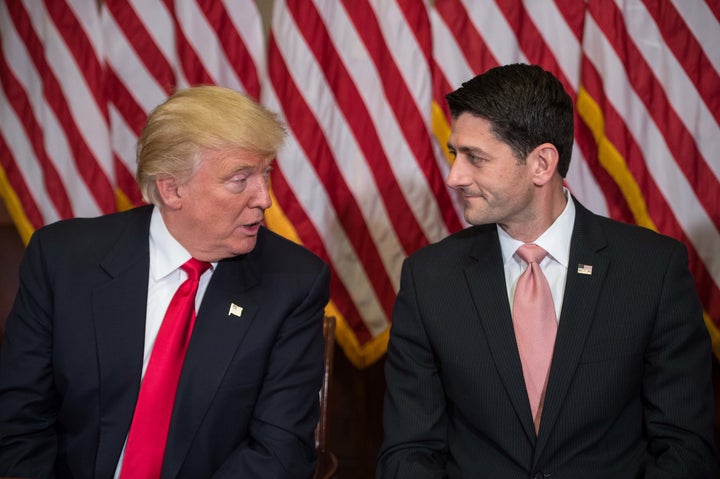 WASHINGTON ― This could be the beginning of a beautiful, terrifying, probably just temporary friendship.
After sitting down with President Barack Obama in the White House on Thursday, President-elect Donald Trump made his way over to the Capitol to have lunch with House Speaker Paul Ryan (R-Wis.) and to meet separately with Senate Majority Leader Mitch McConnell (R-Ky.).
Those meetings, which lasted a little more than an hour with Ryan and little less than an hour with McConnell, were an opportunity for GOP congressional leaders to clear the air with Trump and try to get on the same page. They also marked the first time that Ryan or McConnell had ever been seen in public with Trump.
"We're now talking about how we're going to hit the ground running to make sure that we can get this country turned around and make America great again," Ryan told reporters Thursday, citing Trump's campaign slogan.
Trump's rocky relationship with McConnell and, particularly, with Ryan has been a focal point for nearly a year now. With Trump's surprise win on Tuesday, GOP congressional leaders are no longer trying to distance themselves from the president-elect; they're jumping right into bed with him. And we'll soon get to see just how strong that relationship is as Congress makes some spending decisions in the upcoming lame-duck session.
GOP congressional leaders are no longer trying to distance themselves from the president-elect; they're jumping right into bed with him. And we'll soon get to see just how strong that relationship is as Congress makes some spending decisions.
When Congress returns next week, lawmakers have to decide how they'll handle a Dec. 9 government spending deadline. 
One option ― which Ryan and McConnell seem to prefer ― is to "clean the barn," as House Majority Leader Kevin McCarthy (R-Calif.) told his Republican colleagues on Wednesday, with a spending deal that would go until October 2017.
Ryan has said the House wouldn't do a so-called omnibus bill ― a 1,000-plus-page appropriations deal ― but he would be open to smaller bills, maybe just two or three, that functionally amount to that same type of deal. That would give Trump some breathing room to come into the White House and get settled before Congress and the White House are negotiating over the threat of a government shutdown.
The other option is just a short-term continuing resolution. That measure would probably just fund all current government programs at current levels for two or three months, allowing the new Congress to come up with a more conservative spending deal to be signed by a President Trump in the early spring.
Conservatives are already clamoring for that route, noting that voters clearly want to change business as usual in Washington. And how Trump responds to Ryan and McConnell's entreaties on the upcoming spending decision will be our first indicator of just what sort of relationship he intends to have with them. 
If Trump goes along with Ryan and McConnell, he may be more willing to work with GOP leaders than voters ever thought, which may be a signal that Trump intends to be more of a politician than a hand grenade in Washington.
And if Trump tells lawmakers he thinks they should do a continuing resolution, especially after everyone expects Ryan and McConnell made a pitch for a larger spending deal on Thursday, it could indicate whether Trump plans to change Washington, or if Washington will change him.
Trump might be more of a politician than he let on during his campaign. After answering a question Thursday about his three biggest priorities ― which he identified as immigration, health care and "big-league jobs" ― Trump walked away when someone asked if he intended to follow through on the Muslim ban.
Whether Trump will push for a continuing resolution or an omnibus could also signal whether the government is going to have four years of shutdown fights.
The only reason to do a continuing resolution is so conservatives can load up an appropriations bill with riders that would cut spending and maybe even eliminate program funding. That would immediately test Senate Democrats and their resolve to block bills from getting to Trump's desk.
At that point, Trump may also call on McConnell to eliminate the filibuster, an obstructionist tool in the Senate that functionally requires 60 votes in that chamber. 
It's unclear what Trump will choose to support the omnibus, continuing resolution or remain neutral ― but he appears to be leaving his options open. He didn't bring staff in for his lunch with Ryan or his meeting with McConnell. Instead, lunch was just a buffet with Trump, Ryan, Vice President-elect Mike Pence, and Trump's wife, Melania. His meeting with McConnell followed the same arrangement.
That could have been a tactical move to avoid any real specifics, or it could just be a thoughtless decision that reflected the light tone of the day. A video posted on Ryan's Facebook showed him on the Speaker's balcony with Trump, pointing out basics like where the White House is. Trump then pointed out where his hotel is located. 
In other words, it was a substantive conversation.
Calling all HuffPost superfans!
Sign up for membership to become a founding member and help shape HuffPost's next chapter
BEFORE YOU GO
PHOTO GALLERY
Trump Supporters React