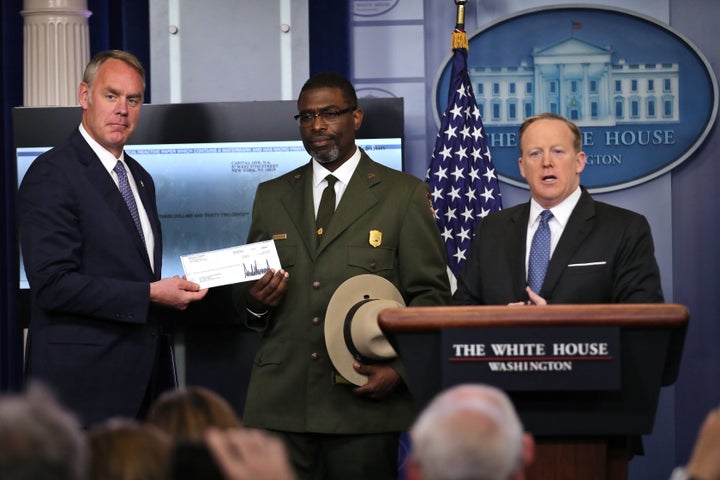 Secretary of the Interior Ryan Zinke announced a score of grants and donations on Wednesday to help protect America's battlefields, including the recipient of President Donald Trump's first-quarter salary.
Maryland's Antietam National Battlefield, the site of the bloodiest one-day battle in U.S. history, will receive a $78,333 donation from the president to help fund two restoration projects, and additional donations to the battlefield from the National Park Foundation and several historic trusts will bring the full amount to more than $263,000.
However, the announcement comes as Trump plans to slash some $1.5 billion from the Interior Department under his proposed federal budget — including some $296 million from the National Park Service, which oversees protected battlefields like Antietam. If all $400,000 of the president's annual salary were set aside for Interior, it'd take about 3,750 years of checks to make up for that shortfall.
​"As both the Secretary of the Interior and a military veteran, I'm deeply honored and humbled to deliver the donation to Antietam National Battlefield on behalf of President Trump," Zinke said in a statement announcing the donation. "Visiting the hallowed ground the day after Independence Day is incredibly moving and it underscores the importance of why we must preserve these historic grounds. The President's donation will allow generations of Americans to learn about our history and heritage on this sacred site."
Zinke also announced grants totaling $7.2 million "to help identify, preserve and protect America's battlefields" in nine different states. They will be administered through NPS's American Battlefield Protection Program.
Trump's donation follows through on campaign pledges that he would work for free during his presidency (he said during a meeting in 2015 the promise was "no big deal for me"). But the National Park Service will likely be forced to dramatically scale back its ability to serve the public under the White House's proposed budget.
If passed, the budget would cut 13 percent of funding from the NPS, which would result in 1,200 full-time employees losing their jobs. Outside magazine notes almost all funding for land acquisition would be cut, and the $12 billion backlog needed for park maintenance likely would be pushed off even further.
"If enacted, this budget would represent the largest cut to the National Park Service since World War II," Theresa Pierno, president of the National Parks Conservation Association said in May. "Agencies like the National Park Service and EPA are already operating on shoestring budgets, and this budget, if enacted, will only make a bad situation worse."
In April, Zinke himself noted many of America's battlefields were among the areas protected by the NPS that had a backlog in maintenance.
"We're about $229 million behind in deferred maintenance on our battlefields alone," the secretary said.
Conservation groups slammed the president's initial salary donation announcement as a "publicity stunt."
"If Donald Trump is actually interested in helping our parks, he should stop trying to slash their budgets to historically low levels," the Sierra Club said in April. "This publicity stunt is a sad consolation prize as Trump tries to stifle America's best idea."
CORRECTION: An earlier version of this article and headline said Trump's proposed budget would cut $1.5 billion from the National Park Service. It would slash that amount from the Interior Department overall and $296 million from the National Park Service.
Popular in the Community