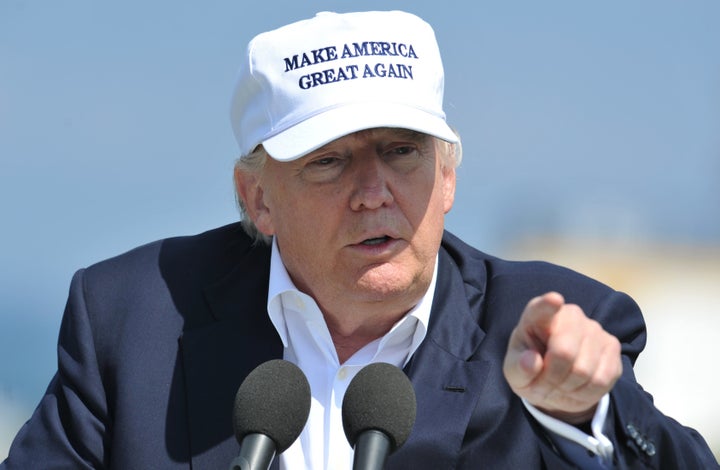 U.S. presidential candidate Donald Trump, thrusting himself into the heart of Britain's vote to leave the European Union, drew parallels on Friday to his own campaign to limit illegal immigration and build a wall at the U.S. border with Mexico.
In Scotland to reopen a golf resort he owns, the wealthy New York businessman told a news conference: "People really see a big parallel. A lot of people are talking about that, and not only the United States but other countries."
"People want to take their country back. They want to have independence in a sense. You see it with Europe, all over Europe," said Trump, 70, the presumptive Republican nominee in the Nov. 8 U.S. presidential election.
"You're going to have many other cases where they want to take their borders back," he said.
"So I think you're going to have this happen more and more. I really believe that, and I think that it's happening in the United States. It's happening by the fact that I've done so well in the polls."
Trump arrived in his signature helicopter at Turnberry near his clubhouse resort, a Scottish flag blowing in the wind. He said the vote was a setback also to U.S. President Barack Obama, a Democrat who had urged Britons to stay in the EU.
"It's something he shouldn't have done. It's not his country. It's not his part of the world. He shouldn't have done it. And I actually think that his recommendation perhaps caused it to fail," Trump said.
Weeks ago Trump said he would be inclined to leave the EU. On Friday he told reporters: "I said this was going to happen and I think that it's a great thing."
Trump had exchanged insults with British Prime Minister David Cameron, who supported staying in the EU and said on Friday after the vote he would resign by October. Cameron had called Trump's anti-immigrant policy ideas divisive and wrong.
"I think David Cameron is a good man. He was wrong on this," Trump said. He predicted Britain and the United States would remain "great allies."
More than half a million Britons signed a petition earlier this year to bar Trump from entering Britain, where he has business interests, in response to his call to temporarily ban Muslims from entering the United States.
British lawmakers decided against a ban as a violation of free speech.
Popular in the Community