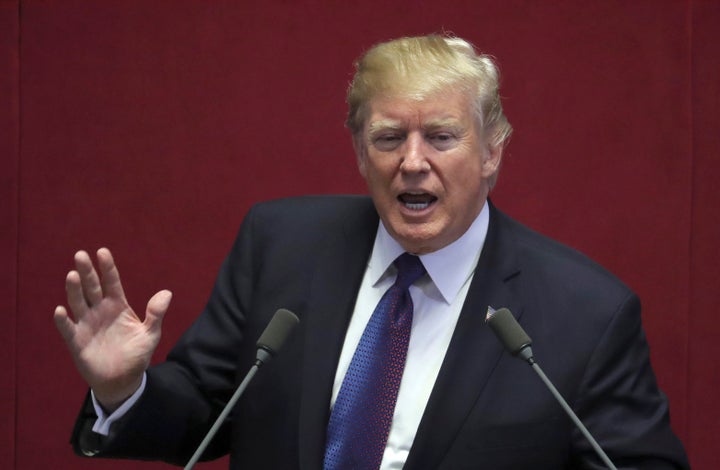 President Donald Trump took a far more measured tone during his address to South Korea's National Assembly on Wednesday, touting the option of diplomacy with North Korea while delivering a strong message to the country's leader that it must end its nuclear weapons program.
Trump, speaking in Seoul as part of his 12-day tour of Asia, delivered a direct and at times heavy-handed message to Kim Jong Un, telling the North Korean leader: "Do not underestimate us. Do not try us."
However the president echoed calls from a day earlier when, speaking at a news conference with South Korean President Moon Jae-in, he urged Pyongyang to "come to the table and make a deal."
"I also come here to deliver a message directly to the leader: The weapons you are acquiring are not making you safer. They are putting your regime in grave danger," Trump told the National Assembly. "Every step you take down this dark path increases the peril you face. North Korea is not the paradise your grandfather envisioned. It is a hell that no person deserves.
"We will offer a path to a much better future. It begins with an end to the aggression of your regime, a stop to your development of ballistic missiles and complete verifiable and total denuclearization."
The speech stands in contrast to Trump's past remarks, in which the president has threatened or demeaned Kim on Twitter. In September, he vowed to "totally destroy North Korea" during his first address to the United Nations and called Kim a "rocket man ... on a suicide mission for himself and for his regime."
Trump's speech Wednesday, which included a sweeping history of the conflict on the Korean peninsula, included some overt hits at the North, including his assertion that the region "is a country ruled by a cult." He pointed to human rights abuses by Pyongyang against its own people and acts of aggression including the recent death of American student Otto Warmbier, who Trump said was "tortured" to death.
"We will not allow American cities to be threatened with destruction, we will not be intimidated and we will not let the worst atrocities in history be repeated here, on this ground we fought and died so hard to secure," Trump said. "To those nations that choose to ignore this threat ― or, worse still, to enable it ― the weight of this crisis is on your conscience."
A surprise visit by Trump and Moon to the Korean Demilitarized Zone, the heavily-armed buffer region between North and South Korea, was canceled at the last minute on Wednesday due to poor weather. White House press secretary Sarah Huckabee Sanders said the planned visit, even though it did not take place, was of a "historic nature" and showed "the strength of the alliance" between the U.S. and South Korea.
Trump's next stop will be China, where he will meet with President Xi Jinping.
Popular in the Community