President Donald Trump, frustrated with North Korea's rapidly advancing nuclear arsenal, has publicly raged at nations he says have not done enough to rein in the antagonistic dictatorship.
China has frequently earned his scorn, but Trump's focus of late has included another ― unexpected ― target: South Korea, a longtime U.S. ally whose new president, Moon Jae-in, has pushed for peace talks with his country's northerly neighbor.
"South Korea is finding, as I have told them, that their talk of appeasement with North Korea will not work," Trump tweeted on Sunday after the rogue regime conducted its most powerful test yet of a nuclear weapon.
Trump also has continued to sow doubts about the future of the U.S.-South Korea free trade deal.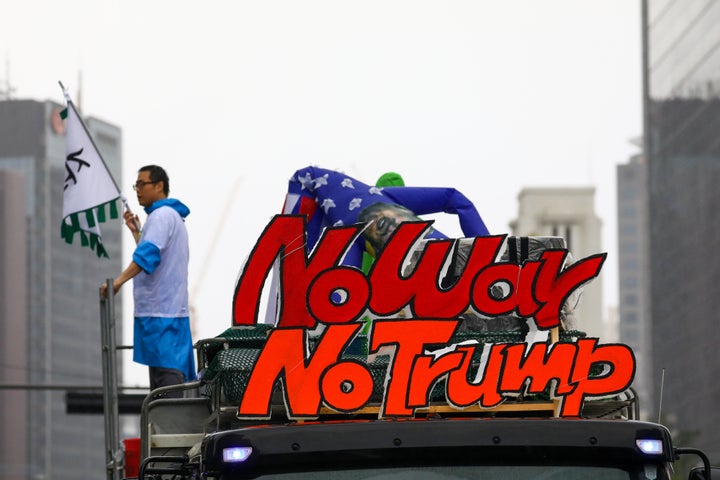 His actions underscore that he is a president versed more in hyperbolic threats and less in diplomacy, experts say, a dynamic that could end up handing North Korea a piece of non-nuclear ammunition it's been denied for almost 70 years: turmoil between Seoul and Washington.
"It was just a totally unnecessary move," Evans Revere, a former principal deputy assistant secretary of state who specializes in North Korea, told HuffPost about Trump's latest comments. "It undermines an ally's confidence and it really gives aid and sustenance to North Korea. One of their goals is to try and drive a wedge between us."
Trump's latest barbs echo those he's lobbed at China, Pyongyang's only real ally and its prime trading partner, since he took office in January.
"They do NOTHING for us with North Korea, just talk," Trump tweeted about the Chinese government after North Korea tested its first successful intercontinental ballistic missile in July. "China could easily solve this problem!"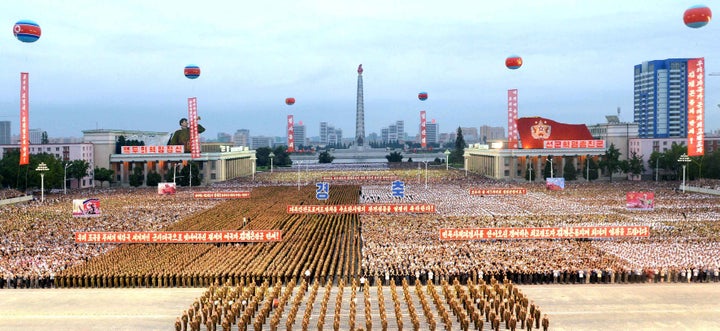 Even with Moon's ongoing efforts to bring North Korea and its bombastic leader, Kim Jong Un, to the negotiating table, South Korea has taken measures designed to show its toughness.
Still, Moon has long advocated for diplomacy and vowed to avoid a military conflict on the Korean peninsula, a position that appears to have frustrated Trump. The government in Seoul, located just 35 miles from the North Korean border, has released a slew of pointed messages directed at the White House of late, saying that armed conflict would not come without South Korea's consent.
Trump added more uncertainty to the state of the alliance this month by saying he would consider ending the five-year-old trade deal with South Korea, comments in line with his campaign pledges to withdraw from deals he views as unfavorable to the U.S. Were Trump to follow through with that threat, some analysts fear the move would further undermine an alliance that for decades has worked to deter more overt military moves by North Korea.
"One of the big reasons we decided to go forward with the agreement was to demonstrate to the South Koreans, North Koreans and Chinese that the U.S. was committed to this relationship for the long haul," Michael Green, an expert a the Center for Strategic and International Studies, told The New York Times last week.
Revere characterized Trump's suggestions of blowing up the deal as "very unfortunate." He said Trump's bristling remarks "sent exactly the wrong message to both South and North Korea," worrying one and bolstering the other.
"To suggest that the U.S. is going to withdraw in the midst of an unfolding crisis with North Korea borders on the irresponsible," he said. "I can imagine the South Koreans are besides themselves."
Officials in both Seoul and Washington do seem to agree on one thing: North Korea's latest nuclear test represented a dramatic uptick in the reclusive nation's military might. The test was Pyongyang's sixth, and initial estimates say it may have had a destructive power about eight times that of the bomb dropped by the U.S. on Hiroshima, Japan, in 1945.
Paired with North Korea's recent launch of a ballistic missile over Japan and what CNN reports may be an upcoming test of another long-range missile, Kim's saber-rattling has grown exponentially in recent months.
"We've gotten comfortable with the idea that wars are things that happen in other places — that we can 'take out' tinpot dictators with little or no risk to ourselves," Jeffery Lewis, a nuclear nonproliferation expert at the Middlebury Institute of International Studies, wrote in Foreign Policy this week. "The idea that the North Koreans could retaliate, that they could threaten us here in the United States, is something that U.S. officials have openly described as 'unimaginable.'"
"The thing is, you don't have to imagine it, at least not any more."
Despite these fears, Revere says his assessment that the world is far from an open war with North Korea remains unchanged.
"I still think it strains credulity that the United States would engage in offensive military action against North Korea in the absence of a clear and imminent threat of an attack by North Korea," he said.
Moon appears to hope such a prospect is far from a reality as well, as the Seoul metropolitan area ― 35 miles from the border with North Korea and home to 25 million people ― would be directly in the firing line of any attack by Kim's regime.
"We can never tolerate another catastrophic war on this land," Moon's office said in a statement to the Times on Sunday. "We will not give up our goal of working together with allies to seek a peaceful denuclearization of the Korean Peninsula."
But Trump and his aides, including his ambassador to the United Nations, are expressing their frustration with more frequency as Kim continues to defy international condemnation.
Calling all HuffPost superfans!
Sign up for membership to become a founding member and help shape HuffPost's next chapter