WASHINGTON ― Federal prosecutors brought fewer drug cases in the first full five months of the Trump administration than they did over the same period last year under former President Barack Obama, according to new statistics released Thursday. The 9 percent drop in federal drug prosecutions came despite Attorney General Jeff Sessions' desire to step up federal enforcement of drug laws.
Just 8,814 alleged drug offenders were federally prosecuted from February through June, down from 9,687 during the same time frame last year, according to data released by the Transactional Records Access Clearinghouse at Syracuse University.
The number of prosecutions brought last month dropped even further: Just 1,578 new drug cases were brought in June, down 16.1 percent from May. The number of drug prosecutions brought over the course of the past year was down more than 27 percent from the number from five years ago.
The data indicate that it may take a while for the Trump administration to undo the work of the Obama administration, which narrowed the types of cases prosecuted by federal authorities and the types of charges brought against lower-level offenders.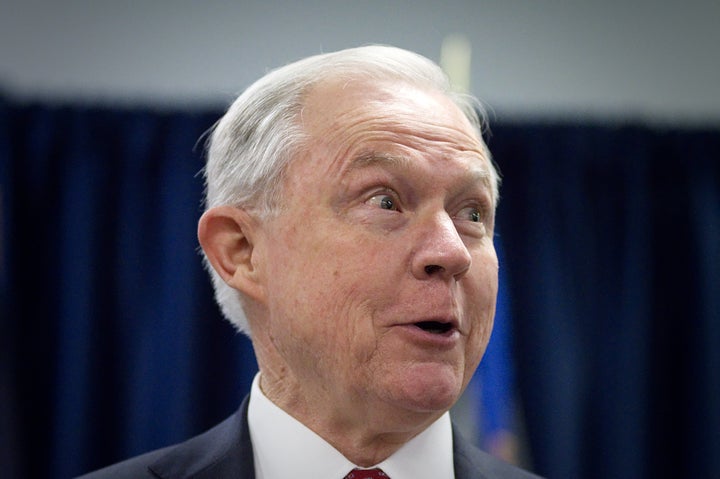 Sessions has rolled back Obama-era drug sentencing reforms since he took office in February, instructing federal prosecutors in May to "charge and pursue the most serious, readily provable offense," including those that trigger mandatory minimum sentences. The attorney general recently received recommendations from his Task Force of Crime Reduction and Public Safety, though the Justice Department has not released those recommendations.
Sessions, who was traveling to El Salvador on Thursday, currently finds himself in a precarious position as the nation's top law enforcement official. For the past week, he has drawn the ire of President Donald Trump, who is upset over Sessions' decision to recuse himself from the Russia investigation that has weighed down his administration. Trump has dissed Sessions to reporters from The New York Times and The Wall Street Journal and at a press conference this week. On Twitter, over the course of three days, Trump called Sessions "beleaguered" and "weak," and questioned his decision-making. The New York Times reported Wednesday night that Trump and Sessions had not spoken in a week.
A Justice Department spokesman did not immediately respond to a request for comment on the new drug prosecution numbers.
Popular in the Community