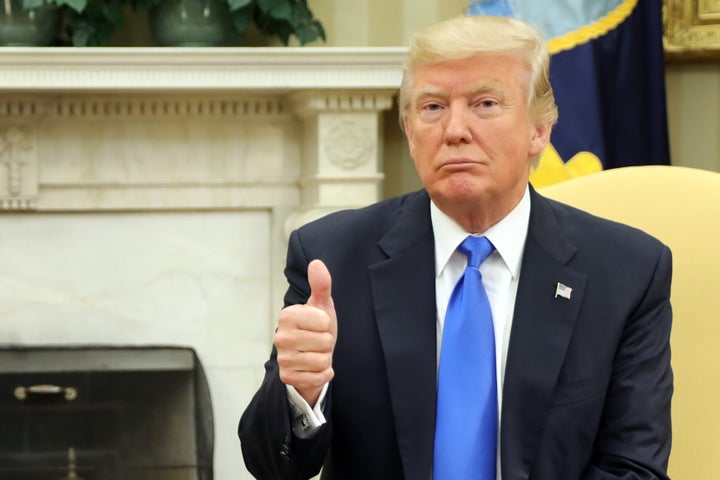 WASHINGTON – Having publicly scolded his attorney general for a week now, President Donald Trump made it clear Tuesday he's prepared to scold him some more rather than fire him.
Both at a White House news conference and in a Wall Street Journal interview, Trump said he was "disappointed" in Jeff Sessions ― apparently for failing to protect the president from the ongoing investigation into his campaign's ties to the foreign government that helped Trump win the presidency.
"He should not have recused himself…. And if he was going to recuse himself, he should have told me prior to taking office and I would have quite simply picked somebody else," Trump said of Sessions in the Rose Garden in a joint appearance with Lebanese Prime Minister Saad Hariri.
Trump would not, however, say what he planned to do about Sessions. "We will see what happens. Time will tell. Time will tell," Trump said.
In the Journal interview, the president was more explicit about the reason behind his disappointment, specifically citing the Russia investigation: "If Jeff Sessions didn't recuse himself, we wouldn't even be talking about this subject."
The remarks help keep Russia front and center six months into Trump's presidency, despite his attempts to dismiss the issue as "fake news" dreamed up by Democrats as an excuse for Hillary Clinton's election loss to Trump in November.
The U.S. intelligence community – which included the FBI ― released a report in January concluding that Russia actively tried to help Trump win by stealing private emails from Democrats and releasing embarrassing ones in the final months before the election.
Sessions in March recused himself from the ongoing investigation into the Russian interference after his own undisclosed meetings with Russian officials came to light, which left the probe under the charge of Sessions' deputy, Rod Rosenstein.
Two months later, Trump fired then-FBI Director James Comey. In sworn testimony to the Senate Intelligence Committee last month, Comey said he believed the president fired him for refusing to a drop a related investigation into the Russian contacts of Trump's first national security adviser, Michael Flynn.
The day after firing Comey, Trump told the Russian foreign minister and ambassador that he had done so to relieve the "pressure" from the former FBI director's Russia probe.
After the firing, Rosenstein appointed former FBI Director Robert Mueller as special counsel in the investigation, which has become a focus of Trump's anger ever since.
That ire appeared to boil over after recent reports that Mueller may be seeking Trump's tax returns in connection with the investigation. Trump refused to release his returns during the campaign, a break from decades of protocol for presidential candidates.
In the days since, Trump became increasingly aggressive about Sessions in his statements on Twitter.
In a Monday morning tweet, Trump called Sessions "beleaguered" – but failed to point out that it was Trump's own criticism that was beleaguring him.
And in his Tuesday morning tweet session, Trump dropped even that ambiguity. "Attorney General Jeff Sessions has taken a VERY weak position on Hillary Clinton crimes (where are E-mails & DNC server) & Intel leakers!" Trump wrote, before going on to attack the FBI, too. "Problem is that the acting head of the FBI & the person in charge of the Hillary investigation, Andrew McCabe, got $700,000 from H for wife!"
It is unclear how Trump would proceed if he does manage to rid himself of Sessions, who was the first sitting senator to endorse him last year.
It's difficult to imagine any replacement candidate winning Senate confirmation as attorney general who does not promise to leave Mueller and his Russia investigation alone.
In the meantime, Mueller's probe will continue, unless Trump is able to appoint an acting attorney general willing to fire Mueller – a move certain to unleash political backlash even from Republicans.
REAL LIFE. REAL NEWS. REAL VOICES.
Help us tell more of the stories that matter from voices that too often remain unheard.