Polling shows Donald Trump leading Tuesday's primary states by large margins. Sen. Bernie Sanders continues to face challenging odds. And male and female millennials have different ideas on which candidate would be best for women. This is HuffPollster for Tuesday, April 26, 2016.
TUESDAY'S PRIMARIES LOOK GOOD FOR TRUMP - Connecticut, Delaware, Maryland, Pennsylvania and Rhode Island, which vote Tuesday, should put Donald Trump a step closer to the nomination. The businessman leads by large margins in the available polling for these states. According to the HuffPost Pollster polling averages, he has a 20-point lead over Texas Sen. Ted Cruz in Pennsylvania, and even larger leads in Connecticut, Maryland and Rhode Island. Trump has a large lead in the one poll conducted in Delaware as well. All together, these five states are worth 172 delegates.

Pennsylvania has the biggest delegate haul, but most are unbound - Gregory Krieg and Marshall Cohen: "Leading most Pennsylvania polls by double-digits, the billionaire [Donald Trump] is a near lock to carry the 17 delegates awarded to the winner of the statewide vote. But the process is more complicated for the remaining 54. That's because they are essentially elected on the honor system. Voters first select their preferred candidate -- that's the state-wide vote. Then, voters in each of the 18 congressional districts pick three delegates for the convention. Many of those delegates have have pledged their support to Trump, Ted Cruz or John Kasich, but the catch is that they are technically unbound and beholden to nobody -- not the voters, candidates or Republican Party. The picture looks brightest for Trump, who could do well among the unbound delegates, according to CNN interviews with more than 125 of the 162 candidates. About 20% say they'll support the front-runner, and another 33% say they'll support their district's choice. This bodes well for Trump, who is poised to win most of the state's congressional districts." [CNN]
SANDERS IS WITHIN STRIKING DISTANCE IN CONNECTICUT, LAGS IN OTHER STATES - Bernie Sanders is neck-and-neck with rival Hillary Clinton in Connecticut's Democratic primary with 46 percent of the vote to her 49 percent, according to HuffPost Pollster's aggregate. While there is potential for Sanders to win the state, it likely won't be a big enough win to help him gain on Clinton overall. Clinton leads by substantial margins in Pennsylvania and Maryland. Polling has been limited in Rhode Island and Delaware, but, with the exception of one Rhode Island survey, shows Clinton leading. Sanders needs to win 59 percent of the remaining pledged delegates to still have a shot at the nomination, which looks unlikely based on these numbers.
CAN A KASICH-CRUZ ALLIANCE STOP TRUMP? - Chuck Todd, Mark Murray and Carrie Dann: "On paper, the alliance between Ted Cruz and John Kasich -- whereby Kasich will skip the May 3 Indiana primary to help Cruz against frontrunner Donald Trump, while Cruz will skip Oregon (May 17) and New Mexico (June 7) to help Kasich -- makes a lot of sense… But… it's not a sure thing that all of Kasich's voters in Indiana will support Cruz. According to a Fox poll released over the weekend -- which showed Trump leading Cruz in the Hoosier State by eight points, 41%-33% -- 53% of Kasich voters said Cruz would be their second choice, while 22% said it would be Trump….According to our math, Trump could get SHUT OUT of Indiana, but still win a majority of delegates on a first ballot at the convention -- if he sweeps California and takes most of its 172 delegates on June 7, and if he wins most of Pennsylvania's 54 unbound delegates." [NBC]
There's little common ground between Cruz and Kasich supporters - Chris Cillizza: "Voters don't tend to look at the big picture. They vote for who they like or who they think understands them….if you are an Indiana Republican who was for Kasich, it's hard to imagine that you agree with Cruz on almost anything. Ditto a Cruz voter in Oregon or New Mexico. These candidates were on the opposite ends of the GOP spectrum even when there were 17 candidates running!" [WashPost]
But the cooperation could cost Trump delegates if it works - Nate Cohn: "When you consider the delegate rules of these states, it's an arrangement that could give the non-Trump candidates a much better chance of denying Mr. Trump the nomination…A Cruz victory in Indiana would be enough to make Mr. Trump an underdog in the fight for 1,237. In exchange for supposedly not trying in Indiana, Mr. Kasich is to get New Mexico and Oregon. In a way, this is counterintuitive: Mr. Cruz has fared very well out West, and he might have been favored to win either or both states over Mr. Kasich and Mr. Trump. Mr. Cruz's concession would seem to increase the chance that these states go to Mr. Trump. But even if this happens, it's not a huge problem for the anti-Trump forces, at least from a delegate perspective. That's because New Mexico and Oregon award their delegates on a purely proportional basis — meaning they award their delegates in proportion to a candidate's statewide share of the vote." [NYT]
VOTERS SAY CLINTON AND TRUMP ONLY VIABLE CANDIDATES - HuffPollster: "The presidential primary isn't over yet, but voters already have a good idea of who they think will win, according to a new HuffPost/YouGov survey. Sixty-seven percent of all voters say Hillary Clinton has a realistic shot of taking the Democratic nomination, while just 26 percent say the same of Sen. Bernie Sanders (I-Vt.). A 59 percent majority think Donald Trump has a realistic shot of representing the Republican Party this year, compared to 36 percent for Texas Sen. Ted Cruz and just 8 percent for Ohio Gov. John Kasich. There's even more of a consensus among the members of each party. Seventy-two percent of Democrats and Democratic-leaning voters think Clinton can win, while 30 percent say Sanders has a chance. On the GOP side, 71 percent of Republicans think Trump has a realistic shot of winning, compared to 39 percent for Cruz and 5 percent for Kasich." [HuffPost]
MILLENNIALS THINK WOMEN STILL FACE SUBSTANTIAL BARRIERS - Harvard University Institute of Politics: "When 18- to 29-year-olds were asked whether a glass ceiling (a barrier to advancement in a profession) exists for women in America today, nearly three in five (59%) indicated yes. Young women are significantly more likely to believe a glass ceiling exists (68%), compared to men (50%)..... When asked which of the five remaining presidential candidates would most improve the lives of women, Clinton leads 29% to 25% compared to Sanders, with 32% undecided. No Republican candidate received more than 5 percentage points (5%: Cruz; 4%: Trump; 2%: Kasich). Analyzing the results among men only, Clinton has an 11-point advantage over Sanders (32%: Clinton; 21%: Sanders). When we analyze the responses of women, identifying the candidate who would most improve women's lives, Sanders edges Clinton (Sanders: 30%; Clinton: 26%)." [Harvard IOP]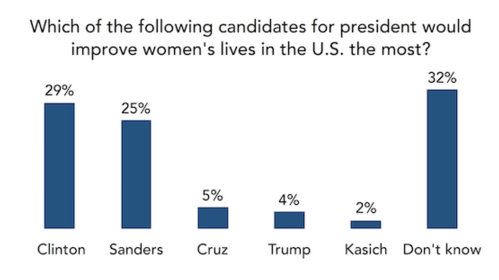 HUFFPOLLSTER VIA EMAIL! - You can receive this daily update every weekday morning via email! Just click here, enter your email address, and click "sign up." That's all there is to it (and you can unsubscribe anytime).
TUESDAY'S 'OUTLIERS' - Links to the best of news at the intersection of polling, politics and political data:
-David Wasserman illustrates how Donald Trump is winning the GOP electorate. [538]
-Max Ehrenfreund argues that Bernie Sanders has shifted young voters to the left. [WashPost]
-Research says it doesn't really matter who the nominees pick as running mates. [WashPost]
-Two in three Americans are savers, not spenders. [Gallup]
-Black Americans narrowly consider violence in their community is of greater concern than racial injustice in the criminal justice system. [YouGov]
Popular in the Community