A high school teacher in Wall Township, New Jersey, has been suspended after students discovered their pro-Donald Trump quotes and T-shirts had been altered or removed entirely.
The issue came up when junior Grant Berardo opened his yearbook expecting to see himself in the "Trump: Make America Great Again" T-shirt he had worn when posing for his yearbook photo last fall.
The shirt's presidential message appeared in the school pics he had purchased earlier in the year but had somehow disappeared in the yearbook version.
"He was disappointed," Grant's father, Joseph Berardo Jr., told CNN. "This was the first election he has been interested in."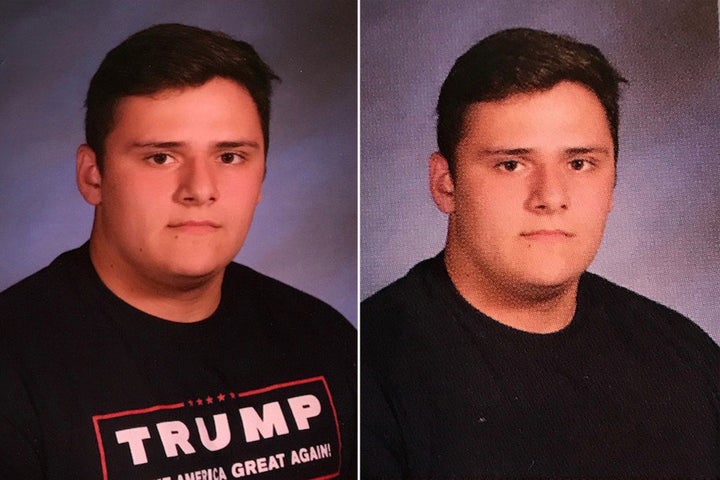 Berardo isn't the only teen Trump fan whose views may have been censored. Junior Wyatt Dobrovich-Fago says his Trump vest was blanked out when it appeared in the yearbook. His sister, Montana, said this Trump quote was removed from her freshman class president photo: 
"I like thinking big. If you are going to be thinking anything, you might as well think big."
Grant's dad told the New York Post he checked to see if there were any dress-code restrictions before letting his son wear his Trump T-shirt for his school picture.
He noted that one student wore a Reagan-Bush shirt in a group shot, while others posed for their class pictures in shirts promoting the New Jersey Devils and Led Zeppelin.
In previous years, students posed in Barack Obama gear, the told the Post.
The elder Berardo insists he doesn't see a conspiracy but said the Trump alteration does smack of censorship.
"I don't think there was a deep-seated plot here, but I think there's a yearbook committee and a yearbook adviser, and somewhere in the mix someone or several people decided to censor three students," he told the New York Post. "The fact that the committee found it OK to censor the president's name or anything that wasn't offensive is just wrong."
Wall school board President Allison Connolly told the Asbury Park Press that the board "found the allegations of wrongdoing disturbing and take the charge that students have had their free speech rights infringed upon very seriously."
Parsons told the New York Post that "we have never made any action against any political party." When a reporter asked if she knew who altered the images, she said, "I'm going to hang up."
Joseph Berardo Jr. told CNN he asked the school to add the original photos and quotes back to the yearbooks with a letter from "the administration explaining why they are reissuing the yearbook." 
UPDATE: June 16 ― Wall Township School Superintendent Cheryl Dyer sent a note Friday to parents announcing that the school will issue yearbooks with the pro-Trump photos and remarks in about two weeks, the Associated Press reported.
She told parents she is still not sure why the edits happened, but added, "I cannot allow the intentional change that was not based on dress code to be ignored."
The teacher remains suspended without pay.
Calling all HuffPost superfans!
Sign up for membership to become a founding member and help shape HuffPost's next chapter
BEFORE YOU GO
PHOTO GALLERY
First Lady Yearbook Photos