President Donald Trump's comments last week that the United States should try to attract immigrants from places like Norway instead of "shithole countries" like Haiti or El Salvador weren't just racist. They also expose his immigration policies to challenge in federal court, and may even allow some of the people he's trying to deport to stay in the U.S.
Here's why: Trump made the "shithole countries" remark while defending his decision to cancel Temporary Protected Status ― a designation that offers deportation relief and work authorization to people from countries afflicted by natural disasters or war ― for hundreds of thousands of undocumented immigrants from El Salvador, Haiti, Nicaragua and Sudan.
Stripping people of TPS is well within the president's authority. But if Trump did so with the intention to discriminate against them because of their national origin or race (most Haitians are black, while most Norwegians are white), his administration may once again find itself in federal court defending the constitutionality of its actions.
Immigration lawyers who defend people facing deportation will be sure to cite Trump's comments, too.
"I can guarantee I'll be making an argument that this administration is discriminating based on national origin and race when I have a client who happens to be from Haiti, El Salvador, or Africa," said Luis Mancheno, an attorney for Bronx Defenders, a nonprofit legal services group. "Or, honestly, anyone who's not from Norway."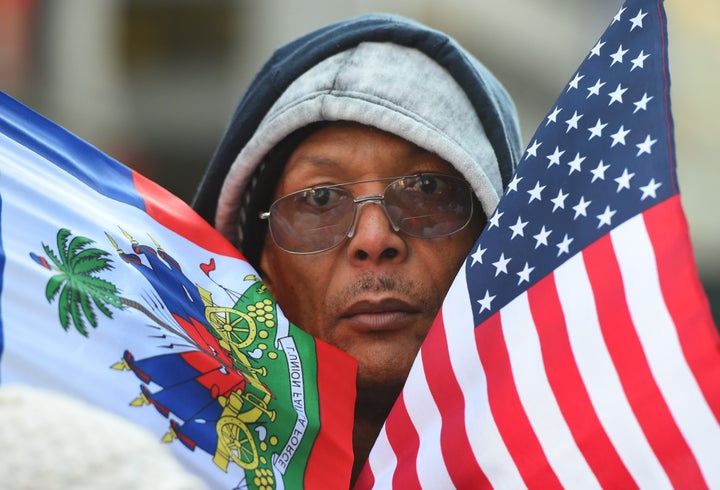 No group has yet announced a legal challenge to the Trump administration's decision to cancel TPS for countries he reportedly derided as "shitholes." But lawyers told HuffPost the comments could be used as evidence to support a claim that Trump canceled the program with discriminatory intent.
"This administration gives us an almost continual flow of circumstantial evidence that would support a conclusion of racial discrimination and bias," Thomas Saenz, executive director of the Mexican American Legal Defense and Educational Fund, told HuffPost. "This latest fiasco certainly provides an important piece of evidence. It's a pretty strong indication that [Trump] has racially discriminatory views that then influence his policy concerns, including cancelling TPS."
The Trump administration already faces several lawsuits accusing the president of discrimination. The courts temporarily blocked his restrictions on travel from several Muslim-majority countries last year, partly over the allegation that he changed U.S. policy with the goal of targeting Muslims. And a lawsuit filed in New York by a coalition of 15 states, along with the District of Columbia, accuses Trump of ordering the cancellation of the Deferred Action for Childhood Arrivals program as part of an "animus-driven" effort to discriminate against Mexicans. (DACA, an Obama-era initiative, allows undocumented immigrants who came to the United States as minors to avoid deportation and to work legally. More than three-quarters of DACA recipients were born in Mexico.)
Those lawsuits are peppered with Trump tweets and and passages from campaign speeches. He announced his candidacy by referring to Mexican immigrants broadly as "rapists" who are "bringing crime," the New York lawsuit notes. One of his tweets referred to protesters carrying the Mexican flag as "criminals" and "thugs."
"For those of us in the immigrant rights world who seek to defend the interests and rights of immigrants, we always welcome the president saying exactly what he feels," Justin Cox, an attorney with the National Immigration Law Center, one of the groups suing to overturn the DACA cancellation, told HuffPost. "Even though that can be exceedingly painful for everyone to see."
Challenging officials on equal protection grounds is often difficult. Those making such claims in court have to prove discrimination was intentional in an era when public officials rarely make overtly racist comments. Instead, those legal challenges often have to show that a new law or policy disproportionately impacts a certain group, or that authorities violated normal procedures to push through a change ― a standard laid out in a 1970s Supreme Court housing discrimination case Arlington Heights v. Metropolitan Housing Corp.
But every time Trump fires off a statement that punctures the barriers of political correctness ― like the "shithole countries" comment, or when he reportedly said the United States shouldn't take more immigrants from Haiti because they "all have AIDS" ― he makes it that much easier to prove in court that his administration is changing immigration policy for reasons that have more to do with personal prejudice than national security.
On Friday, U.S. District Judge William Alsup issued an order detailing claims the Trump administration will face in the challenge to kill DACA. He allowed the claim alleging discriminatory intent to move forward.
In that ruling, Alsup cited a case in which Arizona banned the Tucson school district from teaching Mexican-American studies classes. The lawyers who challenged the ethnic studies law based their claim that officials discriminated against Hispanic students in large part on the Arlington Heights case.
But one of the officials who carried out the Mexican-American studies restrictions was John Huppenthal, the former head of the state public education system, who was outed as an internet troll in 2014. Huppenthal's mean-spirited comments about Hispanics played a major role in overturning the ethnic studies law.
"Huppenthal's blog comments provide the strongest evidence that racial animus motivated the enforcement of" the state law against the Mexican-American studies program, Judge A. Wallace Tashima wrote in the opinion finding the restrictions unconstitutional.
One day, Trump might find himself on the losing end of a similar ruling.
Popular in the Community