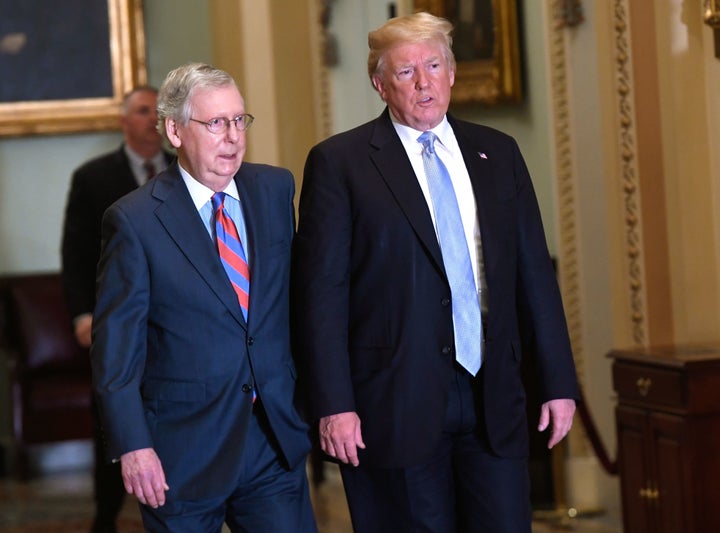 President Donald Trump on Sunday embraced shutting down the federal government if Democrats do not agree to fund his proposed wall on the U.S.-Mexico border, as well as other hardline immigration-related provisions.
Trump's tweet came just days after his meeting with Senate Majority Leader Mitch McConnell (R-Ky.) and House Speaker Paul Ryan (R-Wis.), who on Wednesday pitched the president on a strategy intended to minimize the threat of a shutdown over the border wall, which Democrats strongly oppose.
Trump seemed "receptive" to the idea of delaying a fight over the wall ― long the cornerstone of his political agenda ― past the Sept. 30 government funding deadline and after the November midterm elections, according to Politico. But his tweet ― as well as similar threats he has made in the past ― indicates he's spoiling for a fight over the issue and willing to risk Republican prospects in the midterm elections over it.
Building the wall remains one of Trump's biggest unfulfilled promises. It's an issue that resonates with his supporters ― one that could drive them to the polls in November. And Trump's tweet makes clear he would seek to blame Democrats for an impasse over the wall that blocks funding for the government beyond Sept. 30.
But with the GOP controlling both houses of Congress, a government shutdown could also spark a backlash against the party, as has been the case in previous budget standoffs.
A messy government funding fight could also have ramifications for the battle over Trump's nominee to the Supreme Court, Brett Kavanaugh. Republican leaders have said they would like the conservative federal appeals court judge confirmed by Oct. 1, the start of the new Supreme Court term. But that timeline could stretch out if Trump decides to make money for the wall a non-negotiable part of a new government funding package.
Rep. Steve Stivers (R-Ohio), the chair of the National Republican Congressional Committee that focuses on electing Republicans to the House, discounted the prospect of a shutdown in an interview Sunday on ABC's "This Week."
"I don't believe we're going to be shutting down the government," Stivers said. "I think we're going to make sure we keep the government open, but we're going to get better policies on immigration."
Popular in the Community