WASHINGTON — President Donald Trump's threatened government shutdown over his border wall would leave most federal workers untouched but would, ironically, hit those who actually guard the border: agents for ICE and Border Patrol, who would likely have to work without pay for the duration of the impasse.
Two years after campaigning on forcing Mexico to pay for a 30-foot "great wall" along the southern border, Trump is again trying to use a government funding deadline to make Congress give him wall money, instead.
"If we don't get the wall money," Trump said as he left the White House on a trip to Argentina this week: "Possible shutdown."
Trump has made this threat on several previous occasions but has backed down each time. But even if he follows through this time around, his decision to sign spending bills earlier this autumn covering about two-thirds of the government means that the shutdown would be relatively limited. Military service members, employees at Veterans Affairs hospitals and many thousands of other federal employees and contractors would not be affected if Trump and Congress miss a Dec. 7 deadline to renew funding for the remaining third of the government.
That third, however, includes customs officers, immigration agents and all other employees of the quarter-million-strong Department of Homeland Security as well as another half dozen other agencies, including the departments of State, Justice and Interior. All would stop receiving paychecks for however long it takes for Congress and Trump to pass and approve a new spending bill.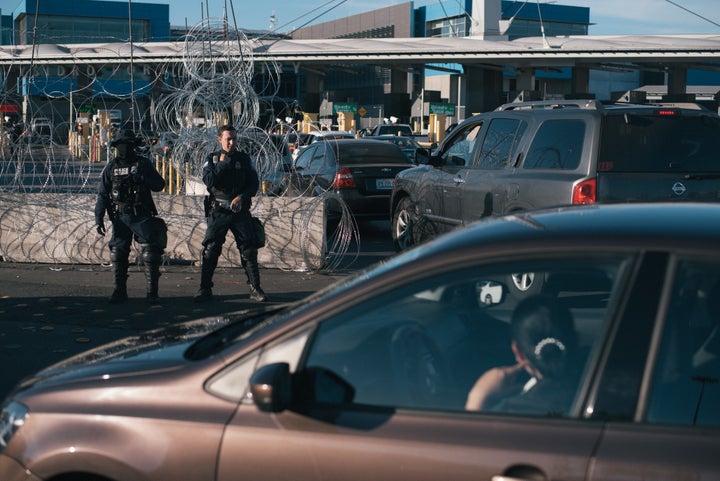 "This is standard Trump. His tariffs are hurting his voters far more than those who voted against him. And sending troops to the border over Thanksgiving hurt the military he says he supports," said Stan Collender, a longtime former congressional budget staffer. "Trump's shutdown plans will be more of the same, with the border patrol and ICE being harmed the most because they'll very likely to be forced to work without pay, and without any guarantee they will be paid."
Past government shutdowns have ended with Congress appropriating back pay for federal employees, which would almost certainly happen again in another shutdown. The problem for employees has been getting through the shutdown period.
A shutdown lasting only a few days might not have much of an effect, but one that drags out into weeks would force employees to dip into savings or borrow money to take care of bills.
"Bridge loans. Payday loans. That sort of thing," Collender said.
Trump had threatened to shut down the government back in March after Fox News' evening hosts criticized him for his willingness to sign a $1.3 trillion spending bill that did not include any money for his long-promised wall. He wound up signing it anyway because, he said, of all the money it was providing for the military.
If Trump waits until the next Congress, the only way he might get anything will be to make a deal with the new Democratic House majority that will want something he finds especially distasteful.

Stan Collender, former congressional budget staffer
Over the summer, Trump again promised his political rally audiences he would shut down the government at the end of September if he did not get wall money. This time, Republican congressional leaders talked him into waiting until after the midterm election, telling him he would have more leverage then.
It was never clear how that could possibly be true, given the likelihood that Democrats would gain a number of seats in the House. Two months later, budget experts like Collender who predicted that Trump would, in fact, have far less leverage appear to have been proven correct.
And with Democrats taking charge of the House in January, Trump's bargaining position will only get worse, Collender said.
"If Trump waits until the next Congress, the only way he might get anything will be to make a deal with the new Democratic House majority that will want something he finds especially distasteful — his tax returns, compliance by his family and Cabinet with congressional subpoenas, et cetera — in exchange," he said.
Trump already appears to be laying the groundwork for another retreat. In an interview with the Washington Post this week, Trump claimed he had a fallback plan in case lawmakers again refuse to give him money for his wall, which included the continued used of active-duty troops he deployed to the Mexican border in the days leading up to the midterm elections.
"Now, if we don't get it, will I get it done another way? I might get it done another way. There are other potential ways that I can do it," he told the Post. "You saw what we did with the military, just coming in with the barbed wire and the fencing, and various other things."
Trump promised to build a "great wall" along the Mexican border the day he announced his candidacy in June 2015, and to force Mexico to pay for it. He repeated that promise many hundreds of times through Election Day in 2016, and even detailed that he would build it 30 feet tall out of reinforced concrete and that it would extend deep underground to prevent tunneling.
After his election, though, he never broached the topic of paying for it with Mexican leaders even a single time, and earlier this year started looking for money from Congress to force American taxpayers to foot the bill, instead.
Calling all HuffPost superfans!
Sign up for membership to become a founding member and help shape HuffPost's next chapter