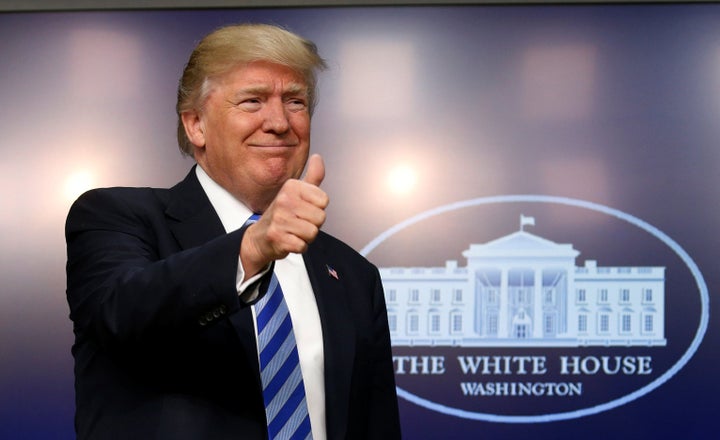 WASHINGTON ― President Donald Trump signed legislation late Monday loosening the reporting requirements that employers face when workers get hurt or sick due to their jobs.
By scuttling a rule issued by former President Barack Obama, Trump and Republicans in Congress have effectively shortened the amount of time that employers in dangerous industries can be required to keep accurate records of worker injuries ― from five years to just six months.
Workplace safety experts warn that the rollback of the OSHA record-keeping rule will enable unscrupulous companies to fudge their injury data and conceal ongoing hazards from regulators. That, in turn, could make it harder for OSHA to identify recurring problems at particular employers and in broader industries.
"This will give license to employers to keep fraudulent records and to willfully violate the law with impunity," Debbie Berkowitz, a former OSHA policy adviser now with the National Employment Law Project, recently told The Huffington Post.
Republicans have tried to peel back more than 30 regulations using so-called "resolutions of disapproval" under the Congressional Review Act. Such a maneuver enables Congress to nullify rules that were finalized late in the previous presidency but have not yet gone into effect. Because the resolutions only need a simple majority to pass in the Senate, Democrats have not been able to filibuster them.
So far, Trump has signed 11 of the repeals that Republicans have sent his way. Along with killing the OSHA rule on Monday, Trump also spiked a regulation limiting hunting on federal refuges in Alaska, and another protecting internet users' privacy. He is expected to sign many other repeals approved by the GOP.
In the case of the OSHA standard, safety experts say the effects of the repeal could be significant.
Under OSHA rules, certain large employers in high-hazard industries must keep an accurate record of worker injuries stretching back five years. OSHA uses the data to determine where recurring problems are and how to deploy its resources, while the Bureau of Labor Statistics relies on it to track occupational health trends. If an employer doesn't keep an accurate record of an injury, OSHA can penalize them for it.
But a court ruled in 2012 that federal law gives OSHA only six months to issue a citation from the time the record-keeping violation occurred. Former OSHA officials say they always interpreted the law as giving them five years, not six months, to hold employers accountable for record-keeping failures. So the Obama administration wrote the record-keeping rule to clarify the five-year window.
Republicans deemed the rule an unlawful "power grab" by OSHA, and joined the Chamber of Commerce and other business lobbies in an ultimately successful effort to kill it.
The record-keeping rule is the second major Obama-era labor regulation that Trump and Republicans have managed to repeal. The first one would have made it harder for companies to secure federal contracts if they have a history of egregious labor law violations.
Popular in the Community