The announcement came hours after the president threatened to veto the bill because it did not provide enough funding for his border wall or a solution for immigrants brought to the country as children under the Deferred Action for Childhood Arrivals, or DACA, program.
Trump called the bill a "ridiculous situation" while speaking at a White House press conference, pointing to a large stack of papers that represented the package. But he said he had decided against a veto because the bill boosts military spending.
"As a matter of national security, I've signed this omnibus spending bill," Trump said.
"There's a lot of things I'm unhappy about in this bill. There's a lot of things we should have in the bill," he added. "I'll say to Congress, I will never sign another bill like this again. I'll never do it again. Nobody read it. It's only hours old."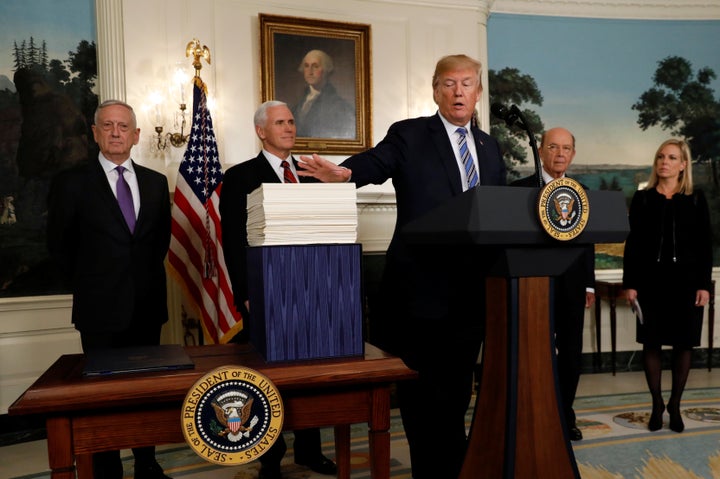 The bill provides $1.6 billion for border security measures including secondary fencing, levee fencing, pedestrian fencing and replacement fencing. Yet that amount falls far short of the $25 billion the White House had requested to construct a full wall along the border between the U.S. and Mexico.
Trump once again blamed Democrats for the delay in finding a solution to DACA, an Obama-era program the president chose to end in September.
The package also provides a 2.4 percent pay bump for the military and a 1.9 percent bump for civilian government employees. It allocates $144 billion for Pentagon spending, along with increases for both U.S. Customs and Border Protection and U.S. Immigration and Customs Enforcement.
The bill also includes an effort to strengthen the background check process for gun purchases.
The bill landed on Trump's desk six months after it was due, and around two days after it was first introduced.
Congress passed five continuing resolutions to keep the government funded while Republicans and Democrats negotiated priorities. Gridlock resulted in two brief shutdowns earlier in the year.
The president called on Congress to ban the practice of delaying votes with filibusters and to grant him the power to reject individual provisions of government spending bills so he could prevent future budget problems.
According to Trump, only President Barack Obama has signed a larger spending bill.
"And I'm sure he wasn't too happy about it, either," Trump said.
The spending bill passed the House 256-167 on Thursday, and passed the Senate 65-32 early Friday.
This article has been updated with additional details about the bill.
CORRECTION: A previous version of this story indicated the bill passed the Senate 65-42. In fact, it passed 65-32.
Popular in the Community