Days after an explosion rocked a Minnesota mosque, President Donald Trump has yet to publicly offer his support to the community.
Dar Al-Farooq Islamic Center, in Bloomington, was attacked early Saturday morning with what the FBI has called an "improvised explosive device." No one was hurt, although people were in the building at the time. The explosion shattered windows, damaged the imam's office and sent smoke throughout the center.
New York Times correspondent Glenn Thrush reported that he received this email from the White House on the Minnesota attack: "The President has been and is continuing to be updated and we are monitoring [the] situation for now." (HuffPost requested comment from the White House press office, but has not heard back.)
American Muslims were quick to note Trump's silence on Twitter.
"President Trump has to date not expressed any significant opposition to Americans turning on Americans of the Islamic faith," said Corey Saylor, who monitors Islamophobia for the Council on American-Islamic Relations. "Through his Muslims ban and comments from the campaign trail, he has instead painted the entire American Muslim community as suspect."
CAIR has tracked more than 50 publicly reported incidents of anti-mosque activity within the first six months of 2017. That number increases to around 85 when reports from people who ask to remain anonymous are factored in, Saylor told HuffPost.
Madihha Ahussain, a staff attorney at the legal group Muslim Advocates, said attacks like the one that happened in Minnesota are sending waves of fear through Muslim communities across the country.
"As these incidents continue to increase, the American Muslim community lives in greater fear for its safety," Ahussain said. "Every American has the right to go with their family to services of their chosen faith, but the current climate makes many religious groups, including Muslims and Sikhs, fearful of doing that."
American Muslims have been responding to the mosque attacks by working with law enforcement to add extra layers of security around their houses of worship. Mosques are also joining locally with interfaith partners to promote messages of peace and understanding.
Rabiah Ahmed, media director for the Muslim Public Affairs Council, said it's "critical" that Trump become more vocal in condemning hate crimes ― and that such support extend beyond a single tweet.
"This has to be reflected in his policies around hate crimes and American Muslims," she told HuffPost.
But other American Muslim activists aren't holding their breath for a statement from Trump. Saylor pointed out that President George W. Bush visited a mosque days after the Sept. 11 attacks to urge Americans not to turn on one another. Trump, however, has made comments like "I think Islam hates us."
"What for him is a tool for scoring political points has real-life consequences for people who choose to pray in mosques," Saylor said.
"I think President Trump's moment to be seen as a unifier has passed," he added.
Before You Go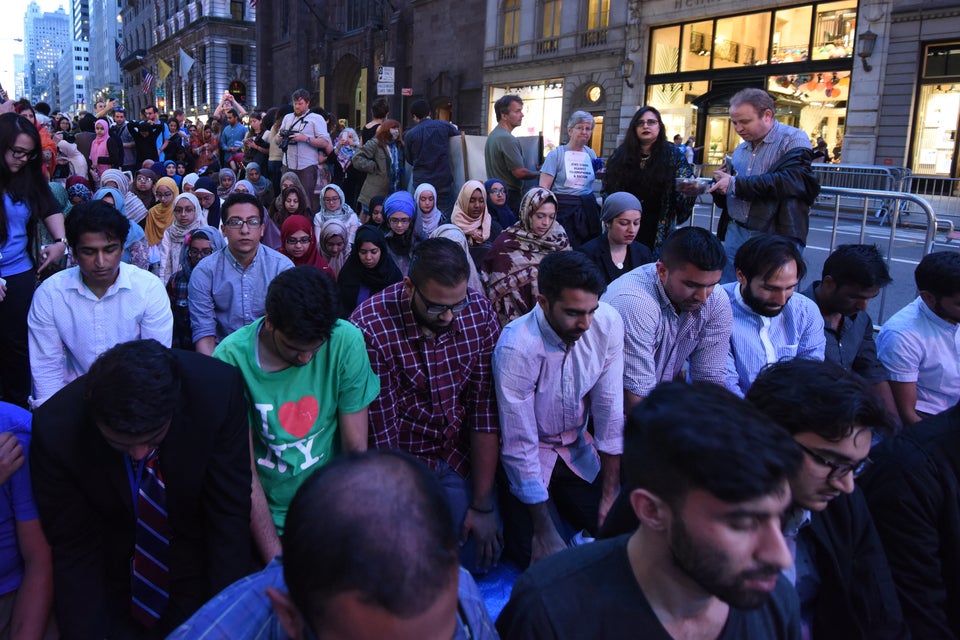 Muslims Hold Iftar Outside Trump Tower
Popular in the Community