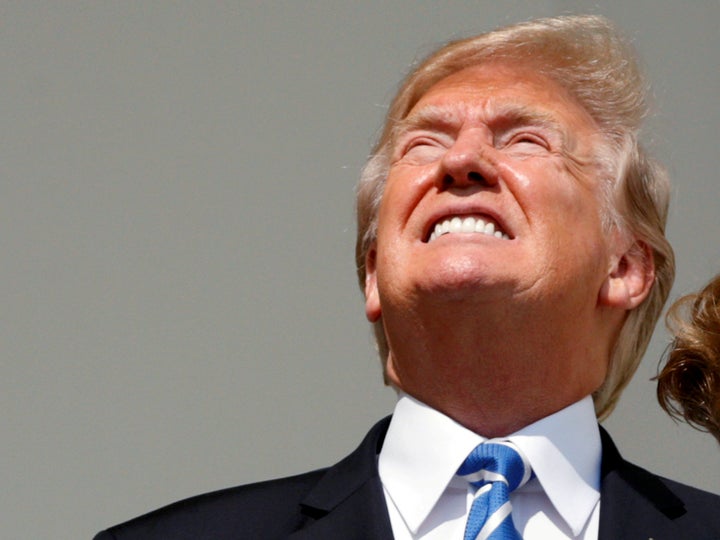 For the past five years, the solar industry in the United States has boomed, becoming a reliable employment engine and giving hope to policymakers seeking to stave off the worst effects of climate change.
But late Monday afternoon, President Donald Trump approved import fees that analysts say will send the price of solar panels surging and halt hiring in an industry that has grown 17 times faster than the U.S. economy.
"It's political fodder to make the United States look like it's tough on China, and it's protecting American jobs," Noah Ginsburg, a director at a New York-based nonprofit that helps low-income communities install solar panels, told HuffPost. "But the reality on the ground is deploying these tariffs will destroy American jobs and negatively impact anyone who wants to participate in and benefit from clean energy."
Solar companies created 1 in 50 new jobs in the U.S. in 2016, with the help of imported solar panels that drastically reduced prices. (The Solar Foundation projects that number will be even higher for 2017; its report on last year's figures is due out in a few weeks.) Most of those jobs are at companies that install solar panels on rooftops and build large solar farms for utilities and big corporations.
At the same time, domestic solar panel manufacturers have suffered, unable to compete with cheaper rivals from abroad. Last year, Suniva, a Georgia-based manufacturer owned by a Chinese company, filed a trade complaint with the U.S. International Trade Commission (ITC) after declaring bankruptcy, arguing that it's impossible to compete with cheap imports. In May, SolarWorld, the Oregon-based subsidiary of a German panel maker, joined the complaint. The companies requested that the White House impose fees on imported panels under the 1974 Trade Act that would more than double the price of solar cells from about 33 cents to roughly 78 cents per watt.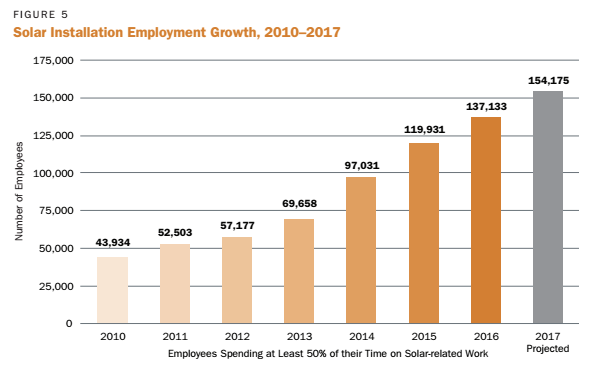 Instead, Trump approved a 30 percent fee on all imported solar panels, decreasing by 5 percent per year over four years. The decision is in line with what the ITC recommended in October, a proposal Suniva called "disappointing."
About half of all solar equipment used in the U.S. this year is projected to come from overseas.
The fees are forecast to reduce solar installations by 10 percent over five years, according to new calculations by GTM Research, a renewable energy market data firm. The Solar Energy Industries Association, a trade group, said the tariffs would lead to 23,000 job losses this year alone in both the solar installation and manufacturing sectors.
"While tariffs in this case will not create adequate cell or module manufacturing to meet U.S. demand, or keep foreign-owned Suniva and SolarWorld afloat, they will create a crisis in a part of our economy that has been thriving, which will ultimately cost tens of thousands of hard-working, blue-collar Americans their jobs," Abigail Ross Hopper, SEIA's chief executive, said in a scathing press release.
In a joint statement, Suniva and SolarWold "applauded" Trump, but urged him to increase the first-year tariff to 50 percent.
"Our companies and workers are grateful to hear the President understands the seriousness of the problem facing our solar manufacturers in Michigan, Georgia, Oregon and across the country," said the statement, signed by SolarWorld Americas Inc. CEO Juergen Stein and Suniva executive vice president Matt Card. "Now the President can save and rebuild this great American industry and create thousands of jobs by immediately imposing 50 percent tariffs ― the strongest tariffs possible."
Their complaint marked the first major trade case before the Trump administration, and offered a fascinating test of the president's "American First" nationalist agenda, which has pushed fossil fuel production as its primary energy policy. The president, who has railed against renewable energy and dismissed climate change as a hoax, had significant discretion over Monday's decision, which loomed over the industry for months.
The precise impact of the tariffs remains difficult to assess. Up to three-quarters of the solar projects scheduled for construction this year could be exempted, in part because companies already stockpiled imported equipment, Ethan Zindler, a Washington, D.C.-based analyst at Bloomberg New Energy Finance, told HuffPost.
"But the 2019 build could be a very different story," he said.
The tariffs appear targeted to Chinese solar equipment, but the wording of the announcement was unclear, making it difficult to gauge how it will affect imports from Southeast Asia and Mexico.
"It's not great news for the industry," Zindler concluded. "But it certainly could have been worse."
The White House's announcement came as a relief to cynics who expected the president to impose the sort of draconian tariffs Suniva and SolarWorld proposed.
"It's not great news for the industry. But it certainly could have been worse."
That would have cost the industry 88,000 jobs nationwide, about 34 percent of the 260,000 Americans employed in solar in 2017, according to calculations released last June by SEIA. At risk would be 6,300 jobs in Texas, 4,700 in North Carolina "and a whopping 7,000 in South Carolina," the group said.
Utility-scale projects, which, because of their size, are more sensitive to hardware price fluctuations, would face the biggest slowdown. That leaves the Southeast, where utilities have commissioned a massive surge of solar projects since 2015, particularly vulnerable to higher tariffs.
"Those plants haven't been built yet, they're just planned," MJ Shiao, a solar analyst at GTM Research, told HuffPost ahead of Monday's announcement. "The price of these plants won't be able to pencil out, and they will be canceled."
Wind energy developers could see a major benefit as states seeking to increase renewable energy capacity bolster incentives to build new turbines in place of solar farms. Natural gas, already the primary fuel of electricity in the U.S., would likely see a boost, too. Coal, the country's second-biggest source of electricity, would be unlikely to see a major impact because its main competitor for market share remains natural gas. Despite its recent gains, solar makes up just a fraction of renewable energy's 15 percent share of U.S. electricity generation.
"More good-paying jobs will be jeopardized by today's decision than could possibly be saved by bailing out the bankrupt companies that petitioned for protection," said Clark Packard, trade policy counsel at the R Street Institute, a conservative think tank that advocates for climate change action. "Today's decision also will jeopardize the environment by making clean energy sources less affordable."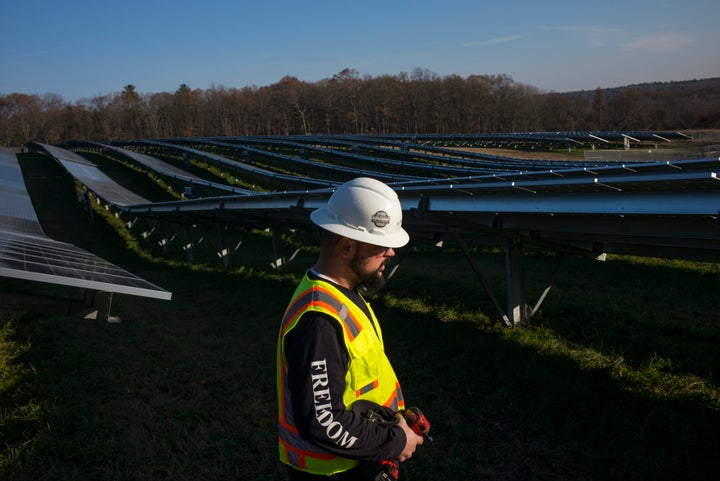 Solar installation companies warned that tariffs could cost manufacturing jobs, too, as an industry tide pulled by cheap imports recedes and lowers all ships. Still, despite its struggles with cheap imports, the manufacturing sector saw a few bright spots before Trump decided to impose tariffs.
In June, Chinese-owned Seraphim Solar announced plans to double the workforce at its Jackson, Mississippi, module-making plant. In August, Tesla's SolarCity division began producing solar cells at its new factory in Buffalo, New York. And trade disputes between countries have made manufacturing giants in Asia look abroad for new options.
"There are spats between the European Union and China and India and China," Zindler said ahead of the announcement. "A lot of Asian manufacturers are already looking to diversify where they are manufacturing."
"But it takes a few years," he added. "So it's not like immediately you'd have a flood of factories in the U.S. owned by the Chinese. That won't happen overnight."
While Monday's announcement marks the White House's most significant blow to renewables yet, the Trump administration has consistently fought clean energy policies.
Last year, Trump proposed a 2018 budget that slashed funding for the Energy Department's Office of Energy Efficiency and Renewable Energy by 71.9 percent. The administration pushed a proposal designed by coal baron and Trump ally Bob Murray to bail out coal and nuclear power plants with a plan that would add $10.8 billion in ratepayer costs. The Environmental Protection Agency moved to repeal the Clean Power Plan, the nation's only major federal program to reduce greenhouse gas emissions and incentivize utility-scale clean energy investments.
The White House also illegally withheld $91 million in funding to ARPA-E, an experimental energy research program responsible for "holy grail" breakthroughs in battery storage technology.
"If Trump really wants to put America first, he should reduce our reliance on polluting energy sources that fuel climate change," said Howard Crystal, a senior attorney with the environmental nonprofit Center for Biological Diversity. "Instead, this profoundly political move will make solar power more expensive for everyday Americans while propping up two failing, foreign-owned companies."
Support HuffPost
The Stakes Have Never Been Higher
Before You Go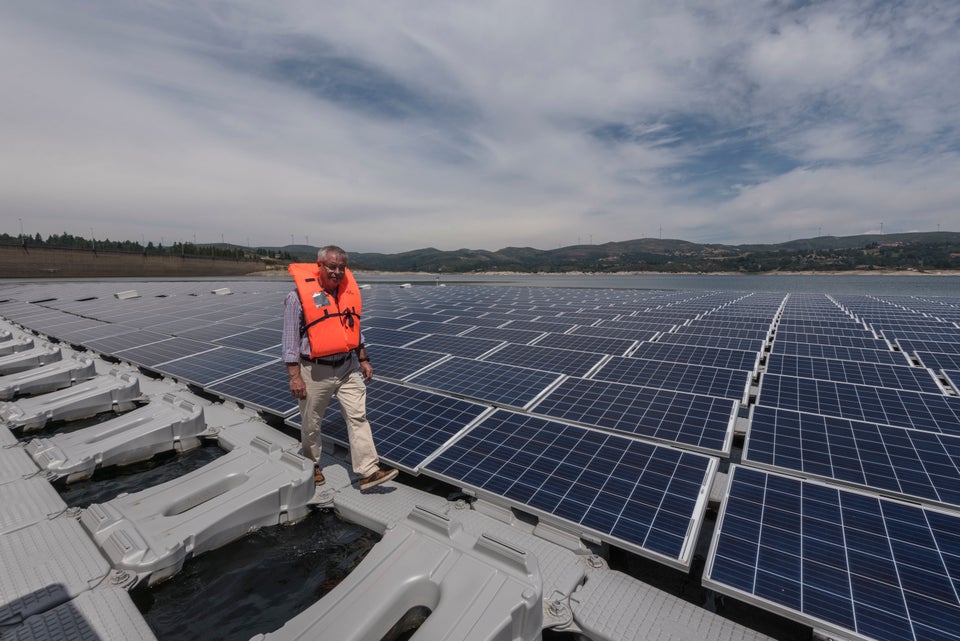 Solar Panels Of The Alto Rabagão Dam
Popular in the Community