WASHINGTON ― President Donald Trump's first State of the Union speech on Tuesday night will offer an "optimistic" and "forward-looking" view, according to his White House. He will detail the successes of his first year in office. He will reach out to Americans beyond his base.
And, if the past is any guide, within days if not hours, not a word of it will matter in the least.
While past presidents have used their highest-profile address of the year to get the nation's attention and outline their priorities, Teleprompter Trump's message will likely be stepped on by Twitter Trump and Random Comments to the Press Trump.
"All the talking heads will talk about it," said one Republican National Committee member, who spoke on condition of anonymity to candidly discuss the president. "Until the next distraction."
And when would that distraction take place? Wednesday? Thursday? Late Tuesday night?
"Good subject for an office pool," the RNC member quipped.
Also, if the past is any guide, Trump's propensity for false statements will keep fact-checkers busy Tuesday night. According to a White House briefing that previewed the speech for reporters last week, Trump will sell the recently passed tax cut plan as "the biggest" ever ― a boast that is not accurate.
Both the 1981 Ronald Reagan tax cuts and the 2001 George W. Bush tax cuts (made permanent by President Barack Obama in 2012) were larger. In all, seven tax cuts have been larger than the recent tax package as a percentage of the total economy, and three have been larger in inflation-adjusted dollars.
Despite this, the senior Trump administration official hosting the briefing last week ― who spoke on the condition of anonymity at the insistence of the White House ― opened his remarks by calling the new law "the biggest tax cut in history."
The official said the theme of Trump's speech would be "building a safe, strong and proud America" and that Trump would mention his "record-setting accomplishments." In addition to bragging about the tax cuts, Trump would also highlight: his infrastructure plan to rebuild roads and bridges; his plan to build a wall along the U.S.-Mexico border and reduce legal immigration while protecting undocumented immigrants who were brought to the United States as children; his views on international trade; and his plan to increase spending on the military while "defeating terrorists around the world."
Trump spoke briefly about the speech on Monday at a White House photo opportunity, saying he hoped Democrats would work with him on the immigration plan because "the Republicans really don't have the votes to get it done any other way."
He called it "a big speech, an important speech," that would cover "a lot of territory," adding: "We have a lot of things to discuss and we'll be discussing them, and I hope you enjoy it."
Both as a candidate and as president, Trump has enjoyed good reviews with speeches written by his staff that he merely reads off a teleprompter ― despite his frequent ridicule of politicians who used the devices during the GOP primaries.
Trump's speech to a joint session of Congress last February, for example, brought praise from unlikely sources. "He became president of the United States in that moment," proclaimed Van Jones, a former Obama adviser and now a CNN commentator.
Yet within days, Trump was accusing Democratic congressional leaders of having ties to Russia and claiming ― with zero evidence ― that his predecessor had wiretapped him at his Trump Tower headquarters in New York City. Controversy after controversy about Trump's words and actions followed, quickly burying whatever goodwill he'd earned in his speech.
So while previous presidents could rely on days or even weeks of positive publicity for their proposals after their State of the Union addresses, few are expecting Trump's speech to generate anything similar.
"That won't happen," said Republican pollster Neil Newhouse. "This is a different kind of presidency."
Rory Cooper, a political consultant who worked in George W. Bush's White House, said the State of the Union address can be a great opportunity to advance an agenda. Bush, in 2003, pushed the AIDS relief program PEPFAR, which a decade and a half later is recognized for its significant accomplishments in places like Africa.
Cooper added, though, that he has no expectation that Trump will follow through on any of his stated goals. "Will President Trump stay on message afterwards and sell the agenda? Of course not," he said. "But it will be instructive in a way."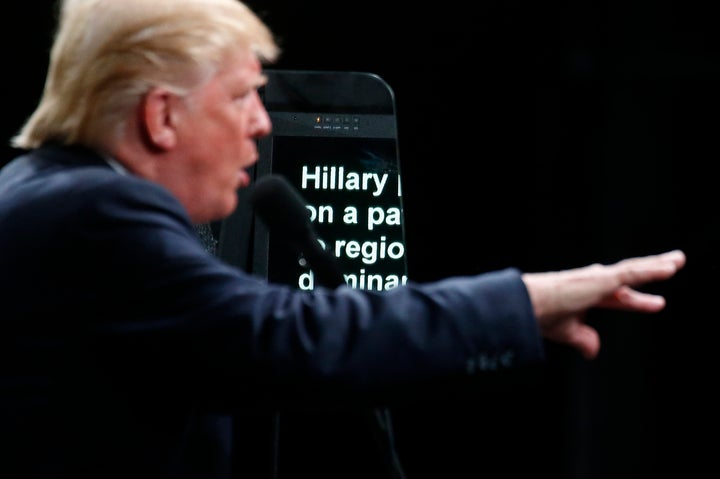 Popular in the Community