Donald Trump had an "informal" conversation with Vladimir Putin at the G-20 summit in Argentina on Friday, one day after the U.S. president announced that he had decided to cancel a meeting with his Russian counterpart because of new developments in Russia's conflict with Ukraine.
White House press secretary Sarah Sanders confirmed their discussion at the gathering of leading industrial nations.
"As is typical at multilateral events, President Trump and the First Lady had a number of informal conversations with world leaders at the dinner last night, including President Putin," she said in a statement Saturday.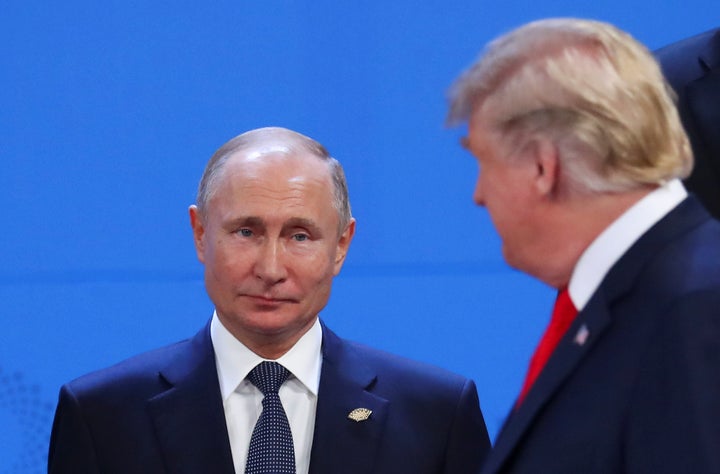 Trump on Thursday announced on Twitter that "it would be best for all parties concerned" if he and Putin did not meet as planned because Ukrainian ships and sailors recently seized in the Sea of Azov had not been released by Russia.
Though the substance of Trump's conversation with Putin on Friday was not detailed by the White House, Putin said that it had to do with the ongoing Russia-Ukraine conflict.
"He has his position about that and I have mine," Putin told reporters at a press conference. "We stayed in our own positions."
Putin put blame on Ukraine for the latest dispute between the two countries, adding that he considered it "too early" to return the ships and sailors.
"The current Ukrainian leadership is not interested in resolving this at all," Putin said, according to The Guardian. "As long as they stay in power, war will continue."
Ukraine had been part of the old Soviet Union but along with other Eastern European countries it declared its independence from that bloc in the early 1990s. Territorial disputes, often leading to violence, have marked relations between Ukraine and Russia in recent years, highlighted by the Russian annexation of Crimea in 2014.
Popular in the Community