A strong majority of Americans say individual states should be able to enact their own laws on marijuana, without interference from the federal government.
Majorities of Republicans, Democrats, independents and respondents of every age group agreed that the feds should not interfere with state marijuana laws.
Legal recreational marijuana has been approved in eight states and Washington, D.C. (although the district continues to ban sales of marijuana, unlike the state programs). A total of 29 states, as well as D.C., have legalized marijuana for medical purposes.
Yet despite many states' continued efforts to decriminalize the use, cultivation and sale of the plant, marijuana remains illegal federally.
Former President Barack Obama's Justice Department allowed states to forge their own marijuana policy, issuing guidance that urged federal prosecutors to refrain from targeting state-legal marijuana operations. But this guidance is not law and can be reversed by the Trump administration.
As a candidate, Trump said he was in favor of permitting medical cannabis, adding that he would respect states' rights on marijuana legalization. But Trump's attorney general is Jeff Sessions, an anti-marijuana hard-liner, whose appointment was deeply troubling to those who favor progressive drug laws.
Sessions has issued some ominous warnings to states that have legalized marijuana, suggesting a federal crackdown could be on the way. And while he's said the Obama-era marijuana guidance is "not too far from good policy" and it remains in effect for now, Sessions is expected to make some changes to the guidance.
"It's clear that Jeff Sessions and the Trump administration would face a huge backlash from across the political spectrum if they broke the president's campaign pledge to respect state marijuana policies and started arresting consumers and providers who are following local law," said Tom Angell, chairman of Marijuana Majority.
"The more the attorney general threatens to ramp up federal enforcement, the more public opinion seems to harden against his outdated 'Reefer Madness' mindset," Angell added.
The poll also found that more Americans support, rather than oppose, the consumption of marijuana by professional athletes (46 percent), journalists (50 percent) and gun owners (48 percent) if those individuals live in a state where it is legal for them to do so without punishment.
Some news organizations administer pre-employment drug tests to journalists. Marijuana use is banned by numerous professional sports leagues in the U.S., with athletes facing fines or suspension if they are found to have consumed marijuana. State-legal marijuana users are banned from purchasing firearms under federal law.
The Survey USA poll was conducted between June 19-20 with 1,500 cellphone and landline respondents.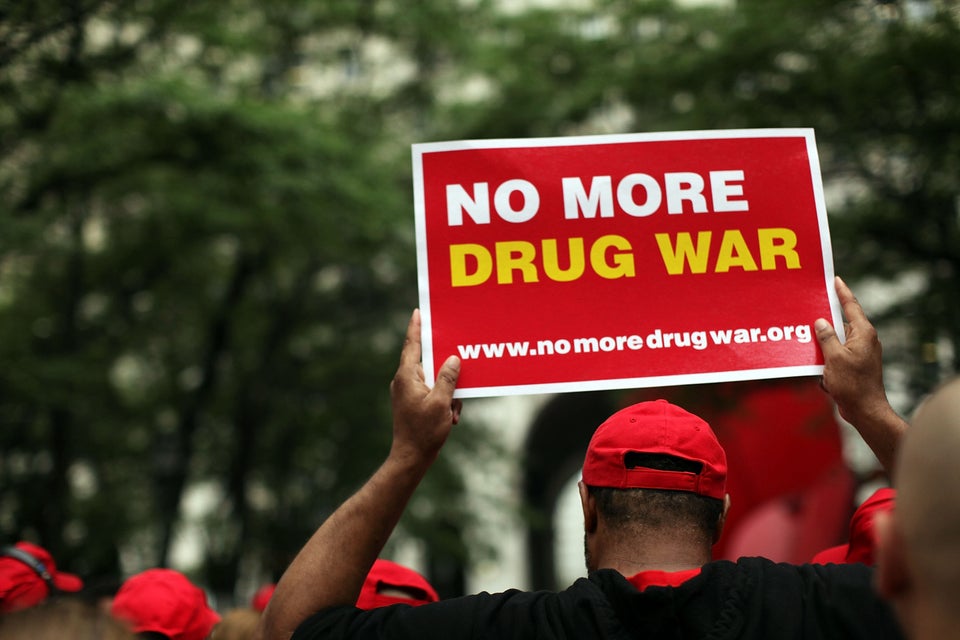 27 Reasons Why U.S. Shouldn't Lead War On Drugs
Popular in the Community