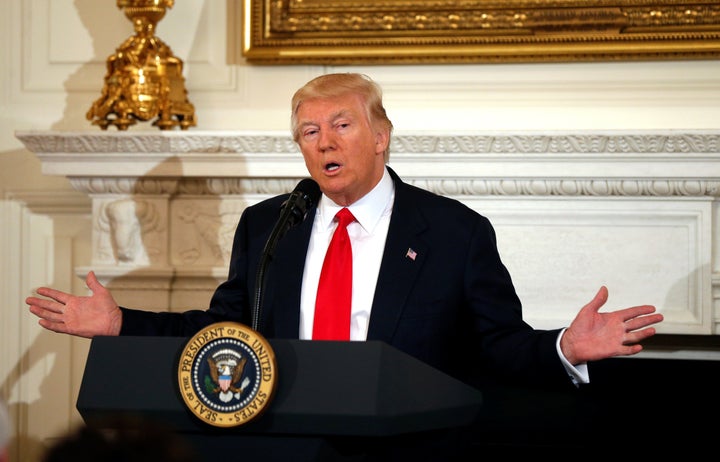 Although President Donald Trump broke with tradition this weekend by declining to attend the upcoming White House Correspondents Dinner, he will continue a long-running White House custom of lunching with top network anchors ahead of Tuesday's primetime congressional address.
White House Press Secretary Sean Spicer confirmed Monday that Trump will sit down with representatives from the "big five" networks ― presumably ABC, CBS, NBC, Fox and CNN. In addition, Spicer said, the White House has invited Telemundo, Univision, the Christian Broadcasting Network, C-SPAN, PBS, TV One, One America News Network and the Catholic network EWTN.
Past presidents have used the luncheon to preview policy proposals they would lay out in their State of the Union address or, as it's described in the president's first year in office, their speech before a joint session of Congress. The lunchtime discussion is typically off the record, although Fox News anchor Shepard Smith is known to provide mouth-watering descriptions of the menu.
This past Friday, speaking at the Conservative Political Action Conference, Trump suggested that by using the phrase "fake news media," he was not attacking the media as a whole. He also baselessly claimed that journalists fabricate sources in order to mislead the public. Hours later, his White House staff barred several news outlets that aggressively cover the administration from a non-televised press briefing.
Trump announced Saturday that he would not attend the White House Correspondents Dinner in late April, the first president to bow out in more than three decades. Several news organizations have canceled events surrounding the dinner and others are deliberating whether to attend given the heated anti-press rhetoric.
In addition to shaking things up by inviting several outlets not previously included in the pre-congressional address lunch, the Trump White House is also holding a separate dinner with regional news organizations. On Monday night, Trump will dine at the White House with representatives of 18 press affiliates from across the country.
This presidential engagement with regional media comports with Spicer's use Skype to bring in reporters from local TV affiliates and conservative hosts who haven't typically been part of White House press briefings. The daily briefings are attended largely by members of the national news media.
Popular in the Community