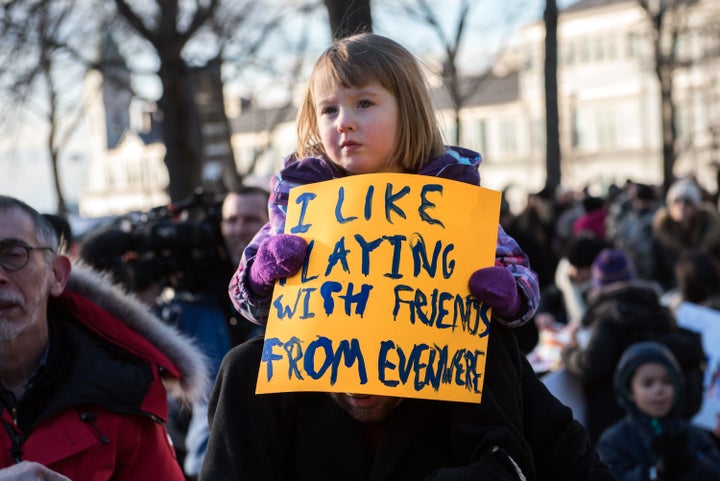 English teacher Tom Rademacher planned to have his middle school classes start reading a new one-act play Monday. Instead, on Sunday, he scrapped the idea. As he watched protests break out across the country over President Donald Trump's executive order on immigration, he decided to take the opportunity to tackle more pertinent subjects.
Rademacher, who hails from Minneapolis, teaches mostly students of color. The past year has been tough for them. In July, a local police officer shot and killed Philando Castile during a traffic stop, highlighting already fraught tensions between police officers and minority communities. In recent weeks, amid the election of Trump, Rademacher has fielded worries from students about people getting deported, about an outbreak of war, about the national guard getting sent to Chicago and potentially disrupting the lives of family members. His students have continually expressed concerns over the value ― or seeming lack of value ― society places on their lives and experiences.
On Monday, these anxieties only felt heightened, said Rademacher, whose students also include several Muslims.
"To summarize the general feeling, it was: This is the beginning," he said."No student was looking at this weekend thinking, 'This is the worst thing that's going to happen.' It's more like, this is the first step, and they're really worried about what comes next."
In the weeks following Trump's election, teachers reported seeing higher rates of trauma and fear from immigrant students and students of color, according to a Southern Poverty Law Center report. On Monday, just a few days after Trump's immigration order ― which halts the U.S. refugee resettlement program and temporarily bars people from seven countries from entering the U.S. ― teachers had to find ways to help students face these fears head-on. Some educators, like Rademacher, refused to let the concerns of pupils go unnoticed, turning them into teachable moments.
Students in Rademacher's classes spent Monday looking at a poem called "Home," by British Somali poet Warsan Shire. The poem, which includes the famous line "No one leaves home unless home is the mouth of a shark," has become a rallying cry against the immigration order. Rademacher focused the discussion around the lived experiences of refugees, taking pains to emphasize points of shared humanity. The aim, says Rademacher, was not to have students debate current events or convince them to feel a certain way, but to give students a space to share their worries, while looking at multiple perspectives.
"I think especially in the leadup to the election, kids weren't exactly hopeful about the future, and weren't necessarily seeing the world as a positive place or great place for them," said Rademacher. "That's only gotten stronger, they only carry that heavier now."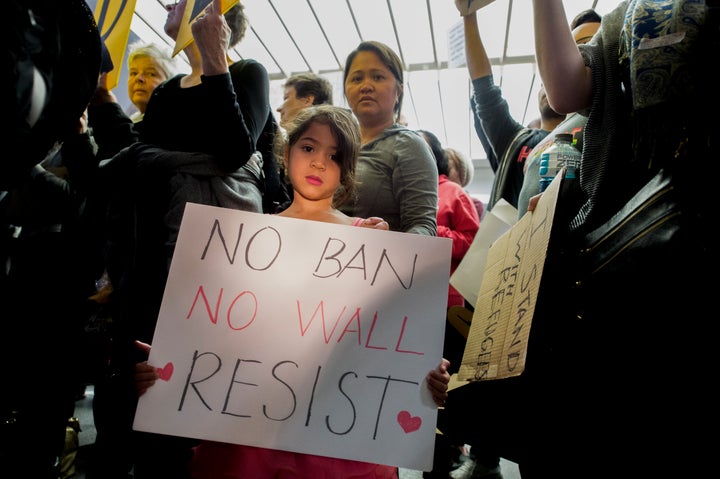 At another Minnesota school, Mark Westpfahl's middle school history classes have been thinking about these issues for weeks, even before Trump's executive order. The kids are in the middle of a unit on immigration, which looks at European migration to America at the turn of the 19th century. For these students, Trump's actions don't just relate to abstract history in a textbook.
Many of Westpfahl's students come from immigrant families, some of them Somali. Under Trump's order, Somalis are barred from entering the United States for the next 90 days.
Kids spent some of Monday discussing the past weekend's events. In the next few days, they will be drawing connections between Trump's order and older, historical actions on immigration. Westpfahl hopes to help students look at other sides of the issue ― even those they may not intuitively agree with. Westpfahl said he plans to ask students questions like: What if kids from the classroom next door started using our space, desks and chalkboards? How would that make students feel?
If students are able to see all perspectives, it will make them able to better advocate for whatever side they choose, Westpfahl hopes.
But these classes have also paved the way for difficult, sometimes painful discussions. A number of students have told Westpfahl that they're unsure of their immigration status, and they don't know what is going to happen to their families. They say they're scared.
"Seeing my students have to go through it with that worry and concern and fear ― it pulls at you," said Westpfahl. "The things we talk about often appear in just a textbook, but these are textbook examples from 50 years ago. What we are going to be learning and talking about years from now are the stories of these kids."
Whitney Scott-Jones, who teaches English as a second language in Texas, also scrapped the lesson she had planned for her sixth-grade students Monday amid Trump's immigration order. Instead, she had her kids ― who come from a range of countries like Somalia, Kenya and Ethiopia ― make signs that emphasize pride in their heritage. She told them that they are welcome in America, that many citizens disagree with the president and that people know what great things they bring to the community.
Scott-Jones says she wants the world to know how "wonderful" her students are.
"How strong and courageous, how kind and considerate, how they're just here, just wanting a better life, wanting to learn to read, to write, to make friends, play sports, get a good education, like any other American kid," she said.
Rebecca Klein covers the challenges faced in school discipline, school segregation and the achievement gap in K-12 education. Tips? Email: Rebecca.Klein@huffingtonpost.com.
Popular in the Community