President Donald Trump on Thursday suggested delaying the November presidential election while baselessly warning that mail-in voting will lead to "the most inaccurate and fraudulent election in history."
"It will be a great embarrassment to the USA," he tweeted. "Delay the Election until people can properly, securely and safely vote???"
States are increasingly offering mail-in ballots due to concerns related to the coronavirus pandemic, but Trump has repeatedly tried to dissuade people from voting by mail, claiming — without any supporting evidence — that it will lead to voter fraud. 
Trump has no power over the election schedule; moving it would require changing federal law. The Constitution states the exact date and time when a president and vice president's term ends. There is no clause that would allow a president to remain in office beyond that date, which is the Jan. 20 following the presidential election.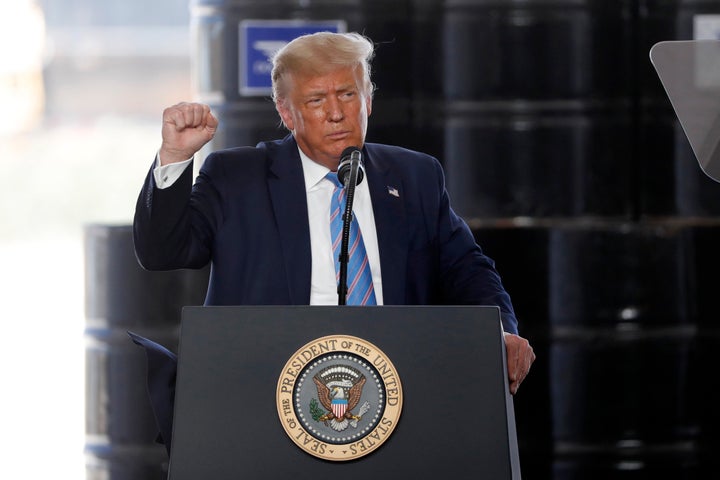 There are fewer than 100 days until the election, and Trump is trailing badly in the polls.
His likely Democratic challenger, former Vice President Joe Biden, has previously suggested that Trump may try to delay the election in an effort to win.
"I think he is gonna try to kick back the election somehow, come up with some rationale why it can't be held," Biden told supporters in April. 
Secretary of State Mike Pompeo, when asked about Trump's tweet while testifying before the Senate Foreign Relations Committee on Thursday, appeared to be unaware that Trump is unable to postpone the election, but argued that any election should take place with full confidence.
"In the end, the Department of Justice and others will make that legal determination," he told Sen. Tim Kaine (D-Va). "We all should want ― I know you do too, Sen. Kaine ― want to make sure we have an election everyone is confident in."
Kaine informed Pompeo that only Congress has the legal ability to change the date of an election, not the president or the Department of Justice.
"I don't think that it's that hard of a question or one that should lead to any equivocation by somebody who's fourth in line for succession to be president of the United States," Kaine told him.
Trump's comments on Twitter were met with a wave of opposition from political leaders and former 2020 candidates, who assured that the November election will go on as planned. 
"This is simply not true, and it's dangerous for our democracy. The President cannot delay the election," Sen. Chris Coons (D-Del.) tweeted, while urging his Republican colleagues to "publicly and forcefully refute the President's alarming suggestion that he can."
"The USA held an election during the Civil War, and we will hold one in 96 days," tweeted Pete Buttigieg, the former Democratic candidate and mayor of South Bend, Indiana.
Trump supporter Republican Sen. John Barrasso of Wyoming also joined the conversation during an interview on Fox Business, where he was met with pushback from the program's host.
"I think we're going to vote on Election Day," Barrasso told host Stuart Varney. "In the lead up to Election Day, it will be a secure election and we will — if I have anything to do with it — we will reelect Donald Trump president of the United States."
Varney responded that mail-in ballots may cause delays in when the winner is declared, which he said would create "confusion and endless challenges."
"We're going to have the election completed and voting completed by Election Day. It's going to take a while to get all the votes counted," Barrasso said.
Calling all HuffPost superfans!
Sign up for membership to become a founding member and help shape HuffPost's next chapter