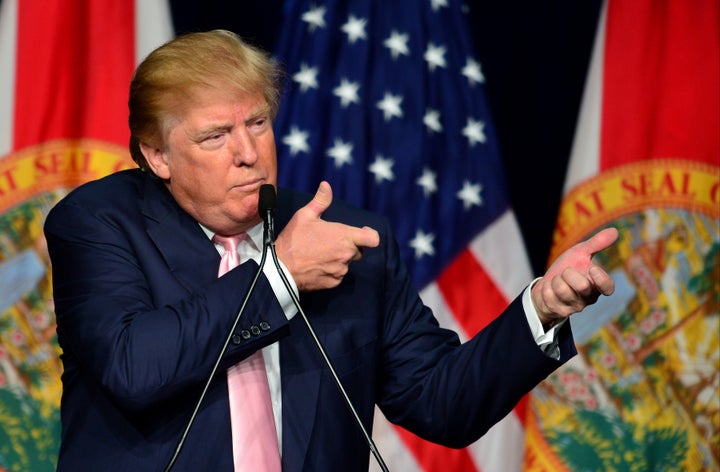 WASHINGTON -- Billionaire eccentric and Republican presidential candidate Donald Trump on Monday called on all presidential candidates to disavow support they receive from super PACs.
In a series of tweets, Trump called the unlimited-money super PACs a "scam" and wrote, "All Presidential candidates should immediately disavow their Super PAC's. They're not only breaking the spirit of the law but the law itself."
Every Republican presidential candidate has received support from a super PAC or a non-disclosing nonprofit. For most of the candidates, their super PAC has raised more money than their actual campaign.
Super PACs were created in the aftermath of the Supreme Court's 2010 Citizens United decision and a subsequent lower court ruling -- SpeechNow.org v. Federal Election Commission -- opened the door to unlimited election spending by corporations, unions and wealthy individuals so long as it remained independent from candidates.
The independence imagined by the court, however, is riddled with loopholes that have increasingly allowed candidates to help create, raise money for, staff and influence super PACs supporting them with relative ease.
Republican presidential candidates including former Florida Gov. Jeb Bush, Louisiana Gov. Bobby Jindal, Ohio Gov. John Kasich and former candidate Gov. Scott Walker of Wisconsin all pretended to not be running for president to evade laws prohibiting them from coordinating with their super PACs.
This evasion enabled Bush to raise $100 million for his Right to Rise super PAC directly from wealthy donors and corporations. Many of these big donors have lobbying interests in Washington.
Kasich not only raised money for and coordinated directly with his super PAC almost up to the moment he announced his candidacy, but he also cut advertisements for it. Candidates are technically legally prohibited from making advertisements with super PACs.
Mike Murphy, the head of Bush's Right to Rise super PAC, criticized Kasich's appearance in super PAC ads in an interview with Bloomberg. "We're far more conservative than the Kasich people; they're doing stuff our lawyers would never allow, so but it's open to interpretation," Murphy said.
Former Hewlett-Packard CEO Carly Fiorina is leaning heavily on her super PAC to manage many of the day-to-day tasks of a normal campaign. The group does advance work on her public appearances, has hosted conference calls for her and does a lot of the communications work normally done by a traditional campaign.
The other candidates are all boosted by outside groups as well. A quartet of super PACs backing Sen. Ted Cruz (Texas) raised a combined $38.6 million. Sen. Marco Rubio (Fla.) is backed by a super PAC that raised $17.3 million and a dark money nonprofit that has reportedly raised more than $18 million in undisclosed donations. A super PAC supporting New Jersey Gov. Chris Christie has pulled in $14.4 million. (All totals are from January through June.)
Trump's declaration that the super PACs used by these candidates are illegal may not be so far-fetched. Campaign finance reform advocates Democracy 21 and Campaign Legal Center have already asked the Department of Justice to appoint a special prosecutor to investigate Bush's relationship with his super PAC.
Democracy 21 and Campaign Legal Center allege that Bush is in violation of a provision of the Bipartisan Campaign Reform Act of 2002 (popularly known as McCain-Feingold) that bans outside groups from acting on a candidate's behalf if said group was created by or with the help of the candidate and the group raised money above the candidate donation limit of $5,400 per donor.
"[T]here are powerful grounds to believe that both Bush and the Right to Rise Super PAC are violating these prohibitions and, in so doing, that they are engaged in a scheme to allow unlimited contributions to be spent directly on behalf of the Bush campaign and thereby violate the candidate contribution limits enacted to prevent corruption and the appearance of corruption," the legal request by the two groups states.
Despite his protestations of independence from big money, campaign finance reformers do not see Trump as a fix for the money-in-politics problem.
According to Democracy 21 President Fred Wertheimer, Trump's self-funded campaign is just another example of a broken system and his attacks on big money are just self-interested politics.
"Trump is using these statements as a weapon to attack his Republican primary opponents and the individual candidate Super PACs that are spending unlimited money to support them," Wertheimer wrote. "But there is no evidence that Trump himself is a reformed sinner interested in fixing the system."