MANCHESTER, N.H. -- It was a striking sight that stopped several voters in their tracks as they approached Manchester Memorial High School in Ward 8 on primary day. 
A man holding a Donald Trump sign and a woman holding a Bernie Sanders sign, their arms around one another, greeted New Hampshire voters as they entered the polling location. 
"We each have our own opinion, but we are friends," Jim Bennett, 57, told a voter passing by who seemed to be confused at the sight of the pair standing together, engaged in pleasant conversation. "We're like 'Ebony and Ivory,'" he explained with a smile. 
Sandra Paradis, 78, arrived to her polling location in the afternoon, with Bernie Sanders yard signs in hand. She said she wasn't expecting to see a familiar face doing the exact same thing for the political outsider on the other side of the aisle.
"I wasn't expecting to see Mr. Bennett standing here," Paradis said with a laugh. "Our families have known each other for a long time. Mr. Bennett is only a few years older than my son actually."
Bennett's younger sister went to school with one of Paradis' daughters, and told stories of how both girls were in the Manchester Memorial High School's Homecoming court, where Bennett's sister Gale was crowned the queen.
"I have pictures of his sister at my house in our scrapbooks," Paradis said, looking off into the distance. "The people in South and Southeast Manchester get along pretty well."
The two both seemed to be well-known in town, and voters approaching the school greeted both by name. Paradis served on the school board for 14 years, and Bennett recently retired from his career as a mail carrier.
"We're Manchester people," Bennett said. "Sandy is kind of a local celebrity. Her brother is actually working on my pick-up truck."
The two voters acknowledged that both Trump and Sanders are tapping into the same anti-establishment anger and seem to be attracting the most passionate and enthusiastic supporters on the campaign trail this cycle. The friends admitted the dynamic between the two of them most likely does not reflect most Trump and Sanders supporters.
"Whether we have differences or not, we can talk about them," Paradis said. "We can do civil things together and work together."
Despite their friendship, they playfully mocked each other at times, doing imitations of each candidate and the way they say "huge turnout." Paradis even tried on Bennett's Trump beanie, and laughed as people walked past her looking puzzled.
"Look at all these Bernie supporters here," Paradis said with a smirk, looking over at Bennett.
"They're all here because he's promising to give them all this free stuff," Bennett shot back with a laugh.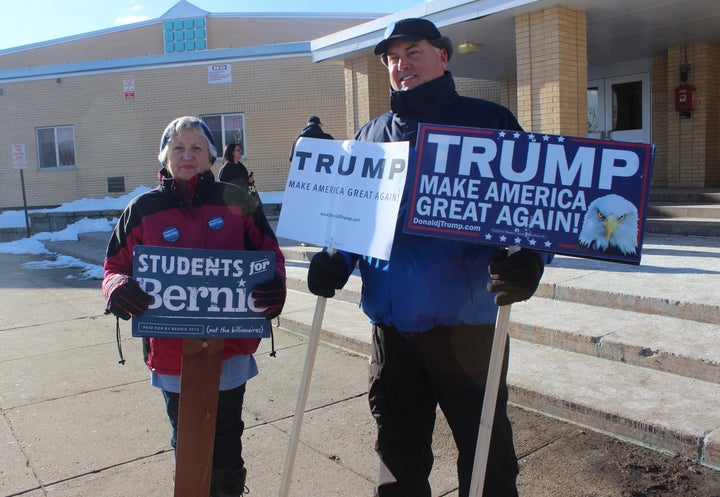 Paradis, who has been active in politics since the age of 25, says she identifies as an independent, although she is currently registered as a Democrat. At one point, she said, she was considering supporting Donald Trump.
"My husband and I thought of changing our parties this year," she explained. "We did like some of what Trump has said. We do need businesses. We need more businesses, especially in New Hampshire. Our manufacturing is all gone. I've been here a long time, 78 years. I've seen all the manufacturing go."
Paradis, who volunteered for Bill Clinton when he ran in 1992, says she couldn't see herself supporting Hillary Clinton if she becomes the Democratic presidential nominee.
"I wouldn't vote for her. If Trump is nominated on the Republican side, I'd switch my political affiliation and vote for him," Paradis explained. "I have voted for Republicans in the past, in the general election, I have definitely. I am purple; I am not red or blue."
Bennett does not feel the same way about Sanders. If Trump doesn't become the Republican nominee, he said he would settle for one of the reality TV star's rivals.
"I would absolutely not support Bernie," Bennett said. "I like Dr. Carson and Cruz. I would settle for one of them."
Paradis and Bennett didn't know at the time that the candidates they were supporting would surge to commanding victories in the New Hampshire primary and draw massive turnout across the state.
As the race for the White House heats up, the business mogul turned Republican presidential candidate and the Democratic socialist have recently taken aim at one another, both candidates acknowledging that they could be competing in the general election.
Bennett said his community doesn't participate in the mudslinging. He said the majority of voters passing by were very polite.
"People go by and I just say, 'Thank you for voting,'" Bennett explained. "Some say, you know Trump is our man. Other people will say ... thanks for being there, but we're not voting for your guy. That's cool, I'm just glad they're here voting."
Paradis agrees. She said she'll leave the attacks and the insults to the politicians.
"Whether we have differences, with our political views or whatever, we try to help each other out," she said. "We always have. If you're neighbors, you try to help your neighbor. You just don't ignore them."
Calling all HuffPost superfans!
Sign up for membership to become a founding member and help shape HuffPost's next chapter