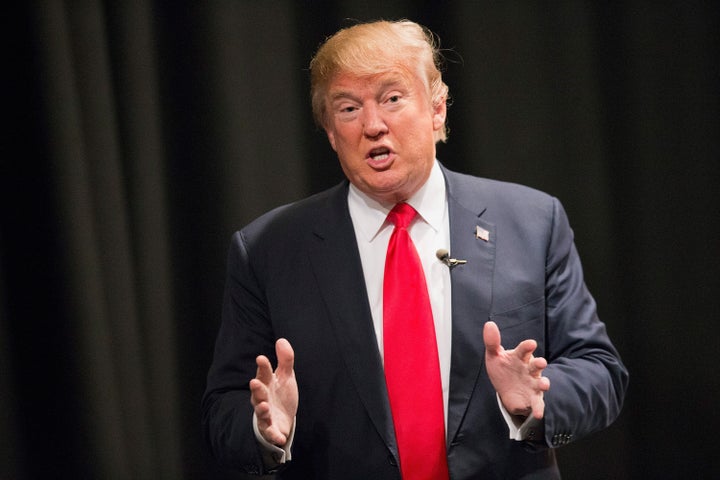 Several people attending a rally for Donald Trump in Birmingham, Alabama, physically assaulted an African-American protester on Saturday, witnesses said.
The protester began chanting "Black Lives Matter" and took off his sweatshirt to display a T-shirt printed with the phrase before people at the rally reportedly attacked him.
CNN reporter Jeremy Diamond posted a video of the altercation on Twitter. In it, a man in a blue gingham shirt appears to be kicking a black man lying on the ground.
"At least a half-dozen attendees shoved and tackled the protester, a black man, to the ground as he refused to leave the event," Diamond reported for CNN. "At least one man punched the protester and a woman kicked him while he was on the ground."
Police officers then escorted the protester out. The man did not need medical attention, according to Diamond. Birmingham police later confirmed to The Huffington Post via email that three protesters were asked to leave after the incident but said that no incident report was filed.
The Trump campaign did not immediately respond to a request for comment.
Cort Gatliff, a copy chief at the marketing firm Embassy Creative, told The Huffington Post that he saw the scuffle unfold, but he was not close enough to see everything that occurred. He said he attended the rally out of "curiosity more than anything," and described the tense sequence of events leading up to the reported assault.
All of the people said to be beating the man were white, according to Gatliff and CNN reports.
Gatliff said another African-American man was initially yelling things at Trump that he couldn't hear. The Trump supporters nearby tried to silence the man, he said.
"Everyone around him starting yelling at him and trying to get him to shut up," he recalled.
That protester had been filming the rally with his phone, Gatliff said, leading a "bigger white guy with a University of Alabama shirt" to try to "rip his phone away."
At that point, the other black protester, who witnesses say was the victim of the beating, moved into the crowd and began yelling, "Black Lives Matter." Gatliff posted a video of his chant on Twitter.
After initially ignoring the protesters, Trump acknowledged their presence from the podium, Gatliff said. "Is somebody saying something?" Trump reportedly asked.
"Some [audience members] laughed, some booed, and some yelled, 'All lives matter,'" Gatliff recalled. "That's when Trump said, 'Get him the hell out of here.'"
Trump can be heard saying just that in the CNN video, prompting cheers from the crowd, even as the protester is on the ground.
"It was chaotic -- like a mosh pit," Gatliff recounted. "The Secret Service was there, and I expected them to break it up immediately, but it probably took some 45 seconds for any official to move in and disrupt it."
The lag time before security personnel arrived made Gatliff "worried somebody was going to seriously hurt the guy."
"It was a really hostile situation," he said. "I definitely don't think they should have physically attacked him or harmed him, even if he was expressing sentiments they disagree with him."
After the protester was led away by police, Gatliff said that Trump mocked the media for being more interested in the protester than his speech. The crowd booed in response.
"It was definitely a hostile environment for the media," Gatliff said.
Gatliff told HuffPost he leans conservative, but he has not yet decided which Republican presidential candidate he'll vote for. He said that backing Trump has "never been an option," because of Gatliff's distaste for what he called the media mogul's "crude" disposition.
Gatliff, who grew up in Memphis, Tennessee, rejected the idea that the location of Saturday's rally in Alabama had made such an altercation more likely.
"People are drawn to Trump for a reason, and the same sort of altercation could have happened in New York," he said.
This story has been updated with more reports about the incident.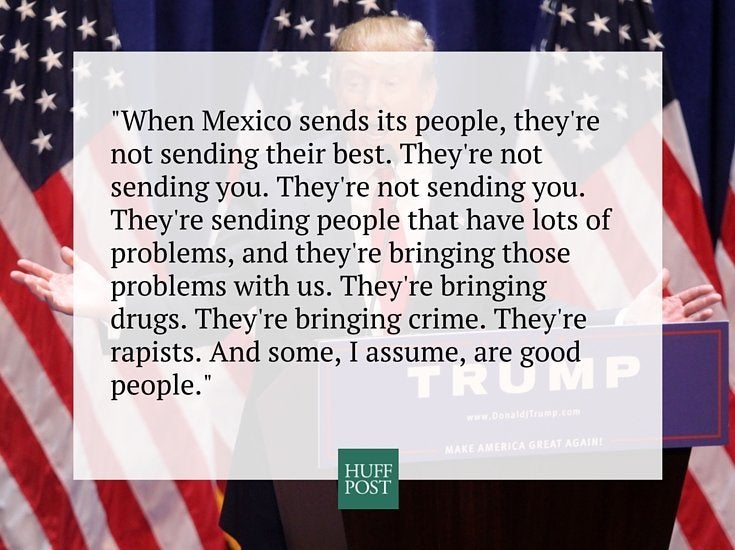 9 Outrageous Things Donald Trump Has Said About Latinos
Support HuffPost
Every Voice Matters
Popular in the Community