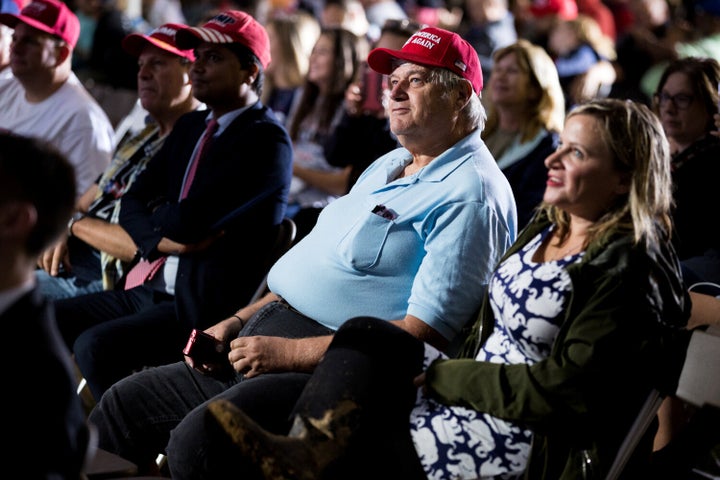 LITITZ, Pennsylvania — Joel and Heidi Shoemaker were among the last to leave a debate watch party sponsored by President Donald Trump's campaign Tuesday night in rural Pennsylvania. Both wore "Trump 2020" baseball caps — his camouflage, hers pink — as they helped fold and stack chairs inside a giant tent on a dairy farm in Lancaster County.
The Shoemakers, who'd driven an hour here from Mechanicsburg, seemed unbothered that the president had declined during the debate to denounce white supremacy; or that he had insinuated any election he loses this November might be illegitimate; or that he'd downplayed the importance of wearing a mask during a pandemic that's already killed over 200,000 Americans.
The couple, who have five children and have struggled to earn money during this year's economic shutdowns — he's a handyman and she's a homemaker — also were satisfied with Trump's response to questions about a recent blockbuster report showing that he, despite being a billionaire, has paid little to no federal income taxes for years. ("Even if that is true," Joel said, "I really don't care.")
No, the Shoemakers were all smiles, happy to have the opportunity to laugh along with fellow Trump supporters as the president interrupted and insulted his Democratic opponent on TV.
They were among about a thousand people who came to Meadow Spring Farm in Lititz on Tuesday to watch the first presidential debate of 2020, and to see Vice President Mike Pence speak in a key battleground state that Trump won in 2016 but where polls now show him trailing.
At a security screening checkpoint before the event, Trump supporters swatted away spotted lantern flies — an invasive species native to China that's threatening crops in this part of Pennsylvania. ("Everything bad comes from China," one man quipped.)
Secret Service agents waved metal wands over those entering. There were teenage girls wearing "Pennsylvania Dairy Princess" sashes across their chests; men and women in the traditional Plain sect clothing typical of the area's local Amish and Mennonite communities; one man in the black-and-yellow polo shirt uniform of the Proud Boys, a violent neo-fascist group; and hundreds in red "Make America Great Again" hats.
The crowd was overwhelmingly white. Most didn't bother wearing masks as they bought milkshakes or barbecue sandwiches or hoagies from food truck vendors.
Trump's Taxes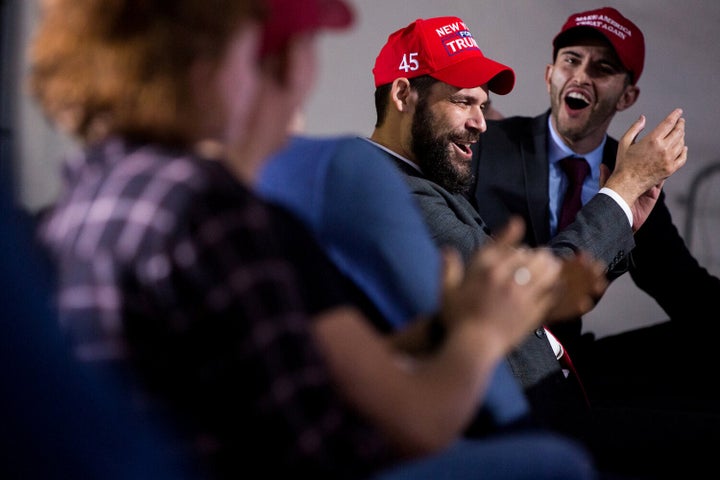 Mike Gee wore a suit, red tie and a "New York for Trump" hat. Gee, who said he was a conservative activist, told HuffPost he'd come all the way from Brooklyn for the event. (When asked what neighborhood in Brooklyn, Gee said he'd "prefer not to say [because] antifa's out there.")
He was not concerned about the major investigation published by the New York Times on Sunday detailing Trump's history of not paying taxes.
"He's got a great accountant and I would love to know who that accountant is," Gee said of the president.
The Times investigation showed Trump paid no income taxes at all in 10 of the previous 15 years, mostly because he reported losing more money than he'd made — a fact at odds with his self-portrayal as a successful businessman.
The investigation also showed the president owes $400 million in debt that's due over the next few years; that the Internal Revenue Service is auditing a $73 million tax refund he once claimed; that he only paid $750 in federal income taxes in both 2016 and 2017; and that he once deducted $70,000 for the cost of haircuts and hairstyling.
"Here's a question for the failing New York Times," Gee told HuffPost at Tuesday's rally. "When's the last time they paid taxes and how much have they paid in taxes, and what legal loopholes have they used in order to not pay taxes?"
Bob Brewbaker, 73, a retired farmer from Manheim, Pennsylvania, had a similar assessment.
"Well, in my business, we worked hard to get our taxes as low as we could," Brewbaker said. "And I'm ― he's done the same thing, and apparently has done a good job of it. His response is that he lost money, but I'm sure he's got a bunch of good accountants working for him, and I don't have a problem with that."
Diane Coffey, an office worker from Lititz, said the Times investigation didn't affect how she feels about the president at all.
"My feeling for what he does for this country far transcends what happens with his tax returns. That's a nonissue for me," Coffey said, adding that Trump is a "businessman" and that she assumes "everything is aboveboard."
The Supreme Court Nominee
Coffey also expressed excitement over Trump's recent Supreme Court nominee, Amy Coney Barrett.
Barrett "sticks to the Constitution" and wouldn't be "legislating from the bench like a certain Supreme Court Justice did," Coffey said, gesturing at the short height of Justice Ruth Bader Ginsburg, who died earlier this month and whom Barrett would replace if confirmed.
Many Trump supporters at Tuesday's rally were energized over Barrett's nomination.
"Reclaiming the Supreme Court after two generations of mad progressive liberalism was the most important reason I voted for Donald Trump," Edward X. Young, 61, an actor and salesman from Brick, New Jersey, told HuffPost. "Amy will be the best ever. Finally, it's an even playing field."
Young added that he thinks it's "repulsive" and "nauseating" how "Democrats are grilling her on her Christian faith," referring to recent, and rather mild, scrutiny over Barrett's ties to a Christian group that once called its female leaders "handmaids."
"What is this, the court of Nero in ancient Rome?" Young said. "Are they gonna throw her to the lions if she hasn't renounced her belief in Jesus? To hell with them. The Democrats are depraved maniacs." (Democratic presidential nominee Joe Biden, like Barrett, is Catholic.)
Others thought it was important to get Barrett confirmed to the Supreme Court as soon as possible, so that if the presidential election next month ends up in court, Barrett would be there to tip the vote in Trump's favor.
A man in plain dress, who only gave his name as Mr. Fisher, and who said he was a realtor in Lancaster, said that because "liberals are like rabid animals," next month's election will likely be disputed and end up in the Supreme Court.
Why, Fisher asked, would we want the Supreme Court to decide the outcome when it's a justice short? "That's an even number," he said of the eight current justices.
Pence Speaks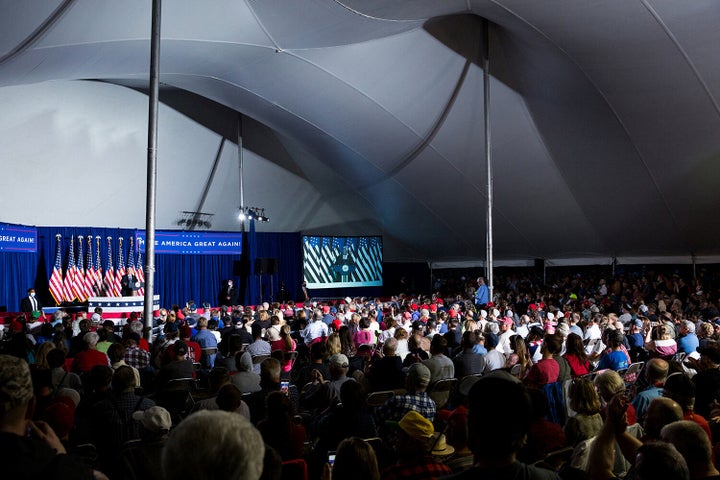 Vice President Mike Pence arrived at the Pennsylvania rally Tuesday and spoke to the crowd there a little before 7 p.m. He and his wife, Karen, reiterated their support for "faith, family and freedom" and promised a great debate performance from Trump.
"He's gonna bring it," Pence said to cheers. "He's gonna bring it."
After Pence left, the evening sky opened up with rain, transforming the farm grounds both inside and outside the tent into a sea of mud. Many, who had come here mostly to see Pence speak, decided to leave.
By the time Fox News host Chris Wallace was introducing the debate at 9 p.m. on the two big screens inside the tent, only a few hundred Trump supporters remained.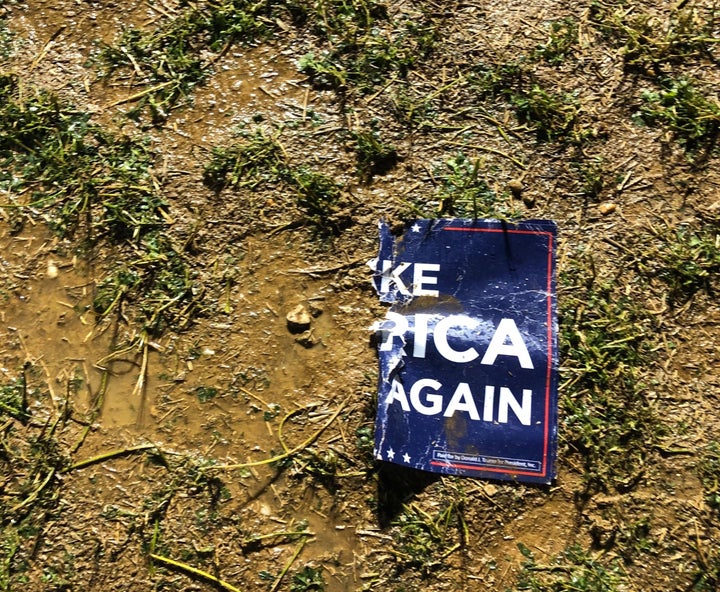 They cheered when Trump defended his quick nomination of Barrett after Ginsburg's death. ("We won the election," Trump said. "Elections have consequences.")
They laughed when Trump repeatedly cut in on Biden's remarks, and when the president said Biden wasn't smart.
When Trump refused to condemn both white supremacists and the violent far-right group the Proud Boys — instead telling the Proud Boys to "stand back and stand by" — HuffPost saw a Proud Boy at the rally react with glee and laughter. "Uhuru!" he screamed at the TV screen, using the group's chant.
When Wallace, the Fox News debate moderator, asked Trump if it was true that the president had only paid $750 in federal income taxes in 2016 and 2017, the president responded by claiming, falsely, that he had paid millions in taxes.
No one at the rally seemed to believe this was a lie. And if it was, who cares?
When the debate finally ended, there was no applause. People appeared eager to get their cars out of the mud and make their way home.
Yvonne Low, 35, hung around and talked to reporters.
"I don't give two shits about anybody's taxes other than my own, and even then, I don't want to pay taxes," said Low, who was laid off from her job in Bethlehem, Pennsylvania, at the beginning of the pandemic.
"Nobody wants to pay taxes," she said.
Support HuffPost
The Stakes Have Never Been Higher
Popular in the Community