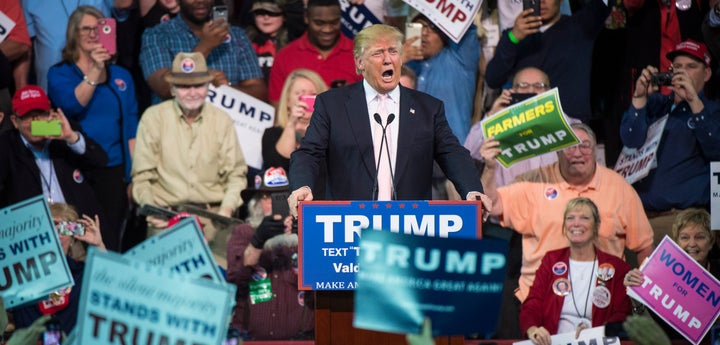 Wendy Taylor has only grown fonder of Donald Trump since he signed a copy of his book for her after a rally in Macon, Georgia, last November.
"I told him I was going to vote for him and he said, 'You better,'" Taylor said in an interview. "He pointed at me and gave me a thumbs up."
Taylor is a small business owner who lives in Warner Robins, Georgia. She cast an early ballot for The Donald in the state's Republican primary. She's followed his campaign via Fox News and CNN, and the waves of criticism against Trump haven't diminished her support.
"I get more Trumped up as it goes along," she said. "He flies in with his jet, he's meeting everybody -- it's just powerful. We are blessed to have him running for the presidency. He's a gift from God. No, he's not perfect, but what politician is?"
Trump once bragged he could "stand in the middle of 5th Avenue and shoot somebody" without losing voters. It's possible he wasn't exaggerating.
Primary elections are notoriously volatile. But Trump's supporters, many of whom were already as good as locked in by early January, are significantly more committed than those backing other candidates. In a mid-February SurveyMonkey/NBC poll, 54 percent of Trump's backers said they were absolutely certain that they'd vote for him. By comparison, just 45 percent of supporters of Sen. Ted Cruz (R-Texas), and 33 percent of supporters of Sen. Marco Rubio (R-Fla.), said the same.
The Trump faithful aren't put off by their candidate's many beefs. For the most part, they admire his willingness to push beyond the political mainstream, especially when they agree with what he says. Most Trump supporters, for instance, were in favor of banning Muslims from the U.S., and of erecting a wall on the border between the U.S. and Mexico.
For a lot of Trump supporters, though, their admiration is rooted less in his stance on the issues than in his outspokenness. And that admiration gets reinforced every time Trump insults a rival or ignites a media firestorm.
"Asked to name the best or most positive thing about a possible Donald Trump presidency if he were to be elected in 2016, Americans most commonly volunteer his business background, policies on immigration and honesty -- that he says what he feels," Gallup's Frank Newport wrote in January. Just 3 percent of all Republicans cited his perceived racism as the biggest strike against him.
Taylor said she'd only glanced at recent news stories about whether Trump had sufficiently denounced the KKK, but she wasn't concerned.
"I don't think it's going to hurt him at all," she said. As for the media, "I think they're lying about him."
Still, it's not impossible for Trump supporters to change their minds. In November, Randy Cannady drove two hours to Macon to attend the same rally where Taylor got her book signed. Though he told a local news station that Trump was "worth the vote" if he could deliver on some of his campaign promises, Cannady has since cooled on The Donald.
"I'm gonna vote for Cruz. I'm not gonna vote for Trump," Cannady, 57, said in an interview. "He's more like me, the way I think. I'm a conservative and he's more like me. Trump's not."
Cannady said he made that long drive from Metter to Macon four months ago mainly because his friend wanted company for the ride.
"Trump was kinda like a gimmick at first," he said. "It was fun, but I had to wait and see."
Popular in the Community